Defense not up to par with Tigers' offense
Three errors open doors for White Sox; three home runs keep it close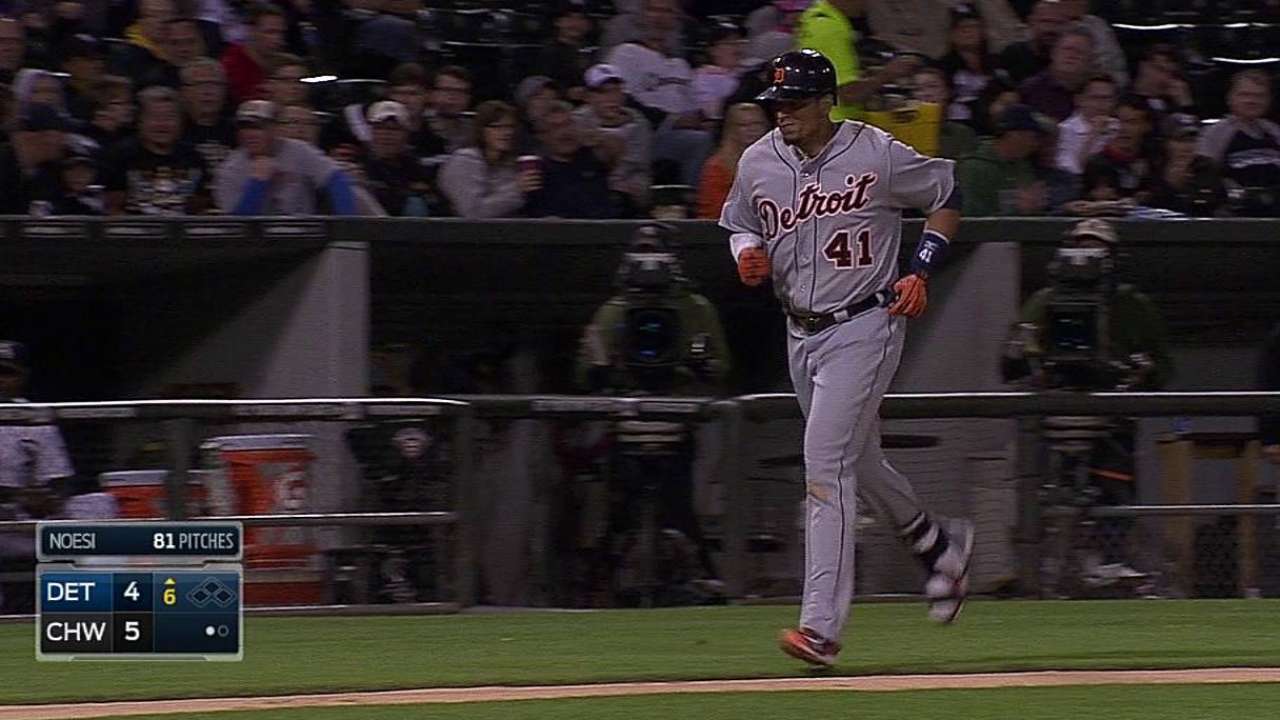 CHICAGO -- A late rally in which the tying run was just 90 feet from home fell just short as the Tigers were unable to overcome bad defense and ineffectiveness by starter Rick Porcello on Monday night at U.S. Cellular Field.
Detroit committed three errors while Porcello gave up six runs (five earned) on nine hits in five-plus innings in dropping the opener of a four-game series to the White Sox, 6-5.
It was Porcello's error in the sixth, Detroit's third miscue, that proved to be the deciding blow.
Alejandro De Aza led off the inning by dropping down a perfect bunt along the third-base line. Porcello tried to make a barehanded pickup and tough throw to first, and instead airmailed the ball into the stands, allowing De Aza to advance to second and chasing the right-hander from the game. Two batters later, Adam Eaton chopped a single through the left side that scored De Aza and gave Chicago a 6-4 lead.
"When I threw it, I was saying some words that I can't say to you right now to myself for throwing that ball, because that led to another run and we could still be playing right now if I didn't throw that ball into the seats," Porcello said. "That was a play where I just didn't think and I just airmailed it. It was a stupid play and I deserved to come out of the game after that one."
The unearned run ended up being the deciding cushion. With a run already across in the ninth, Ronald Belisario struck out Ian Kinsler on a borderline pitch that frustrated Kinsler, after he missed a double down the left-field line by mere inches two pitches earlier. Belisario then induced a game-ending groundout from pinch-hitter Torii Hunter.
"Well, I mean, I squawked because I thought the pitch was up," Tigers manager Brad Ausmus said. "I haven't looked at the replay, so I can't tell you definitively where it was. But it's obviously a huge pitch because we've got a runner on third, less than two outs. Anything in the outfield probably scores him.
"But, you've gotta move on quickly because you still have a chance to tie it or win the game with Torii coming to the plate."
Detroit's first two errors -- which came on back-to-back plays with two outs in the fourth, ended up not costing the Tigers as Porcello was able to strand the pair. But the White Sox lit up Porcello in the bottom of the fifth after Eugenio Suarez had tied the game at 2 on his second home run, which made him the first Tigers player to hit two homers in his first four games since Brent Clevlen in 2006.
Chicago strung together four straight hits, sent seven men to the plate and scored three times in the bottom half as Porcello, a sinker-baller, struggled to keep the ball down. Gordon Beckham doubled and Conor Gillaspie singled for the first run. Porcello then hung a 1-0 slider to Jose Abreu, who launched it deep into the left-center-field bleachers for a two-run blast that put Chicago up 5-2.
"It's been impressive. But again, I don't look at him as a normal rookie," White Sox manager Robin Ventura said of Abreu. He's played enough and he's old enough and he's talented enough. You don't treat him like a normal rookie because he's a player, a good hitter.
The Tigers clawed back to within a run via their third long ball. After a Miguel Cabrera single, Victor Martinez cracked his 15th homer to right, cutting the deficit to 5-4.
Porcello gave up a pair of runs through the first three innings, but the first probably shouldn't have scored. Adam Eaton led off the first with a line drive to left that J.D. Martinez, who committed one of the fifth-inning errors, misplayed. Martinez let Eaton's hit get by him on one hop and into the corner for a leadoff triple, and Beckham followed with an RBI single.
"It was a struggle from the get-go," said Porcello, whose four-game win streak against Chicago was snapped. "It was in and out for the majority of the night, and just couldn't find any consistency in executing pitches. We face these guys a lot. They know what you're going to do and when you're not on point, on your game, they're going to got all over it."
Cabrera's 12th homer, a mammoth, 431-foot shot to left-center with one out in the fourth, cut Chicago's lead to 2-1. It was a welcome sign after the slugging first baseman was pulled in the seventh inning of Sunday's game because of left hamstring tightness. He served as designated hitter on Monday, and Ausmus said the team will evaluate him Tuesday before determining whether he'll DH again or return to first base.
"It felt better. It felt better than yesterday. Last couple innings it started getting tight again, but hopefully I can get back tomorrow in the field. I'm trying to get loose and trying to go out there and play."
Cabrera's blast, one of three for the Tigers, wasn't enough to overcome the club's sloppy play. Detroit dropped to 3-8 in itslast 11 road games following an 11-game road winning streak. It mirrors the team's slide over the past few weeks.
On May 18, The Tigers were a season-high 15 games over .500 at 27-12. Since then, they've gone 6-15, with a third of those losses coming by two runs or fewer. During that span, Detroit has lost games because of their much-maligned bullpen -- which tossed three scoreless innings -- a lack of clutch-hitting and its defense.
"If this was a young group of guys, I'd be concerned about some type of snowball effect. But because it's not, that doesn't concern me," Ausmus said. "We could've won [Sunday] night and didn't. We could've won tonight and didn't. I don't think with this group of guys that it's going to have a long-term effect."
Joe Popely is an associate reporter for MLB.com. This story was not subject to the approval of Major League Baseball or its clubs.