Despite loss, Bergman has debut to remember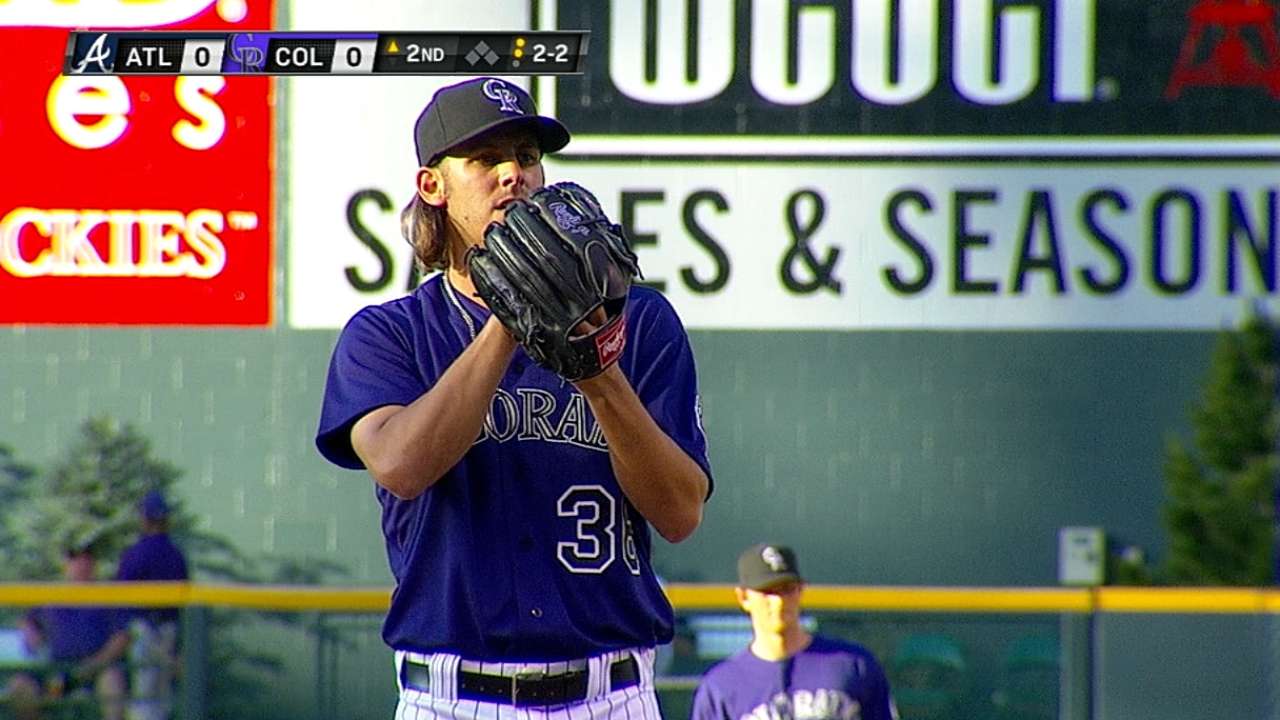 DENVER -- Right-hander Christian Bergman has little to regret about his Major League debut, except perhaps that his was one of only three hits the Rockies could muster against Braves right-hander Gavin Floyd.
Outfielder Corey Dickerson homered in the eighth, otherwise Braves pitchers fooled Rockies batters all evening to secure a 3-1 victory in the series opener at Coors Field on Monday.
"I felt like Bergman was outstanding," said manager Walt Weiss. "He certainly pitched well enough to win, but we got shut down by Floyd."
Bergman (0-1) began his Major League career by tossing three no-hit innings before outfielder B.J. Upton broke through with a swinging bunt single to start the fourth. After stealing second, Upton scored on a groundout by catcher Evan Gattis. The Braves added a run on a two-out single from third baseman Chris Johnson.
"That inning, I think there was one ball hit hard," said Bergman. "It's hard to find any fault in that. Maybe you throw a different pitch, but it's easy to look back and say that."
The Braves got to Bergman for three more hits after that, but none for extra bases.
"He knows how to pitch off the barrel," said Weiss. "He makes the ball move late and makes it tough on hitters."
Bergman, a former 24th-round pick, refused to be rattled through the six innings he pitched, dancing around the damage while striking out four. But it was the damage that has already been done to the Rockies' lineup that proved to be the difference.
On a day when Michael Cuddyer's fractured right shoulder socket and Carlos Gonzalez's scheduled exploratory finger surgery were announced, the Rockies' offense looked lifeless, with four hits.
"You look at the guys that are out … [Gonzalez], a former All-Star left fielder; a former All-Star right fielder [in myself]; and [Nolan Arenado], a guy who was probably going to be an All-Star third baseman," said Cuddyer. "There's no question that's tough, but at the same time, nobody in the league is going to feel sorry for us."
Rather than wallow, Weiss chose to credit Floyd (1-2).
"What made [Floyd] tough was his slider," said Weiss. "He pitched well with his fastball away, particularly to our right-handed hitters and [left] very little in the middle of the plate."
Floyd had only made one previous start in Coors Field in his 11-year career. Although he wasn't fazed by the altitude in that 2011 outing, his seven-inning, two-run performance couldn't secure the victory. This time around he had little trouble earning his first win of the season.
"When you pitch and you get ahead of hitters, it doesn't matter where you pitch -- you're going to have low-scoring games," said Braves manager Fredi Gonzalez.
Though his young hurler had only thrown 89 pitches, Weiss decided to play it safe and brought in right-hander Rex Brothers after Bergman worked his way out of a bases-loaded jam to end the sixth.
Following the loss, Weiss said he felt that Bergman was capable of going back out but saw little else for him to accomplish.
"At that point I felt like he did his job," he said. "I felt like it was good for him to finish on a positive note, so that's why I went to Rex."
Brothers, too, had a positive note. The hard-throwing reliever entered the game having allowed 10 earned runs over his previous seven appearances, but he shut down the Braves in his inning of work, striking out three and walking one.
"I saw some depth to his slider and some angle to his fastball," said Weiss. "I know he's been working on some minor things mechanically, but it looks like it paid off tonight."
The Rockies' best chance to strike came in the seventh. Dickerson sent a 2-1 pitch into the left-field bleachers to lead off the inning, but Floyd settled down for two quick outs before walking second baseman DJ LeMahieu.
After that free pass ended Floyd's night, pinch-hitter Brandon Barnes welcomed left-handed reliever Luis Avilan with a ground ball up the middle and hustled into second for a double. Yet with runners on second and third, outfielder Charlie Blackmon grounded out softly to Avilan to kill the rally. Right-handers Shae Simmons and Craig Kimbrel took it from there and closed it out for the Braves.
The Rockies have now lost 10 of their last 11 and 14 of 17 dating back to the start of their previous road trip.
Cody Ulm is an associate reporter for MLB.com. This story was not subject to the approval of Major League Baseball or its clubs.