Bounceback from Floyd, strong 'pen carry Braves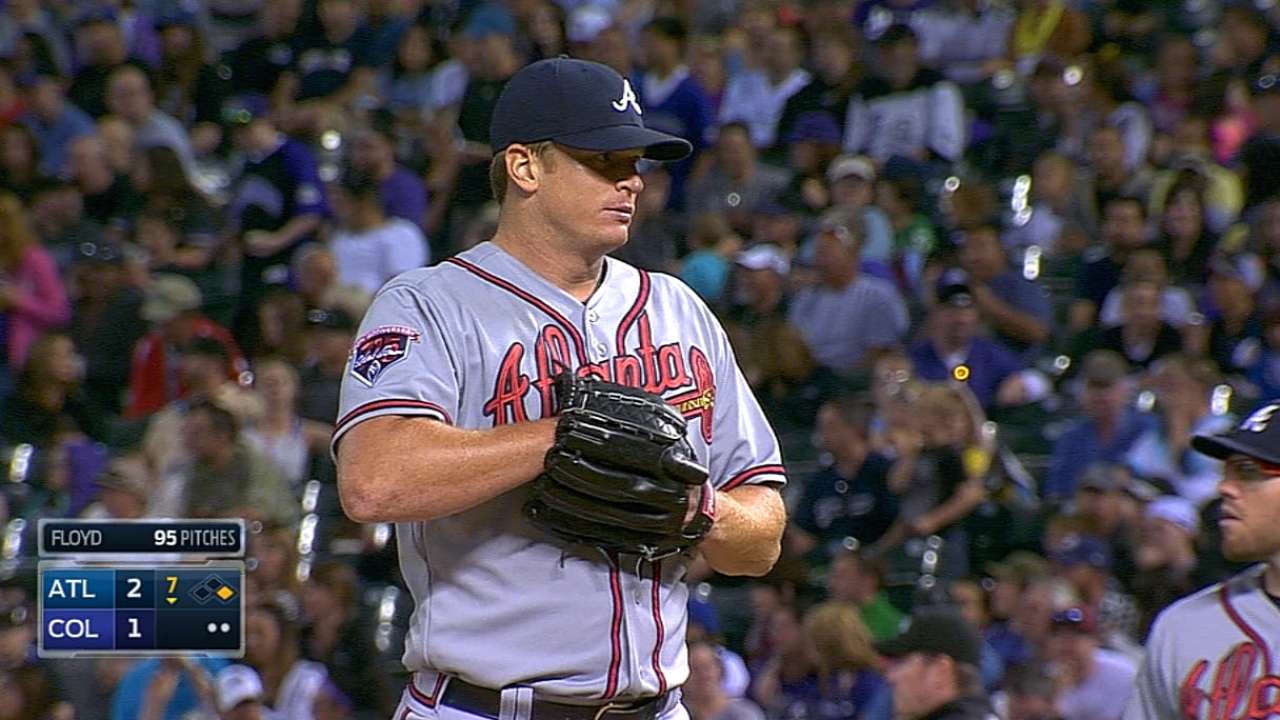 DENVER -- After watching his recently suspect bullpen blow late leads the previous two days, manager Fredi Gonzalez came to Denver knowing that Coors Field might prove to be even more unsettling than usual this week.
But his nerves were at least slightly calmed when Gavin Floyd once again conquered this hitter's paradise. Floyd bounced back from his roughest start of the season with a strong performance that the Braves supported with a two-run fourth inning in Monday night's 3-1 win.
"Everything is always focused on the pitching," Gonzalez said. "When you play well, you pitch well. Today, Gavin gave us a terrific opportunity to win the game."
Once Craig Kimbrel bounced back from Saturday's blown save to record two strikeouts in a scoreless ninth, the Braves breathed a sigh of relief knowing they had avoided the late-inning struggles their bullpen has recently experienced.
At the same time, Floyd had the satisfaction of knowing he had recorded his first win since returning from Tommy John surgery last month.
"The goal of this game is to win," Floyd said. "When you can be part of a win, it's exciting. You feed off of it. Even though I know I've felt good and I've been pitching real well, it's nice to have that first one."
Floyd limited the Rockies to three hits over a 6 2/3-inning outing that was tarnished only by Corey Dickerson's home run to begin the seventh. Floyd's effort was backed by that of Chris Johnson, who highlighted a three-hit night with a pair of RBI singles, and the Braves' bullpen, which had blown a lead carried out of the sixth inning in four of the previous 19 games.
Although Kimbrel was credited with the save and Luis Avilan gained a much-needed boost of confidence by stranding two in the seventh, Atlanta's most impressive relief performance came from 23-year-old right-hander Shae Simmons, who went through the heart of the Rockies' lineup in perfect fashion during the eighth.
Simmons ended the inning by striking out Troy Tulowitzki, who went 0-for-4 to drop his Major League-best home batting average all the way down … to .480.
Simmons has not allowed a run in the six appearances he has made since making the jump from Double-A on May 31, and he has proven that he can team with Jordan Walden, who will be activated from the disabled list on Tuesday, giving the Braves two solid setup options for Kimbrel.
"He's a stud," Johnson said of Simmons. "He's got good stuff. He throws hard, and the good thing is, he's not afraid to go after anybody. Tulo, in my opinion, is one of the best players in all of baseball, and [Simmons] went right after him. That was pretty cool to watch."
The Braves also enjoyed watching Johnson extend his recent success against right-handed pitchers by recording the two clutch singles, which were reminiscent of those he notched while hitting .336 with runners in scoring position last season.
He entered the series having hit .222 in these situations and .227 against right-handed pitchers, but conquered some frustrations as he capped the two-run fourth by plating Freddie Freeman with a two-out single off Christian Bergman, who was making his Major League debut. He later helped the Braves regain a two-run cushion when he knocked in Justin Upton with a single off Rex Brothers in the eighth inning.
Each of his three hits was recorded against a right-handed pitcher.
"Usually, I'm pretty good [with runners in scoring position], so it's nice to get back to that," Johnson said. "It was nice to give Gavin a cushion, because that is all he needed."
Floyd has now allowed two earned runs or fewer in five of his seven starts. That might help explain why Gonzalez was confused when the veteran hurler approached him after the game and asked for the lineup card.
Gonzalez did not know this was Floyd's first win since Oct. 3, 2012.
"I said, 'I thought you had been 3-0 or 4-0 before tonight,'" Gonzalez said. "That's how good he's pitched."
Floyd was certainly much more efficient than he was last week, when he surrendered a season-high 10 hits in just five innings against the Mariners. The only hits he surrendered through the first six innings on Monday came courtesy of Michael McKenry's two-out single in the second inning and the leadoff single in the third by Rockies starter Christian Bergman, who gained the distinction of recording his first hit before allowing his first.
The only lasting damage inflicted by those two singles was the discomfort Floyd felt in his right ankle after his foot got stuck as he attempted to pick McKenry off first base. Floyd, who induced 10 ground-ball outs and recorded four strikeouts, has now allowed three runs in the 13 2/3 innings encompassing his two career starts at Coors Field.
"The air is a little thinner out here, and the ball travels a lot further than normal," he said. "It's one of those things you can't control, but you try to keep it on the ground."
Bergman began his first career start by keeping the Braves hitless through the first three innings, but his good fortunes were halted after B.J. Upton started the fourth with an infield single and eventually scored the game's first run on Evan Gattis' chopper to third base.
The two-run fourth inning proved to be all that was necessary for Floyd to gain a tangible reward for all he endured during the yearlong rehab process following Tommy John surgery.
"Especially after a full year off and coming back, I'm just thankful to be able to get my first one," he said. "Hopefully, I'll be able to roll with it."
Mark Bowman is a reporter for MLB.com. This story was not subject to the approval of Major League Baseball or its clubs.