Rays shake things up in back end of bullpen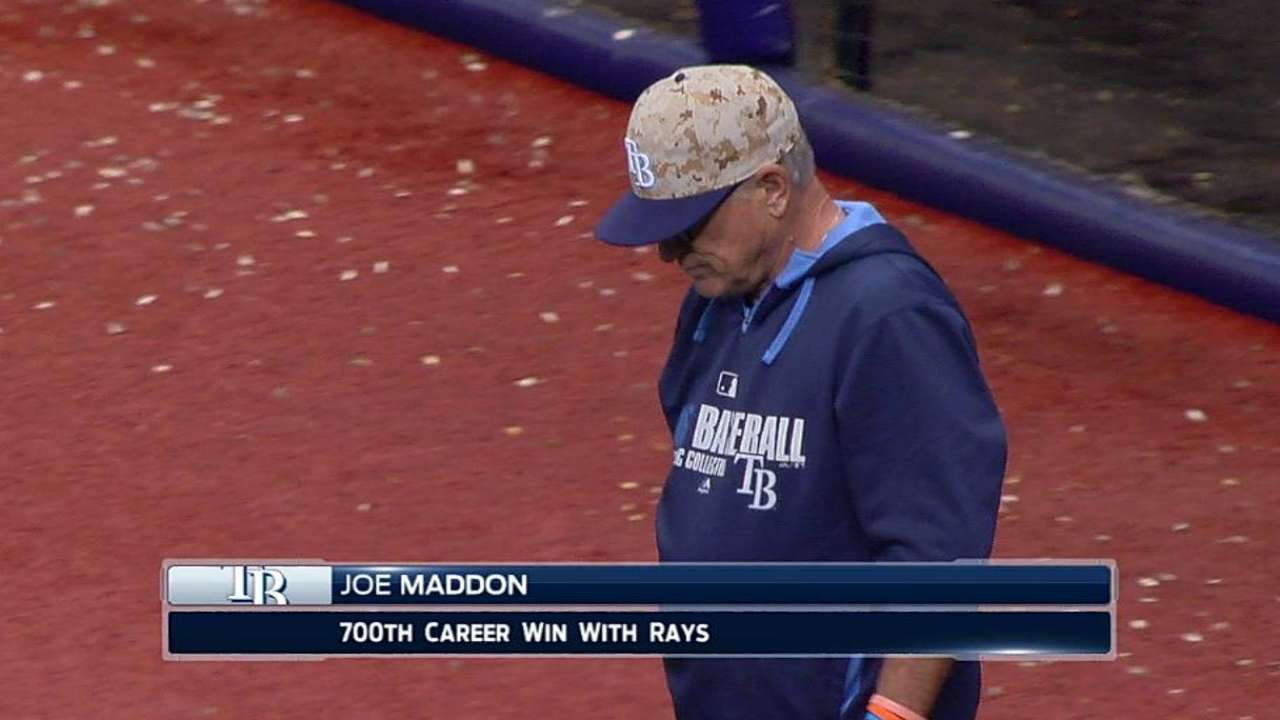 ST. PETERSBURG -- Grant Balfour allowed five earned runs in an inning for the second time in his career on Sunday -- and the second time this season.
Prior to Monday afternoon's game against the Mariners, Rays manager Joe Maddon informed the closer that the team was "going to go by committee right now."
"Just want him to understand I want to take a little bit off his plate right now," Maddon said, "and get him going in the right direction again. Here's one of the most consistent relievers over the last couple of years in the big leagues, but it just hasn't been working. Just hasn't been working yet. But it will.
"Right now, I just want to back off a little bit. Take a little bit off of him. And, again, he could end up closing any game. We've done this in the past. If it plays out properly and he's there at the end of the game, he will close. But I just want the ability to utilize the whole bullpen and take a little bit off his plate right now."
Balfour allowed five earned runs in the ninth inning of the Rays' April 25 loss to the White Sox, when Jose Abreu topped it off with a walk-off grand slam. Sunday's five-run performance sat even worse with Balfour, because he felt like he had good stuff.
"The [White Sox game] was me not feeling well and not pitching well," Balfour said. "... But yesterday, I'm one pitch away from striking out the side, and I give up five runs.
"I felt really good yesterday. ... It was a frustrating day. You might have been standing here saying, 'You struck out the side on 10 pitches.' Because, honestly, that's how close it was. ... As crazy as it sounds, that's just how the game goes some time."
Balfour looked sharp striking out the first two batters he faced on Sunday. Maddon agreed that Balfour had good stuff.
"He came out and struck out the first two guys," Maddon said. "... So I felt, 'Here we go.' But again, I defend, he was throwing the ball -- I thought -- better. Just something's not clicking right now."
Maddon wants to be able to get Balfour "some successful moments" to get his confidence back. In the meantime, Juan Carlos Oviedo, Joel Peralta and Jake McGee could all get work late in games with the lead.
Bill Chastain is a reporter for MLB.com. David Adler is an associate reporter for MLB.com. This story was not subject to the approval of Major League Baseball or its clubs.