McClendon praises Zunino's work behind the plate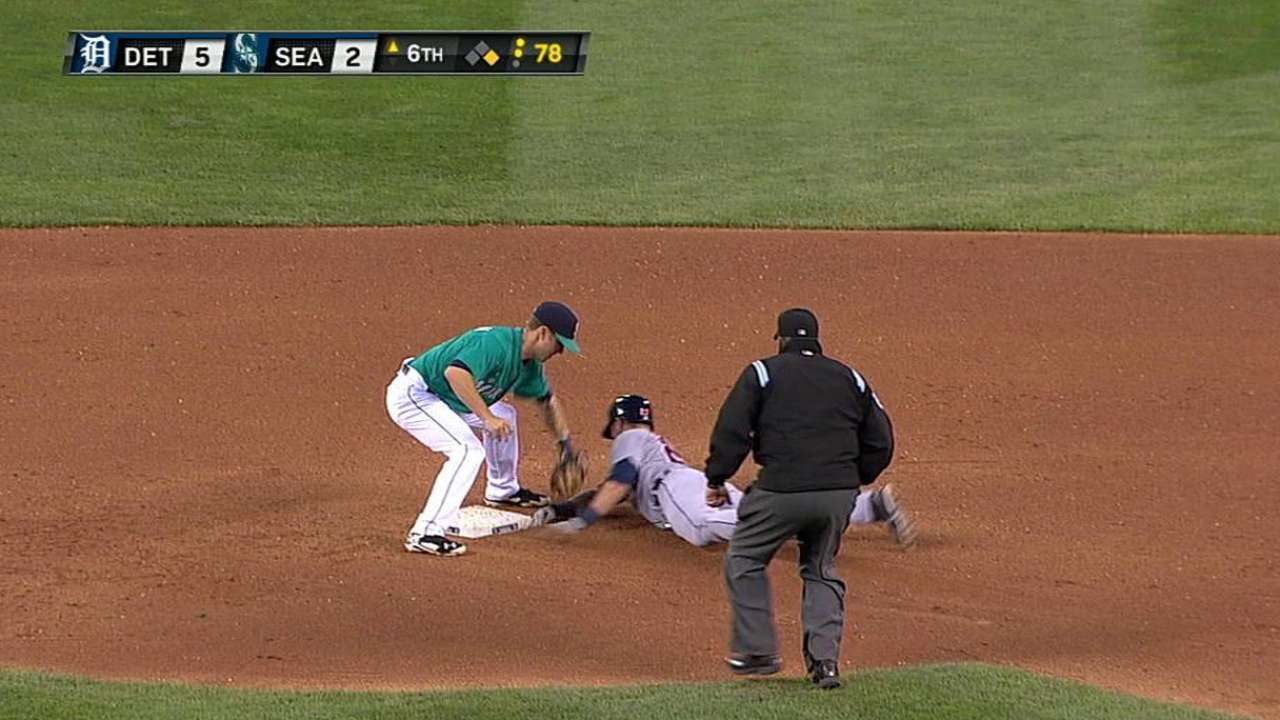 ST. PETERSBURG -- Moments after the Mariners pulled out a 5-0 victory on Sunday, in which Felix Hernandez struck out a career-best 15 batters and Seattle rallied with five runs in the top of the ninth, manager Lloyd McClendon stopped his postgame media session before it even began so he could talk about a player who'd gone 0-for-4.
"We talk about offense all the time, but today my catcher was outstanding and probably saved the game for us," McClendon said of Mike Zunino. "He blocked his butt off. He did a tremendous job. Sometimes that goes unnoticed, but he was pretty darn good back there.
"No hits, but he won a game for us. That's pretty good."
Part of Hernandez's strikeout prowess is due to having a catcher he trusts to block his wicked changeups and sinkers in the dirt in any situation, including some precarious pitches with Tampa Bay's potential go-ahead runner perched on third in Ben Zobrist in the seventh inning.
Hernandez struck out the side in that frame, the last two with Zobrist just 90 feet from home, finishing his 15-strikeout day before McClendon replaced him with Yoervis Medina.
"He's pretty good," Hernandez said with a smile, when asked about his young batterymate. "This was one of those days when I threw everything I could and knew he'd stop it. I have a lot of confidence in Mike."
And that is music to the ears of Zunino, who prides himself on his defense. Zunino has caught all 14 of Hernandez's starts this year and has provided plenty of support with the bat, hitting .340 (17-for-50) with five home runs, nine extra-base hits, 10 runs and 13 RBIs in those games.
But defense is where Zunino earns his keep, and he knows that better than anyone.
"To me, there should be no ball getting behind me or to the side," Zunino said. "I want to keep everything in front of me, because it gives these guys trust they can throw any pitch in any count."
There is an extra degree of difficulty in that department when Hernandez is on the mound, with his array of pitches that dive at the last moment.
"It definitely keeps you on your toes, but the more I catch him, the more I get an idea of what he wants to do and how balls move at certain times and just how he works," said Zunino. "The more I catch him, I seem to learn something new about him every day. Hopefully we can really fine tune everything and keep everything going the right direction."
Greg Johns is a reporter for MLB.com. Follow him on Twitter @GregJohnsMLB as well as his Mariners Musings blog. This story was not subject to the approval of Major League Baseball or its clubs.