Mariners weave second straight combined shutout
Ramirez opens with 4 2/3 innings; Cano shines on offense, defense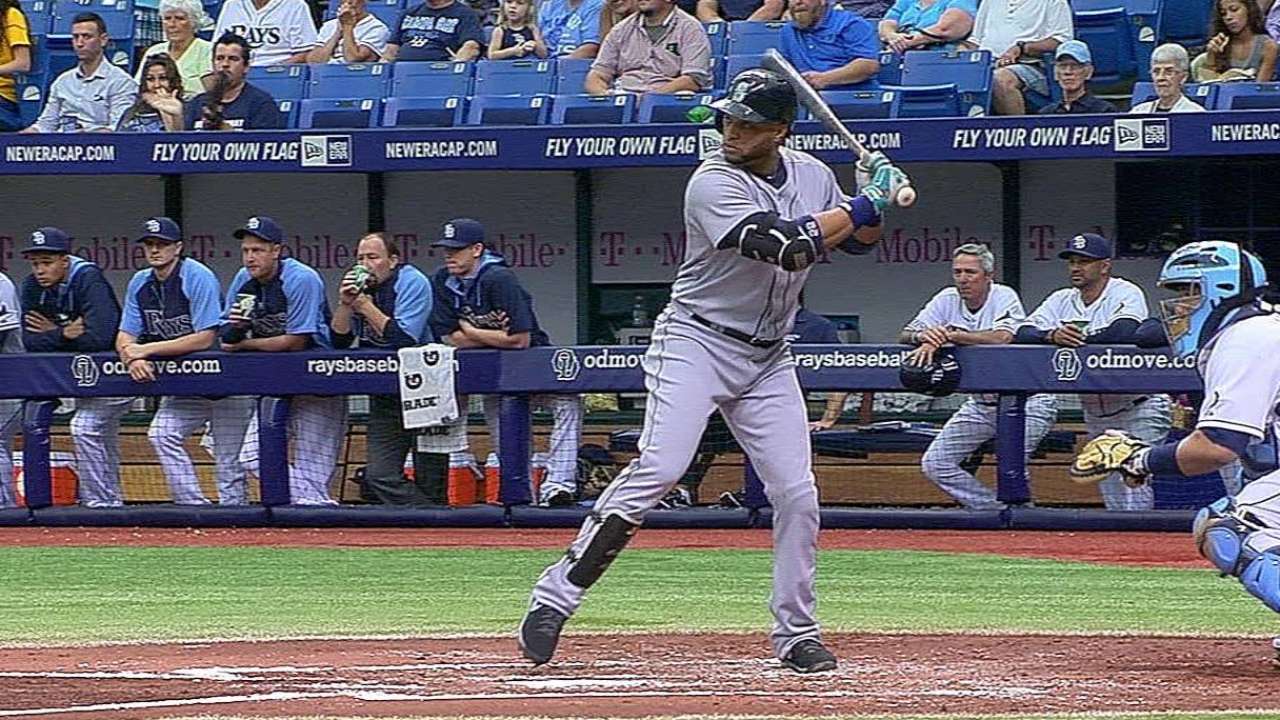 ST. PETERSBURG -- Erasmo Ramirez tight-roped through 4 2/3 scoreless innings, then Seattle's bullpen did the rest as the Mariners concluded an outstanding road trip with a 3-0 victory over the Rays on Monday afternoon at Tropicana Field.
Things are going so well right now for the Mariners that Ramirez allowed four hits and walked five in his 88-pitch outing, but none of those baserunners crossed the plate as the Rays stranded nine runners in the first five innings and 10 for the game against five hurlers.
The tag-team effort resulted in Seattle's fourth shutout in the past eight games, continuing a strong run of pitching that helped the Mariners complete a difficult trek from New York to Atlanta to St. Petersburg with a 6-1 record. That's the best winning percentage for any Seattle road trip of six or more games since going 11-1 in a four-city tour in 2003.
"Our last seven to eight starts have been pretty darn good," said manager Lloyd McClendon. "Our starters have given us everything we've asked and probably a little more. And our bullpen is even better. It was a nice road trip for us."
The Mariners have won eight of their past nine games and are 27-16 since April 24 as they've climbed to 34-29, a seven-win improvement from this point in the season last year. Seattle hasn't been five games over .500 since ending the 2009 season with an 85-77 record.
The Rays are headed the opposite direction, having lost 13 of their last 14 to fall to a Major League-worst 24-41.
This one was about pitching, defense, a key bunt by rookie James Jones and a timely double by Robinson Cano against Rays ace David Price in a three-run third inning that wound up being all the offense Seattle needed for its third straight victory after losing the series opener.
"We're a team that has to do anything to win a game," said Cano. "We don't have three or four guys that can hit 30 homers or 100 RBIs. So we have to play the little game and do the little things."
Seattle set up its one big inning with base hits by John Buck and Willie Bloomquist, followed by a perfect bunt single by Jones between the mound and first base that loaded the bases for Cano, who drove an 0-2 fastball into left to raise his RBI total to 33 for the season.
Price had 10 strikeouts on the day, but he saw his record fall to 4-6 with a 3.97 ERA. And the former American League Cy Young Award winner knew what got him.
"The one pitch I feel like I'd want back was the 0-2 fastball to Cano," Price said. "Middle and up in the zone. That's what good hitters do, and it hurt."
Cano, who is familiar with Price from his days in the AL East, was happy to get something to hit in such a critical juncture with the bases full and one out.
"That's a guy who is a pretty good pitcher," Cano said. "All his pitches are nasty. I was looking for a pitch up in the zone, and a good thing it was a fastball, and I ended up getting that double and two RBIs. He's one of those guys you want to score early on, because the deeper you get in the game, the better he gets. And you could see what happened after that."
Cano appreciated Jones dropping down the perfect bunt to set up his bases-loaded situation, noting that as one of the little things the Mariners have to do.
"That was a great bunt," Cano said. "We all know that's his game. I like that play right there, because [Price is] a guy that throws fastballs and goes right at you. He's a perfect guy to take it that way, and you see the results."
Cano extended his hitting streak to seven games -- and 18 straight road games -- with a 1-for-3 day with a walk that kept his batting average at .330.
Jones went 3-for-4 to hike his average to .291, and he also stole his team-leading seventh base since being called up from Triple-A Tacoma on May 6.
"He's been great," McClendon said of Jones. "He's learning every day. He's going to have his ups and downs. He had a great bunt and he also had a lousy bunt in an opportune time [when he popped out with a runner on first in the fifth]. But he'll learn from his mistakes as well as his achievements.
"I like what I see. He's on his way to being a pretty darn good Major League baseball player."
Pitching his second game since being recalled May 3 to replace the struggling Brandon Maurer, Ramirez worked around a pair of walks in the first and third innings, two singles leading off the fourth and a double and walk in the fifth.
McClendon brought on Joe Beimel with two on and two out in the fifth, and the lefty got out of that jam to preserve Ramirez's scoreless day and start off a procession of relievers. The no-decision left Ramirez's record at 1-4, but he lowered his ERA to 5.97 in eight starts this year.
"He did OK," McClendon said. "It was better than his last two or three outings. He made some good pitches at times. We just have to get him to slow down a little bit out there and concentrate on what he's doing, but for the most part, I was pleased."
Beimel wound up with the win, his first since July 24, 2011, with the Pirates. Fernando Rodney threw a 1-2-3 ninth for his 18th save, his second in the series against his former club. And four relievers combined for 4 1/3 innings of one-hit ball to finish off the near-perfect road swing.
"Right now, we're throwing the ball really well and Lloyd has the confidence in us," said Danny Farquhar, who pitched the seventh and eighth innings. "He's going to us early, going to us late, going to us whenever. It's nice to have a feeling that the manager has our back and feels we can hold down a 3-0 game.
"Right now, everything is going great. Starters are doing their part, hitters are doing their part and it's fun. Winning is way more fun than losing."
Greg Johns is a reporter for MLB.com. Follow him on Twitter @GregJohnsMLB as well as his Mariners Musings blog. This story was not subject to the approval of Major League Baseball or its clubs.