Lincecum, Blanco lead Giants to sweep of Mets
Righty gives up two homers to Granderson; outfielder drives in three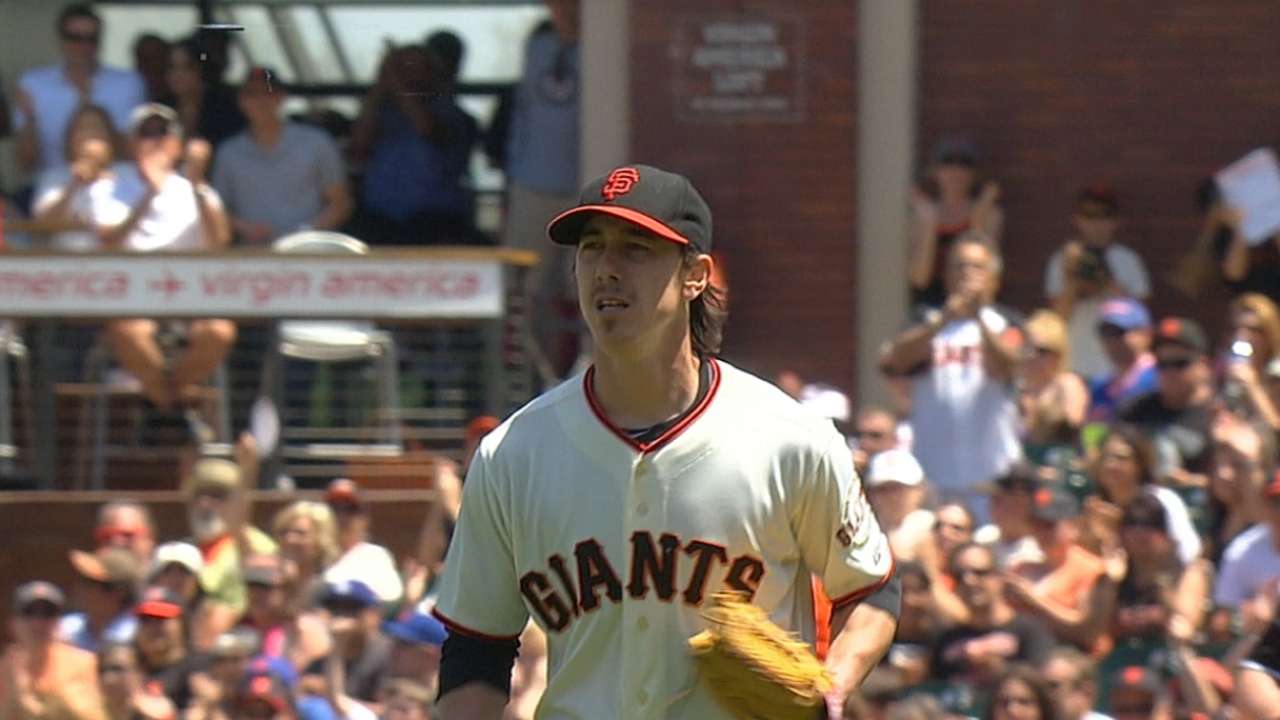 SAN FRANCISCO -- Keep Tim Lincecum in the friendly confines of AT&T Park, and the right-hander is solid. Keep Curtis Granderson out, and Lincecum would be even better.
Nonetheless, Lincecum kept the Giants in a position to win Sunday, 6-4, at AT&T Park to notch their fourth sweep of the season.
Granderson's two homers accounted for the three runs Lincecum (5-4, 4.97 ERA) allowed, and the two-run shot in the first inning provided a short-lived New York lead. The Giants (42-21) used Gregor Blanco's three RBIs and steady run support to hand the Mets (28-35) their sixth consecutive loss.
Some believe Lincecum's line Sunday -- three runs on six hits and one walk -- has become the best-case norm, acceptable provided he gives the team a chance to win and doesn't allow a first-inning meltdown, as has been the case in the past but not Sunday.
"I would be lying to you if I said that didn't go through my head a little," Lincecum said of a here-we-go-again mindset following Granderson's first-inning homer, "but like I said, you have to bounce back and not let that bury you in a hole when you have a lot more game to go and it's your job to keep the team in the game. And that's what I was trying to do."
San Francisco made it a short outing for former Giants prospect Zack Wheeler (2-6, 4.19), who lasted only 3 2/3 innings and allowed four runs on six hits and two walks.
Blanco, who filled in at the leadoff spot and center field for Angel Pagan, went 2-for-4 with a two-run double and an RBI single. Pablo Sandoval and Brandon Crawford had two hits apiece, as every Giants hitter besides Michael Morse reached base -- even Lincecum, who got his first hit of the season, a single.
Blanco said his success filling in for Pagan, who gets an occasional day off, is partly because of a mindset of being ready at any time and mostly because of batting-practice discipline geared toward keeping the ball in play. He can rattle off his batting-practice numbers better than most players can recall their regular-season statistics.
"In my last BP, I only had one fly ball," he said. "The rest were ground balls and line drives. It shows up in the game."
Blanco's RBI single in the seventh gave the Giants a 5-3 lead, a run they needed when Daniel Murphy scored on Jean Machi's wild pitch in the eighth. Then with Granderson on third base with two outs, Machi got Chris Young to fly out.
Brandon Hicks provided an insurance run in the bottom of the frame with a two-out RBI single, his first RBI since May 23, to make it 6-4.
"That's a big base hit to add a run toward the end of the ballgame," manager Bruce Bochy said.
Added Granderson: "They don't have any quit in them no matter what the situation is. They continue to go out there and fight for 27 outs, and that's a good sign of a team that's playing good baseball. Anybody in their lineup can hurt you, whether it be with a base hit or a stolen base or a ball out of the ballpark."
Sergio Romo entered in the ninth inning after Javier Lopez walked Lucas Duda. Romo got three consecutive outs for his 20th save in 22 chances, punctuated by striking out pinch-hitter Wilmer Flores swinging.
"My job is to get outs," Romo said. "A runner on first with no outs, I have to focus on getting the hitters out."
Same for Lincecum. He entered as one of only eight qualifying pitchers in the Majors with an ERA above 5.00. With his typical outings, the bullpen must hold up its end of the bargain.
The relievers indeed did Sunday. It helped that the Mets were 0-for-6 with runners in scoring position. Machi's wild pitch, a run that counted against Jeremy Affeldt, was the most costly moment for the San Francisco 'pen.
"When you have four to five guys who are comfortable pitching late in the game, that's a good thing," Bochy said. "They all did a good job of picking each other up today."
Before Sunday, Lincecum had a 3.76 ERA at home, compared to a 6.84 ERA on the road. That he only granted one free pass against the Mets was a significant positive -- his 4.31 walks per nine innings average entering Sunday was fourth-highest in the National League.
"He's had his ups and downs," Bochy said, "but I like to look at the wins and losses when he starts, and it's pretty good. He's been really good at times; occasionally he has his hiccups. Today I thought he had a nice focus out there. The first inning could've gotten away from him but he regrouped."
Willie Bans is a contributor to MLB.com. This story was not subject to the approval of Major League Baseball or its clubs.