Hamilton backs Wilson's sharp outing vs. White Sox
Angels complete three-game sweep behind slugger's three RBIs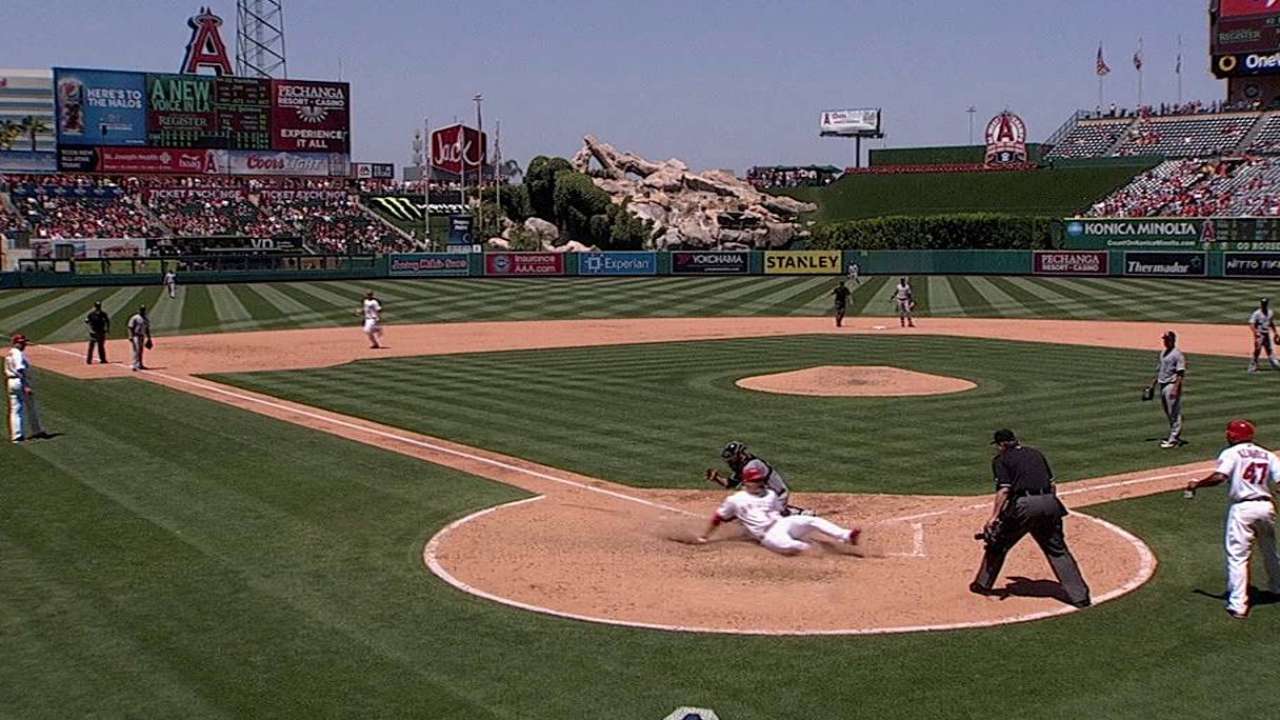 ANAHEIM -- Josh Hamilton got hurt too soon. It was early April, barely a week into the season and nowhere near enough time to gauge whether he was really back to being the prominent hitter of his Texas days or if this was just some random, eight-game sample size before it all went south again.
Now he's back, six games into his return from an eight-week rehab over a surgically repaired left thumb, and he's still in a groove.
And it means everything.
"He's getting hits off lefties, he's getting hits to the opposite field, he's drawing walks -- he's doing everything right," Hamilton's teammate, C.J. Wilson, said after the Angels' 4-2 win over the White Sox on Sunday. "I've always said he's a tremendous player, one of the best offensive players in baseball. And now he's going to hopefully put together a really good last three-quarters of the season."
Hamilton drove in three runs in the finale, backing Wilson's 7 1/3 innings of one-run ball and pushing the Angels to a three-game sweep -- an important one, given the looming three-game series against a first-place A's team that has beaten them five times in six games so far.
"We're going to beat 'em," confident closer Ernesto Frieri said, his team trailing Oakland by 4 1/2 games in the American League West. "I hate to say this, but they've had a little bit of extra luck. If you pay attention to every play, it's stupid how the games go their way. But it's going to turn."
At the very least, Hamilton's career is turning again.
He batted .250/.307/.432 in the first year of a five-year, $125 million contract last season, but showed signs of turning it around down the stretch -- posting an .892 OPS in his last 36 games -- and has carried that over into a successful start to 2014, despite a prolonged intermission.
Hamilton notched five hits over the last two games, including two apiece against two premier lefties -- Chris Sale on Saturday, Jose Quintana on Sunday.
"That just helps the confidence," said Hamilton, who batted only .201 against lefties last year. "With Oakland coming in, we'll face two more lefties there [Drew Pomeranz on Tuesday and Tommy Milone on Wednesday]. These were two good ones, and they have a couple good ones there. I'll just continue to try to do the same thing and put the ball in play and have a good at-bat."
Hamilton's fifth-inning single on Saturday broke up Sale's no-hitter and was the first hit the White Sox ace had allowed to a lefty in 33 at-bats. Hamilton notched two more singles -- one to left field, one to right field -- in the seventh and eighth, then came through when the Angels needed him most the following afternoon.
With two outs in the third, he smacked a two-out double to score Mike Trout and put the Angels (34-28) on the board. With one out and the bases loaded in the fifth, he lined a two-run single to right, giving his team a 3-0 lead that proved to be enough after Frieri skated around some trouble in the ninth.
"We couldn't get that guy out," White Sox center fielder Adam Eaton said of Hamilton, who went 7-for-12 with two doubles and four RBIs in the three-game set.
"He was definitely a headache."
Hamilton is now 8-for-23 since getting activated off the disabled list, and his slash line is at .400/.474/.660 through the first 14 games of the season.
Those stats may not continue, but the Angels are confident his approach will remain unchanged.
"When he's getting a pitch in the zone, he's putting a great swing on it," Angels manager Mike Scioscia said. "When it's out of the zone, he's taking it. That's the Josh that we remember."
Hamilton was at least lucky that it was his left thumb that he banged against first base at Safeco Field on April 8, allowing him to at least do hitting drills with his bottom hand as he waited to heal. He felt "really, really good" as he started taking two-handed swings again, and figured it could carry over.
So, when asked about picking up where he left off, Hamilton said, "Not surprised. Excited."
Hamilton has a history of bouncing back from prolonged DL stints, none more prominent than in September 2010, when he broke two ribs, missed four weeks, came back for the final three games of the regular season, won the American League's Most Valuable Player Award and was later named MVP of the AL Championship Series.
The 33-year-old learned something then.
"I think the biggest thing is you can't do anything to make up for the games you've lost," Hamilton said. "That's a big deal. And I've done that before -- tried to come back and do too much, and ended up spiraling the other way. Just come in, do your work, and when the time's right, it'll work itself out."
Alden Gonzalez is a reporter for MLB.com. Read his blog, Gonzo and "The Show", and follow him on Twitter @Alden_Gonzalez. This story was not subject to the approval of Major League Baseball or its clubs.