White Sox unable to solve Angels' Wilson, drop finale
Offense limited to two runs in eighth after Quintana's bumpy outing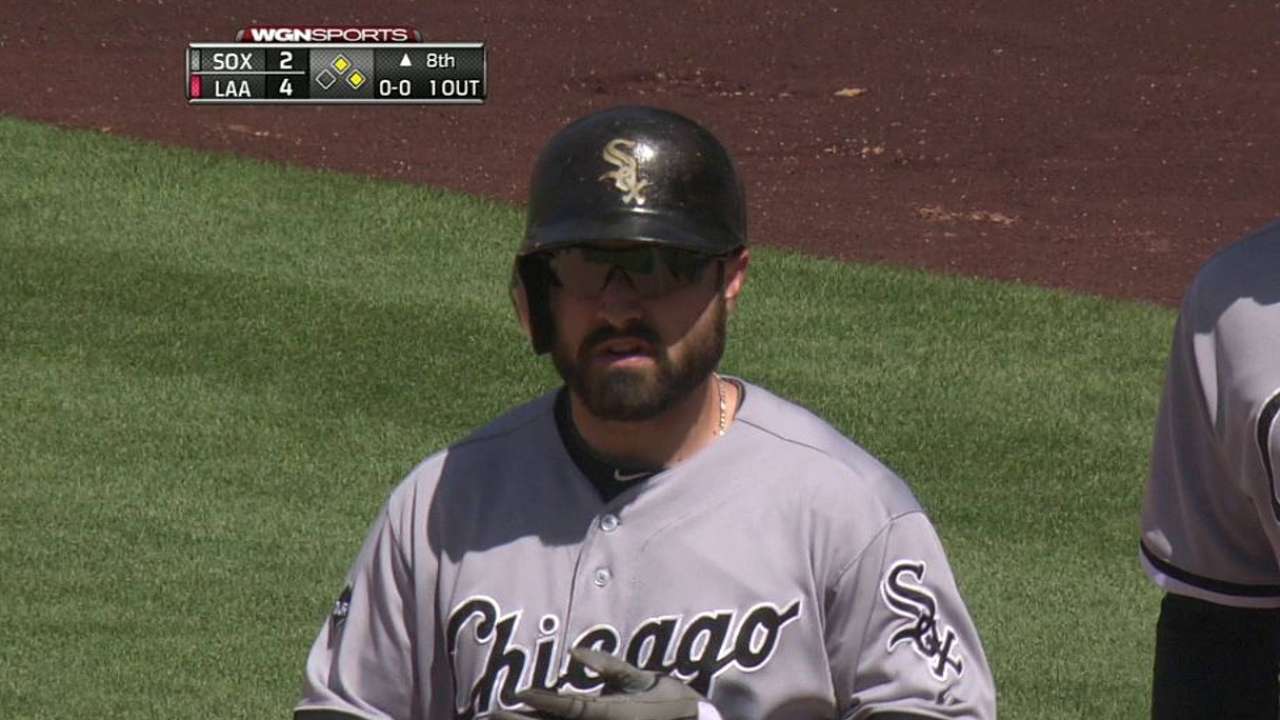 ANAHEIM -- The White Sox played flat during the Angels 4-2 victory Sunday afternoon at Angel Stadium.
Part of the reason for that lackluster effort stemmed from C.J. Wilson (7-5) making a high-quality start. But a second explanation would be the hangover from Saturday's gut-punch of a loss.
Holding a 5-0 lead in the eighth and with the seemingly unhittable Chris Sale on the mound, the White Sox (31-33) were unable to finish off the Angels and lost by virtue of a six-run eighth. That stunning defeat did nothing to enhance the early energy for the Sunday afternoon's series finale.
"Sometimes games like that deflate you a little bit, but Wilson had a big hand in that I guess," White Sox leadoff man and center fielder Adam Eaton said. "Hit his spots, made his pitches when he needed to but top to bottom we need to battle a lot more."
Wilson was effectively wild for the Angels (34-28), although more effective than consistently out of the strike zone. He held the White Sox hitless through three innings until Gordon Beckham's leadoff single in the fourth and allowed just three hits and one run over 7 1/3 innings. Wilson struck out six and walked two, not allowing a runner to reach second until the eighth inning.
Even with this subpar performance, Robin Ventura's crew did not bow out without a fight. Wilson departed after a one-out walk to Tyler Flowers in the eighth, and reliever Joe Smith yielded a pinch-hit double to Alejandro De Aza, a run-scoring single to pinch-hitter Conor Gillaspie and Eaton's run-scoring single up the middle.
But Beckham, who had two of the White Sox seven hits, grounded into a double play to end the threat. The play was executed by Howie Kendrick despite a solid takeout slide by Eaton.
Injuries appear to be pretty much behind the White Sox at this point, at least the ones that could be healed in the short term. Yet with a .228 average and 38 runs scored in the last 13 games, not to mention a .180 average with runners in scoring position in the last nine, the team has some work to do to piece back together a more cohesive offensive unit. Jose Abreu, as an example, finished 1-for-12 in this three-game set.
"Obviously he's been driving the ball all over the park, and he can hit a variety of pitches," said Angels manager Mike Scioscia of shutting down Abreu, who fanned four times Saturday and hit into two double plays Sunday. "He's just really dangerous in the box. He impressed us in Spring Training, and he's having a great start. I think we did a good job of getting some pitches into some good zones."
"Offensively I think we'd be somewhat better at this point," said Ventura, addressing the offense as a whole. "But again, it takes time. Once you have that feeling you are going to score runs and then you are missing guys and they are coming back, it doesn't automatically come back. We are going to have to work to get it back."
Jose Quintana (3-6) had a rare off day on the mound, ending a stretch of eight consecutive starts during which he has allowed three earned runs or less. The Angels got to him for four runs on seven hits over 4 1/3 innings, with Quintana walking four, striking out four and throwing 96 pitches before being replaced by Javy Guerra.
After loading the bases in the first with one out but getting Josh Hamilton on a pop out and striking out C.J. Cron to escape, Quintana allowed a run in the third on Hamilton's two-out double. The hard-hit line drive seemed to fool right fielder Moises Sierra.
Quintana couldn't shake free in the fifth, when the Angels loaded the bases again with one out. Hamilton singled home two runs and Cron followed with another run-scoring hit for the 4-0 lead.
"We couldn't get that guy out," said Eaton of Hamilton. "He's hitting .400 now, and he was definitely a headache."
Guerra served as a White Sox bright spot, striking out four over 1 2/3 innings, while Daniel Webb lowered his ERA to 2.03 with two scoreless innings. The White Sox had the tying runs on base with two outs in the ninth against Ernesto Frieri (10th save), but Adrian Nieto took a called third strike.
This late push wasn't enough to prevent the first sweep of the White Sox in Anaheim since Sept. 21-23, 2012, as well as their first three-game sweep this season. Their California road trip ended at 2-4 and left the White Sox looking forward to going home and starting anew with a four-game set against American League Central-leading Detroit.
"When we go home it erases everything for us. It really does. You kind of separate the road from home," Eaton said. "We'll be familiar, comfortable when we get home. And with these big four games coming up we'll be fine. We know these are kind of tell-tale so we're excited.
"We're going to flush these and focus on the future. We're excited to put our best out there and try to make up ground in our division."
By Monday, the lingering effects of this weekend should be more of a distant memory.
"Well, I mean, it's a bummer now, but tomorrow is another day and you are playing another team so you can get right back at it," Ventura said. "This game is every day. So you got to put this one behind you and start looking at tomorrow."
Scott Merkin is a reporter for MLB.com. Read his blog, Merk's Works, and follow him on Twitter @scottmerkin. This story was not subject to the approval of Major League Baseball or its clubs.