Indians edge Rangers to get back above .500
Masterson allows two runs; Tribe pulls ahead for good in the sixth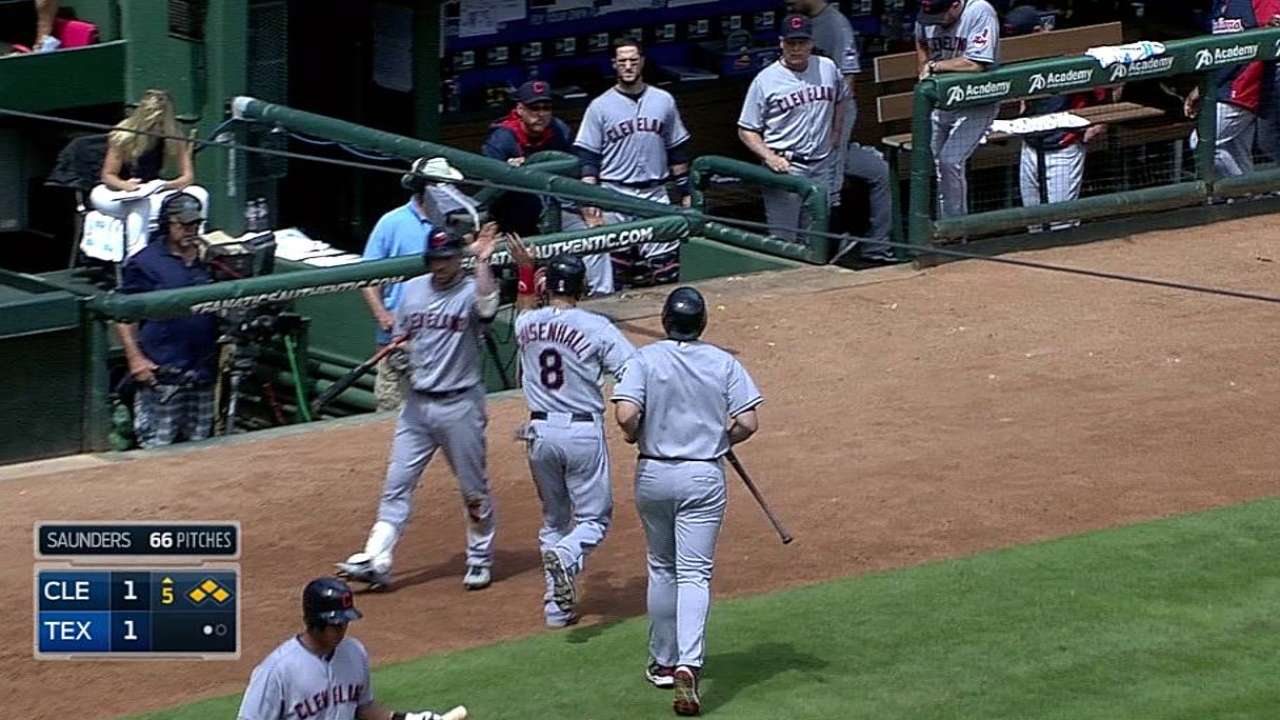 ARLINGTON -- Baseball's long season seemed like it was going to feel a lot longer for the Indians only a few weeks ago. Cleveland was staring at a considerable deficit in the American League Central standings and struggling in multiple facets of its brand of play.
On Sunday afternoon in Arlington, the Indians issued a reminder of baseball's ebbs and flows with a 3-2 victory over the Rangers at Globe Life Park. Behind a solid effort from starter Justin Masterson, who successfully fought his way through some command issues, Cleveland moved a game above the break-even mark for the first time since April 9.
That stepping stone seemed a lot further away.
"The way we've been playing has been a lot better," Masterson said. "We haven't been making too many errors. We're pitching better. Guys are competing at the plate. They're scoring a lot of runs. Especially on this road trip right now, we've actually won two games on the road. Two out of three. That in itself is showing us we're doing great things.
"You're seeing some of the fruits of the labor we're putting out there."
Masterson was referring to the fact that Cleveland had just a 9-19 record away from home prior to winning two of the first three tilts in the current four-game set with Texas. The win on Sunday marked the eighth in the past nine games and the 13th in the past 19 for the Indians (32-31), who now reside in second place in the AL Central.
On May 18, Cleveland was six games below .500, in last place and staring at a 10 1/2-game deficit behind the first-place Tigers. With a sweep of Detroit at home, the Tribe embarked on its 19-game run that has helped the club steadily climb the standings, pulling to withing 3 1/2 games of its rivals from the Motor City.
"Fortunately, it was early," Indians infielder Lonnie Chisenhall said. "We knew we weren't playing our best baseball. Now, we're playing better baseball -- not even our best. It's just encouraging to know that we were able to come back from that deficit and now we're going to continue to push forward."
The recent success has looked more like the style of baseball Cleveland offered in 2013.
The rotation has been performing better, the defense has shown improvement and the offense has been doing enough to help the Tribe find the win column more often than not. That formula helped the Indians claim the AL's top Wild Card spot last summer. Everyone remembers the champagne, making it easier to forget the early-season streakiness that club endured, too.
In fact, last season's Indians had a worse record (30-33) through the same point of the season.
"We did the same thing last year and then we got hot," Indians reliever Cody Allen said. "We were OK in April and we got hot in May. We were a streaky club. I don't think anybody was panicked in here. Everybody knows it's a long season and it takes a lot throughout the season to put together a quality record to go to the playoffs. That's all we were thinking about."
Against the Rangers (31-32), Masterson was strong out of his windup, but inconsistent pitching out of the stretch. The big sinkerballer was one pitch away from an escape act with the bases loaded in the fourth inning, but he yanked a slider too far outside the strike zone, leading to a wild pitch that allowed Alex Rios to score from third base for Texas' first run.
"It really went wild. It really, really got out there," Masterson said. "[Catcher Yan Gomes] had no chance to knock it down."
Facing lefty Joe Saunders, the Indians did enough damage to overcome Masterson's few hiccups, which included an RBI triple from Rios in the sixth inning. Asdrubal Cabrera chipped in a run-scoring single for the Tribe in the fifth. One frame later, Ryan Raburn connected for an RBI single and David Murphy added a sacrifice fly against Rangers reliever Shawn Tolleson.
Chisenhall had a pair of singles and came around to score each time, bumping his average to.365.
"He's been a big part of about everything we've done," Indians manager Terry Francona said. "He's been in the middle, it seems like, all our rallies."
Masterson gave the Indians 5 2/3 innings in which he struck out six, scattered five hits, walked two and hit one batter, but he was pulled in favor of lefty Marc Rzepczynski.
Rzepczynski retired the only batter he faced, setup man Bryan Shaw held the Rangers in check for two innings and Allen handled the ninth for his sixth save.
For Allen, it marked his fifth consecutive outing with a save and no hits allowed, marking the second-longest streak of its kind in Indians history. Joe Mesa holds the record with six such appearances in a row in September 1995.
"Zep came in and did exactly what he's supposed to do," Francona said. "And then Shaw, having some rest, we could allow him to come in in the seventh and, if he had a quick seventh, go back out, which he did. And Cody came in and did a great job."
It was a recipe that pushed Cleveland back above the break-even mark for the first time in 60 days.
"We have a lot of baseball left," Francona said. "We've been up, we've been down, we've been kind of in the middle. That's why you just try to win tomorrow and then [the standings] take care of themselves."
Jordan Bastian is a reporter for MLB.com. Read his blog, Major League Bastian, and follow him on Twitter @MLBastian. This story was not subject to the approval of Major League Baseball or its clubs.