Win streak ends as Cubs drop wild, windy game
Strop's wild pitch in eighth scores go-ahead run after Chicago rallies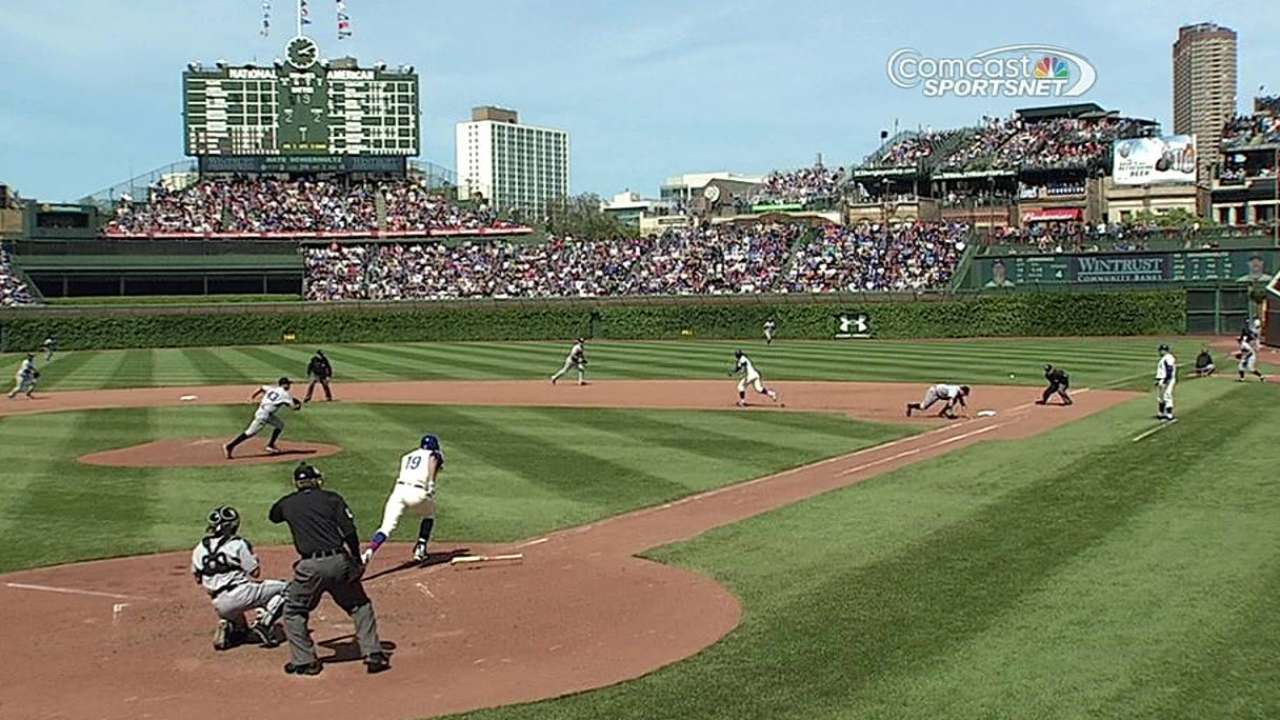 CHICAGO -- The Cubs' streak is over, but they leave Wrigley Field feeling pretty good about themselves.
Garrett Jones hit a game-tying sacrifice fly in the eighth, and the go-ahead run scored on a wild pitch to lift the Marlins to a 4-3 win Sunday over the Cubs, snapping their winning streak at five games.
Chicago was vying for its first six-game winning streak since May 26-June 1, 2008.
"The energy is at a pretty high level right now," Cubs starter Jake Arrieta said. "It's kind of a contagious thing. Once we get rolling and get a few in a row, it just kind of breeds confidence with everybody in the clubhouse. That's kind of what we need moving forward to be able to carry over some of that momentum to the following day and the following series.
"Even though we lost this one today, I think we go to Pittsburgh on a high note based on how well we've played in all facets of the game. It's been a lot of fun to watch."
Sunday's wasn't as fun. The pitchers had the edge as a 22-mph northerly wind kept the ball in Wrigley Field. Marlins starter Henderson Alvarez took the concept of mixing his speeds to the extreme. Twice against Luis Valbuena, for example, Alvarez threw a 59-mph eephus pitch and followed with a 95-mph fastball.
Apparently, Alvarez and Valbuena had discussed that earlier. The two Venezuelans know each other well, and Valbuena had joked with the Marlins starter not to throw the slow curve but he did.
"It was slow," Valbuena said. "[After he threw the first one] I said, 'Throw it again.' I didn't want to swing, but I saw it so good."
The Cubs finally did get to Alvarez in the sixth. Starlin Castro doubled with one out and advanced on Valbuena's grounder, which was costly for Alvarez, who landed awkwardly after fielding a high throw from first baseman Garrett Jones. Jones was charged with an error on the play. Alvarez threw one test pitch, then headed to the dugout. He was diagnosed with a left hip strain, but the right-hander said he did not expect to miss his next start.
Lefty Dan Jennings took over, and Nate Schierholtz smacked a triple down the right-field line to drive in both runners and put the Cubs ahead, 2-0. The runs were charged to Alvarez, whose scoreless inning streak ended at 26.
But the Marlins tied the game in the seventh. The Cubs' bullpen has been one of the reasons for the winning streak, compiling a 2.01 ERA in the last 24 games heading into Sunday. Brian Schlitter replaced Arrieta, and he walked Casey McGehee with one out. One out later, Marcell Ozuna was safe on an infield single that Valbuena knocked down. J.T. Realmuto and Adeiny Hechavarria each followed with RBI singles to make it 2-2.
Pinch-hitter Darwin Barney was hit by a pitch by A.J. Ramos to lead off the Chicago seventh, and he moved up on Emilio Bonifacio's sacrifice. Junior Lake blooped a double between three Marlins defenders in shallow right, and Anthony Rizzo was intentionally walked to load the bases. Mike Dunn took over for Miami and walked Valbuena to force in Barney and put Chicago ahead, 3-2.
The Marlins answered again in the eighth against Pedro Strop, loading the bases on a walk, hit batter and McGehee single. Jones hit a sacrifice fly to tie the game, and Strop's first pitch to Ozuna skipped in the dirt for a wild pitch, allowing the go-ahead run to score.
"I was talking with Schlitter earlier and we said, 'Just forget about this one and bounce back tomorrow,'" Strop said. "We cannot be perfect. We gave our best and it didn't work. We just have to bounce back tomorrow."
The Marlins didn't leave town gloating over the win.
"We played terrible, not on our game these whole three games," Miami's Giancarlo Stanton said. "In fact, we should have had all three of them. We just weren't on our game, very flat. Uncharacteristic."
Cubs manager Rick Renteria was limited with his bullpen, as neither Neil Ramirez nor Hector Rondon were available. Renteria called the loss a "hiccup." No one expected the Cubs to not lose another game the rest of the season, except maybe some fans.
"I think [the players] should keep their heads up," Renteria said. "They're very disappointed right now, because we felt we were on the cusp of being able to have a perfect homestand. Alvarez is no easy pickins'. He has great stuff and you see him in person and see why he's so effective. We just couldn't get it finished."
The Cubs are 15-14 at Wrigley Field, but 10-21 on the road. They hope to even the latter record as they begin a 10-game trip, starting Monday in Pittsburgh.
"I'm very happy with the way we're playing right now," Strop said. "We'll keep battling and keep fighting and hopefully we can get even better."
Carrie Muskat is a reporter for MLB.com. She writes a blog, Muskat Ramblings, and you can follow her on Twitter @CarrieMuskat. This story was not subject to the approval of Major League Baseball or its clubs.