Dunn discusses downside of full-time DH duties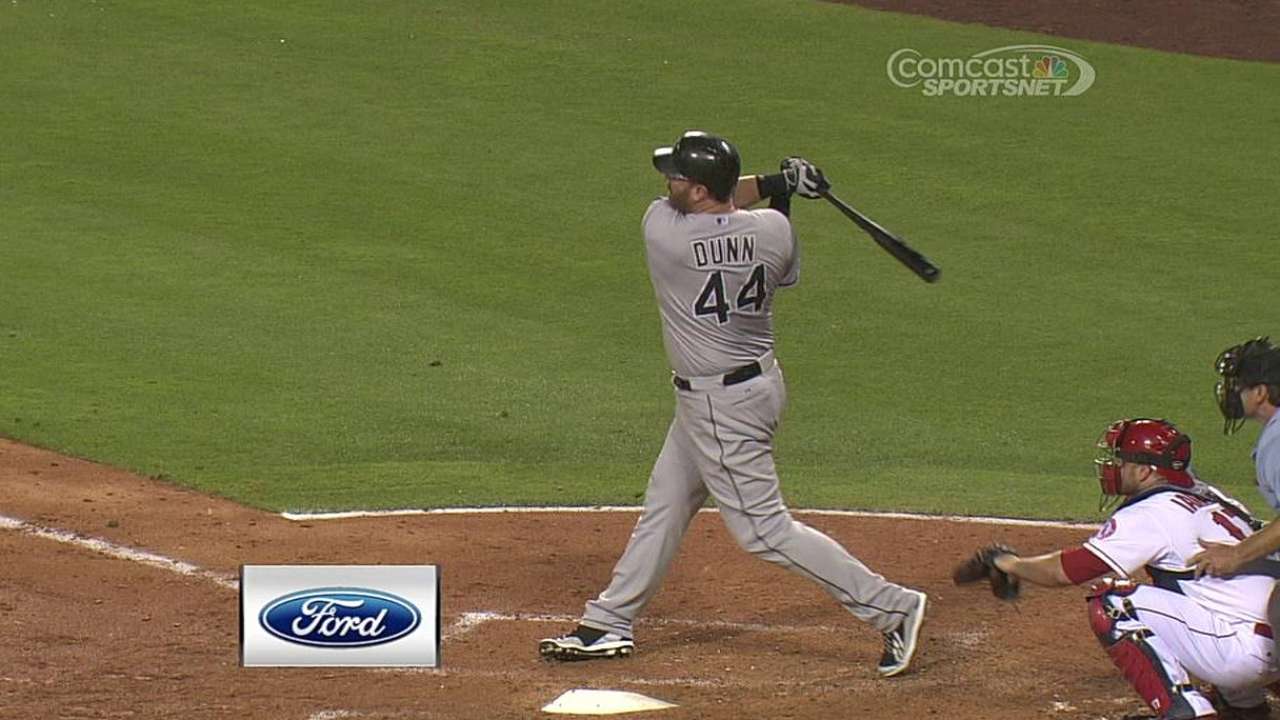 ANAHEIM -- When Adam Dunn first heard the idea of serving as designated hitter for the White Sox some four years ago, it sounded perfect in theory.
In reality, it wasn't quite such an ideal fit.
"It's awesome, in theory," Dunn said. "When I realized that, 'Wait a minute. So I get to go up and hit four times and do [nothing] else?' Sounds awesome.
"But what's not awesome about it is you have to literally stretch and get ready four or five times. Most of the time, and it's a different kind of tired, you'll be more fatigued and tired DHing then you will playing the field. I don't think there's a lot who will understand that in here. It's just different. It's not as easy and as cool as it sounds."
Due to left ankle inflammation that sent Jose Abreu to the disabled list and the need to get his bat into the lineup at National League ballparks, Dunn has played 18 games at first base and three in left field. Dunn is hitting .277 as a DH, just .175 over 57 at-bats as a first baseman and .182 in 11 at-bats as a left fielder.
Those statistics illustrate the fine tuning performed by Dunn and assistant hitting coach Harold Baines to find a workable DH routine. It's a routine still being refined four years into the job.
"I love having a routine. I don't care what it is. I've always had one," Dunn said. "But a lot of times, you go in there and you feel good so I like hitting and you'll go hit. Then you are fourth up, the inning goes 1-2-3, so now you are like I have to go hit some more.
"By the third or fourth, fifth at-bat, you are just exhausted. Your arms, everything is just gassed. I think less is more actually DHing. It's still kind of a work in progress, but those first couple of years were real tough."
Taking the focus off the at-bats is what appeals to Dunn in playing the field.
"You don't worry about your at-bats. You don't think about them, you don't dissect them," Dunn said. "I never dissected them ever in my life, but you have a significant amount of time to think about, 'Why did I swing at that pitch? Why did I get out on this?' You wait that long and you swing at the first pitch and make an out.
"There's so much more to take your mind off of hitting. I think that's obviously the way to do it. We have a good routine going, me and Harold have a really good one going. So it's not that big of an issue."
Scott Merkin is a reporter for MLB.com. Read his blog, Merk's Works, and follow him on Twitter @scottmerkin. Joe Popely contributed to this report This story was not subject to the approval of Major League Baseball or its clubs.