Twins stung by pair of slams in finale vs. Astros
Deduno struggles with command; bullpen endures rough afternoon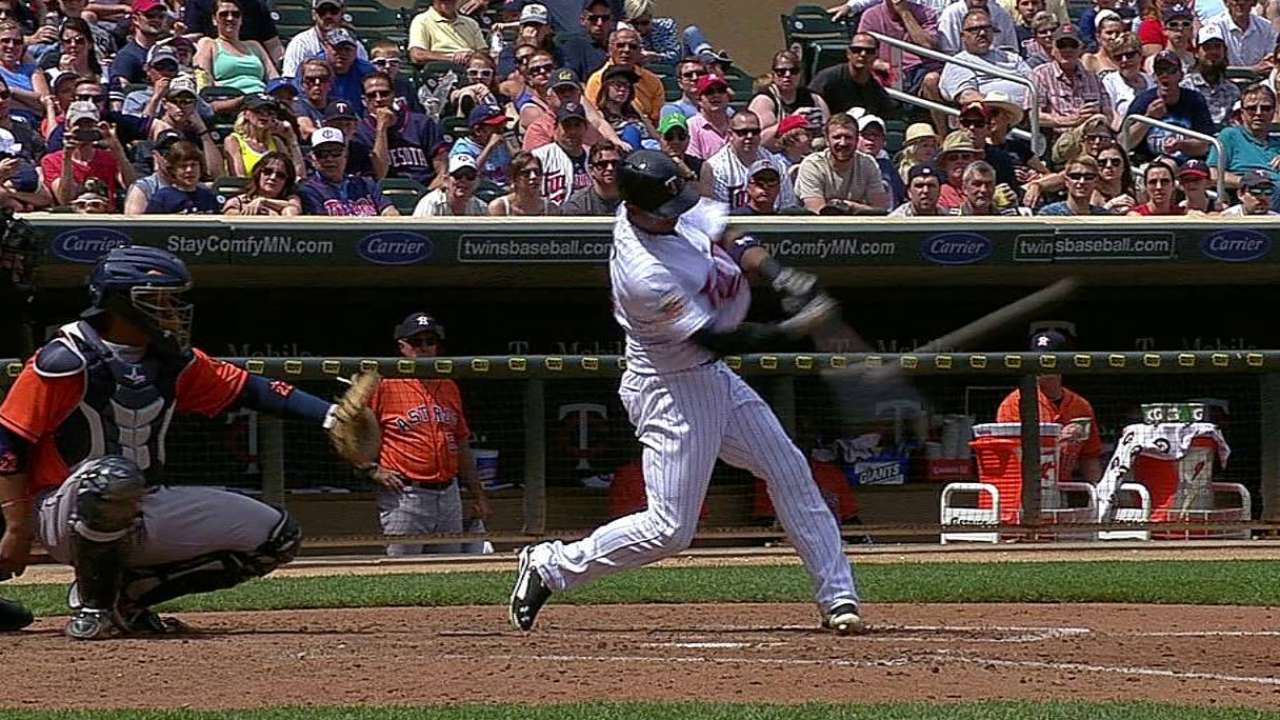 MINNEAPOLIS -- The Astros used two grand slams to power their way to a 14-5 victory on Sunday afternoon at Target Field, putting a damper on a day that started off in exciting fashion with the Twins announcing the signing of Kendrys Morales.
Starter Samuel Deduno (2-4) was uncomfortable from the outset, allowing at least two baserunners in each of the first three innings before handing out two free passes and hitting a batter to begin the fourth. His control was almost nonexistent, as evidenced by two hit batters and only 40 strikes on 79 pitches.
"Today was bad," Deduno said. "I didn't have any control of my release. I couldn't throw my curveball for a strike. Or my fastball. Or my changeup. Anything."
Reliever Anthony Swarzak wasn't able to stop the bleeding. He inherited a 2-0 deficit and a bases-loaded situation from Deduno in the fourth, and then immediately gave up two straight singles. One sacrifice fly from Jose Altuve later, the Astros had a 5-0 lead.
In the seventh, with the score 5-3 and the Twins inching back into the game, Brian Duensing loaded the bases on a double by Jon Singleton, a walk to Matt Dominguez and a bunt single from Robbie Grossman.
That's when slugger Chris Carter extended the lead with his first career grand slam, an impressive opposite-field shot into the right-field stands to make it a 9-3 game.
"Any time you have several guys in your lineup who can change the game with one swing, it puts more strain on the opposing pitchers because they feel like, 'I can't make a mistake here,'" Houston manager Bo Porter said. "That can drain on a staff."
Two innings later, Singleton hit another grand slam off Glen Perkins to end the scoring. Sunday was the second time the Astros connected on two grand slams in one game (the first coming on July 30, 1969), and the third time the Twins have given up two (the most recent coming on April 22, 1988).
"To be honest, I was looking to hit something hard anywhere," Singleton said. "He threw something over the plate I could handle, and I hit it hard."
Meanwhile, on the day that Minnesota made a pledge for more power by announcing the signing of the hard-hitting Morales, the club's offense took a while to get started thanks to a strong start from Houston's Collin McHugh.
The 26-year-old struck out four straight batters between the first and second innings, and he didn't give up a hit until there were two outs in the third. But just as McHugh began looking untouchable, the Twins tried to put together a two-out rally.
Danny Santana -- robbed in his first at-bat by third baseman Dominguez -- lined a single to left-center, and then Brian Dozier walked to get two runners on for Trevor Plouffe, whose sharp grounder went just wide of third base. McHugh notched his sixth strikeout three pitches later to end the threat.
After Deduno and Swarzak put the team in a deeper hole, the Twins offense' got going a bit. Eduardo Nunez notched his second home run of the year in the fourth inning, and Minnesota bounced McHugh in the fifth after two walks and a hard lineout.
Porter tried to shut the door by bringing in reliever Josh Fields, but Plouffe grounded a single underneath shortstop Jonathan Villar's glove to narrow the deficit to 5-2. Then Josh Willingham blooped a single to right field that brought home Dozier.
"Give the Twins credit," Porter said. "They didn't go away."
In his first start since spraining his right ankle on Thursday, designated hitter Oswaldo Arcia swung for the fences and whiffed before a groundout by Nunez ended the inning.
Carter's grand slam for the Astros widened the gap back to six, and the Twins would get no closer.
The Twins don't officially have any plans to bring in new pitching help, but they added a powerful new bat in Morales on Sunday. Gardenhire was happy to have a new slugging threat, but was not sure yet when Morales will be deployed.
"This is a first for me, so we're gonna have to figure out how to get him in there and how to do it the right way without killing him," manager Ron Gardenhire said. "We're going to ad-lib. We're going to figure it out as we go. And he's going to dictate what we can and can't do. It's going to be how he feels and how he's swinging."
Perkins saw the signing as a confidence booster as the Twins head into Toronto, where the Blue Jays' potent lineup and their Major League-leading 89 home runs will meet them.
"We have a similar record to what we had last year, but I think we're a lot better team," Perkins said. "Making moves like that, taking chances on guys and making us better goes a long way in here for giving guys confidence and knowing we're on the same page.
"It starts over tomorrow, and we'll see how we do."
Alex M. Smith is an associate reporter for MLB.com. Follow him on Twitter @asmiff. This story was not subject to the approval of Major League Baseball or its clubs.