Endy sparks late rally on Felix's career day
Ace strikes out 15; Mariners put up five-spot with two outs in ninth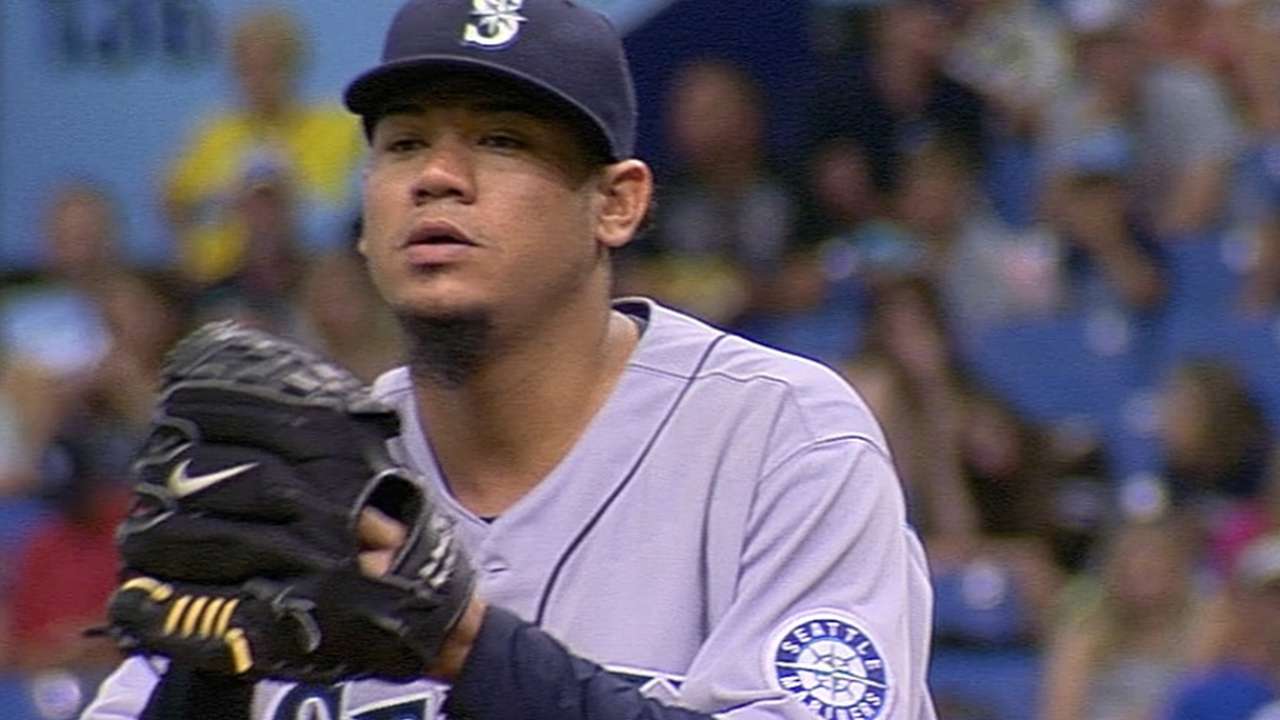 ST. PETERSBURG -- On a day Felix Hernandez dominated the Rays with a career-high 15 strikeouts, it took something more for the Mariners to win the game. It took a little Endy Chavez magic to open the floodgates for a five-run ninth, as Seattle erupted for a 5-0 victory at Tropicana Field.
After Hernandez exited following seven shutout frames, the Mariners finally broke the game open with a two-out rally against Rays closer Grant Balfour.
And it was the veteran Chavez, playing just his eighth game since a recent promotion from Triple-A, who ignited the winning blitz when he poked an 0-2 cutter through the hole at shortstop to break the scoreless deadlock and ignite the late outbreak.
Chavez looked a little like Ichiro Suzuki, serving a pitch the opposite way as his body was already moving out of the box, able to keep his bat in the strike zone long enough to put the ball in play in a critical situation.
"After watching that about the last eight or nine years, it's not luck anymore," said Mariners manager Lloyd McClendon. "I think it's talent. I've seen him do it time and time again, where he extends the strike zone a little bit and he found a hole. It was a big hole for us."
It was the seventh time in the 12-year veteran's career that he's driven in a go-ahead run in the ninth inning or later and that's something that clearly will never get old, as Chavez was beaming in the winning clubhouse after regaling the win with his teammates.
"All I tried was to put the ball in play and make something happen," Chavez said. "I hit a hole, and I'm glad, because we finally scored and I think that was the game.
"The guys were just making fun of me," he said. "They said I'm the only guy in the world that can do that. I just try to make adjustments, always, especially with two strikes to make contact. In that situation, he just jumped on me with two strikes in a row. I saw the other one was pretty close, and I said, 'I'm not going to let that one go through,' so I just tried to do what I can to put it in play."
Shortstop Brad Miller started the ninth-inning outburst with a triple to right before Willie Bloomquist drew a walk. Miller scored on Chavez's single, and that's when the wheels came off for Balfour, who wound up allowing a career-high tying five runs on four hits and two walks, all with two outs.
Rookie James Jones unleashed Seattle's second triple of the inning with a drive over the head of right-fielder Kevin Kiermaier, scoring two more runs. And after a Robinson Cano walk, Kyle Seager cleared the bases again with a two-run double down the right-field line.
Miller, hitting just .172, was thrilled to contribute a crucial hit and score the go-ahead run to help Seattle win what had been a tremendous pitching duel all day between Hernandez and Rays right-hander Chris Archer.
"We were scratching and clawing all game," said Miller. "Archer and Felix, those are two pretty good arms out there. We figured runs would be at a premium. Willie's at-bat, just passing off to the next guy and making him work, wearing him down. And then Endy just being Endy and coming up with the big hit when he needs [to]. He's done that a million times. That was awesome. Then the floodgates kind of opened a little bit."
The runs came too late to get the victory for Hernandez, who was lifted after the seventh when he had to dig deep to strike out the side and keep Ben Zobrist from scoring after the Rays second baseman singled, stole second and moved to third on a wild pitch.
Hernandez got out of that jam, but took his pitch count to 100 in the process. And McClendon opted for reliever Yoervis Medina in the eighth, feeling his ace had emptied his tank to strand Zobrist.
"He was spent," said McClendon. "He used everything he had in that seventh inning to get us out of that inning. When you have an emotional inning like that, you're usually going to have a letdown the next inning, and I didn't want that to happen."
Hernandez still has never beaten the Rays at Tropicana Field, but he was happy his team came out on top in this one and didn't argue with McClendon's decision.
"He told me, 'That was a stressful inning for you, and that's good enough,'" said Hernandez. "I said, 'All right, you're the boss.'"
Even with the no-decision, Hernandez continued the best start of his 10-year career, as he remains 8-1 with 2.39 ERA in 14 starts. He broke his previous career best of 13 strikeouts, becoming just the fourth Mariners pitcher ever to strike out 15 in a game (Randy Johnson did it 17 times, Mark Langston twice and Mike Moore once).
For all of Hernandez's dominance, Archer matched his zeroes on the scoreboard for 6 1/3 innings before being replaced after 90 pitches. Archer allowed five hits with one walk and two strikeouts.
The Mariners had a chance to get to Archer when they loaded the bases in the fifth with one out, but he got Jones on a comebacker to the mound for the force at home, then retired Cano on a deep drive to left that Matt Joyce caught up against the wall.
"It was a great game," said McClendon. "Felix had 15 strikeouts and Archer, that young man is pretty special. It was a pretty darn good ballgame. That's what you call a game for the purists, people who enjoy the game of baseball. It was certainly a dandy today."
And in the end, the Mariners improved to 5-1 on their road trip going into Monday's series finale with the Rays. Seattle has won seven of its last eight to lift its record to 33-29, the first time the Mariners have been four games over. 500 since the end of the 2009 season.
The Rays have dropped 12 of their past 13 to fall to 24-40, the worst mark in the Majors.
Greg Johns is a reporter for MLB.com. Follow him on Twitter @GregJohnsMLB as well as his Mariners Musings blog. This story was not subject to the approval of Major League Baseball or its clubs.