Archer's start spoiled as M's stun Rays in ninth
After righty tosses 6 1/3 scoreless, Seattle tags Balfour for five runs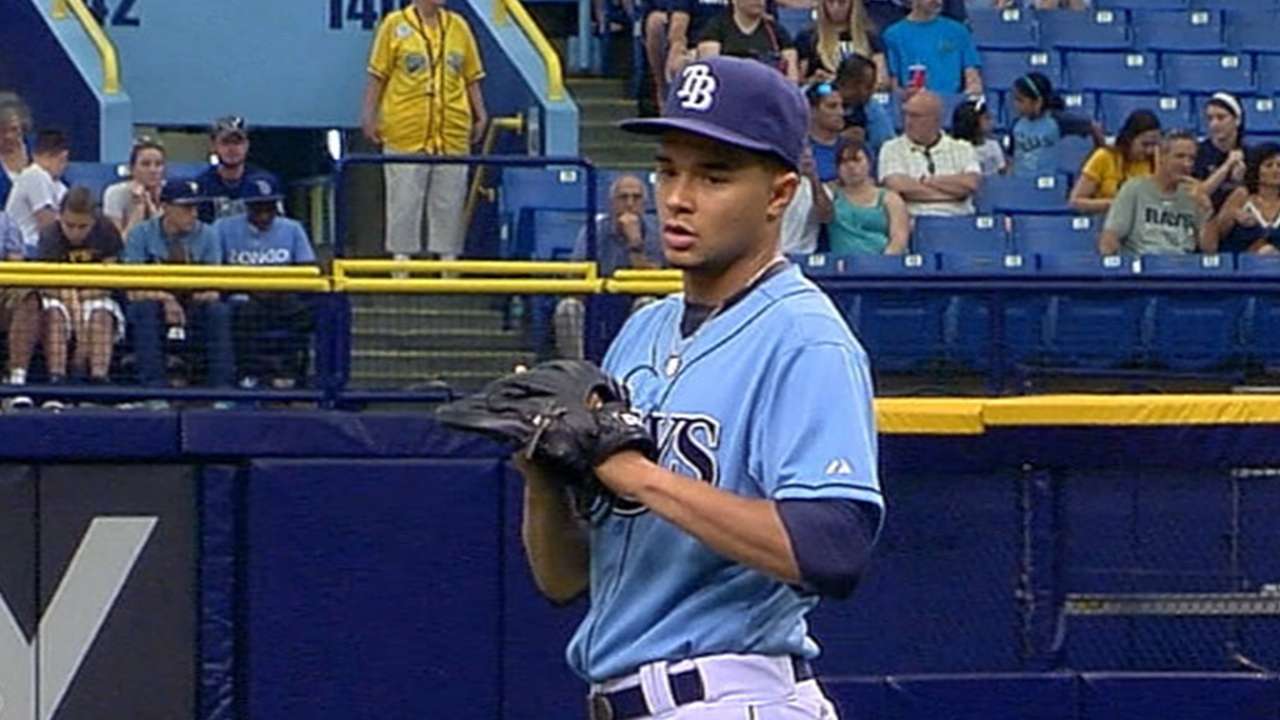 ST. PETERSBURG -- A scoreboard full of zeroes stared onto the field Sunday afternoon, as a game of inches began to play out in the ninth inning.
Those inches added up to yet another Rays' loss as the Mariners scored five in the ninth for a 5-0 win at Tropicana Field.
The Rays have lost 12 of their last 13 games to move to 24-40 -- the worst record in the Major Leagues -- and 14 games behind the American League East-leading Blue Jays.
Grant Balfour took the mound for the Rays to start the ninth and promptly struck out Dustin Ackley and Cole Gillespie. The Rays closer appeared ready to strike out the side when he got ahead of Brad Miller, 0-2.
Then came the Rays' first losing battle in the game of inches when Balfour threw Miller a curveball.
"If I bounce that [to Miller], strike three, walking out of here, you guys aren't even talking to me," Balfour said. "I strike out the side. ... That's the disappointing part, a couple inches away of snapping off a curveball and strike out the side today, and you're not asking me a single question today."
Instead, Miller lined the ball in the direction of James Loney. The Rays first baseman appeared to have a chance, but the drive just missed his glove -- by inches. The ball rattled around in the right-field corner and Miller ended up at third base with a triple.
After walking Willie Bloomquist, Endy Chavez fell behind, 0-2, in the count before poking a single between short and third. According to Rays manager Joe Maddon, shortstop Yunel Escobar was cheating toward second so he could cover the bag in case of a force. Those few steps proved costly, as the ball missed Escobar's glove by inches and the Mariners had a 1-0 lead.
"For several inches, if he gets to that ball, he's out at second," Maddon said. "... I think the big play is the walk [to Bloomquist]. That's the one that kind of gives them a little thing."
James Jones followed with a triple over Kevin Kiermaier in right to score two. After Robinson Cano walked, Kyle Seager doubled home two more to build a 5-0 lead.
"I don't know what it is," Balfour said. "Sometimes I feel like this year's just been one of those years where sometimes you can get a bit lucky and sometimes you get unlucky and you got to take it on the chin."
Tampa Bay wasted a second straight gem from starter Chris Archer, who equaled the Mariners' Felix Hernandez for most of the afternoon. King Felix was regal, throwing seven shutout innings and striking out a career-high 15, including striking out the side three times. But Archer stayed with him, tossing 6 1/3 scoreless innings of his own and working out of a bases-loaded situation in the top of the fifth inning.
Seattle loaded the bases with one out, but Archer and left fielder Matt Joyce made two strong defensive plays in a row to keep the Mariners off the board. First, Jones hit a sharp ground ball up the middle, and Archer stabbed at it with his backhand, knocking it down and falling over in the process. He recovered, picked up the ball and lobbed a throw to Jose Molina to force out Miller at home.
With the bases still loaded, Archer fell behind Cano, 3-0. After taking a strike, Cano sliced a line drive to deep left field, where Joyce, ranging back to the wall, jumped and snowconed the ball for the final out. Out of the jam, Archer let out a yell and pumped his fist emphatically.
Archer has now allowed three runs in his last five starts combined and has one win to show for his efforts.
"I feel good overall," Archer said. "Today, I knew I was facing the second-best pitcher in baseball behind David Price. So I knew I had to bring it. We fell a little bit short, but the way we played overall, I think we played an awesome game defensively.
"Like I said, they had a good pitcher out there. Didn't matter what pitcher [Hernandez] was facing out there today, he was going to have a dominant performance."
Hernandez was in full command of his arsenal, mowing down the Tampa Bay hitters on outside-corner fastballs, sending them fishing for sliders and curves and getting them to swing over changeup after changeup. The Rays came closest to scoring off Hernandez in the seventh, when Ben Zobrist beat out an infield single, stole second and advanced to third on a wild pitch with one out. But Joyce and Escobar struck out to strand Zobrist there.
"Everything [was working]," Felix said. "Everything. I was throwing a lot of strikes. My changeup was unbelievable and the slider was really good, too. I was getting ahead early and that was it. It's fun when you've got all that stuff. It's fun to go out there and just throw every pitch and know it's going to be for strikes."
The Rays struck out 17 times, tying their club record, and they were shut out for their Major League-leading fifth time this season.
"That's a game I really felt we were going to pull that out somehow," Maddon said. "It's one of those moments. It's called baseball, man -- within one pitch of a really spectacular game, and all of a sudden it becomes less than that. This is how it plays out."
Bill Chastain is a reporter for MLB.com. This story was not subject to the approval of Major League Baseball or its clubs.