Maddon thinks McGee has 'All-Star' stuff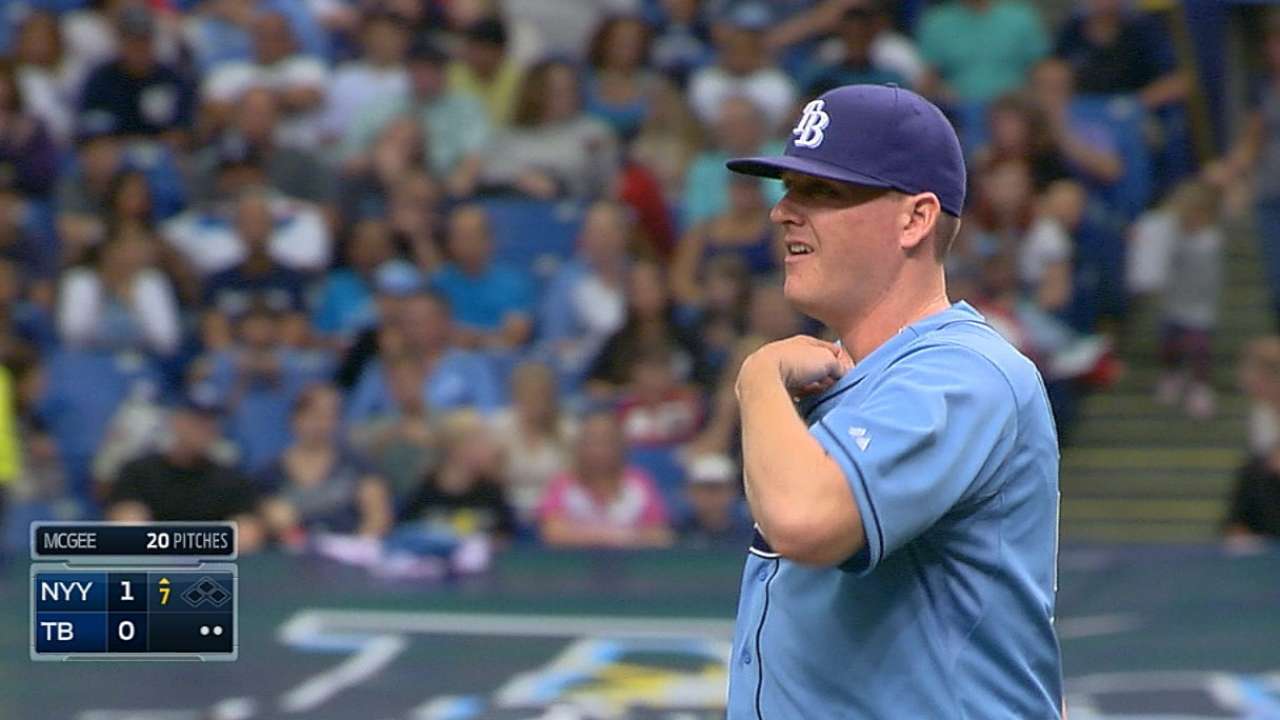 ST. PETERSBURG -- Rays manager Joe Maddon delivered his initial stump speech after Friday's game, so consider the campaign to get left-handed reliever Jake McGee on the American League All-Star team officially underway.
Maddon called McGee the Rays' "one true All-Star" on Friday night after he struck out three batters on 15 pitches in a perfect seventh inning against the Mariners, bouncing back from a rare misstep the night before with another characteristically dominant performance.
McGee, 27, has been all but untouchable this season, even if his middle-relief role might not draw the attention that comes along with being a closer or a starting pitcher. He entered Sunday with a 1.63 ERA, 16 hits and only six walks allowed in 27 2/3 innings. He's struck out 32 batters this year, or a little more than 31 percent of the hitters he's faced.
There is some precedent for McGee to make the Midsummer Classic despite not pitching the ninth inning. Last season, four middle relievers -- Jesse Crain, Mark Melancon, Steve Delabar and Brett Cecil -- were named All-Stars. Count Maddon among those who believe that a player's ability is more important than which inning he usually pitches.
"I would like to believe so. I know he's a 'non-closer,' but he's got 'closer' kind of stuff," Maddon said. "If you're looking for a lefty that gets out both righties and lefties in the latter part of a game that you're trying to win, so you can get home-field advantage for the World Series, I think he's a pretty good choice. Not only that, but all of his numbers bear out the fact that he deserves that opportunity."
McGee was honored by Maddon's endorsement and obviously intrigued by the possibility of making his first All-Star team.
"It's pretty cool to hear that. I didn't know he said that, but it's always good to hear that kind of stuff, that you're good enough to be on the All-Star team," McGee said. "That's always a good thing when you hear that."
McGee's rough outing Thursday snapped a streak of 21 consecutive batters retired. At one point, he put together 15 straight scoreless appearances, and 26 of his 29 outings this year have been scoreless. He's allowed one inherited runner to score. His average fastball velocity this season is 96.7 mph, according to PITCHf/x data, the highest among all lefty relievers in the AL.
According to Fangraphs, McGee ranks ninth among relief pitchers in WAR, with a 1.0 figure that would also make him Tampa Bay's fourth most valuable pitcher overall and the club's seventh-most valuable player, period. With every team needing at least one representative and most Rays struggling to match their usual production, McGee would seem to be a logical selection.
"I think every player's goal is to make the All-Star team and be in the same locker room as all those guys who make the All-Star team. Especially when it's going to be [Derek] Jeter's last year and stuff, it'd be cool to be there for that, too," said McGee.
Bill Chastain is a reporter for MLB.com. Adam Berry is a reporter for MLB.com. Follow him on Twitter at @adamdberry. This story was not subject to the approval of Major League Baseball or its clubs.