Brewers get breaks behind Gallardo in finale
Ace strikes out eight in scoreless start as Crew captures series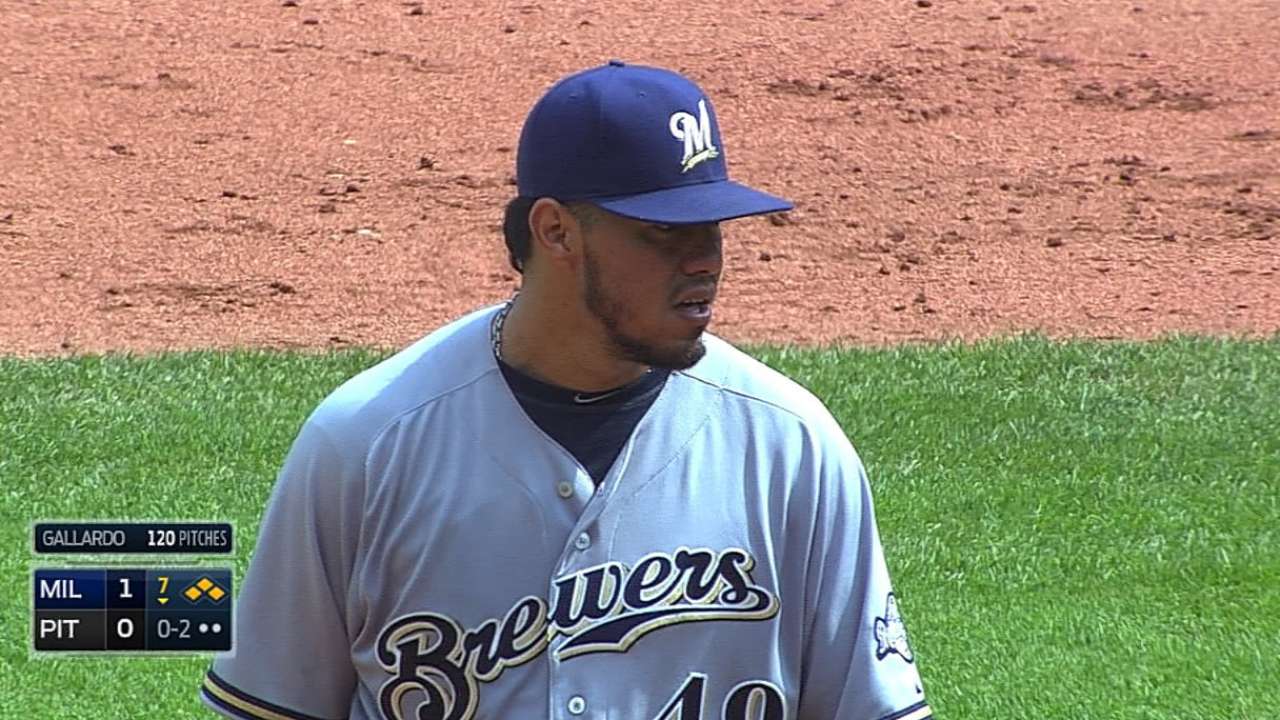 PITTSBURGH -- Yovani Gallardo and Francisco Rodriguez made the biggest pitches, and Ryan Braun and Jean Segura made the run-saving plays. But the Brewers' biggest contribution on a wild day at PNC Park might have come from a guy in the stands wearing a Pirates T-shirt.
Mark it among the many things that went right for Milwaukee in a 1-0 win on Sunday, when that fan's interference contributed to the game's only run before the Pirates stranded the tying runner at third base in each of the last three innings. The result was a heartbreaking loss for the Pirates, and arguably the Brewers' most entertaining victory all season.
"That was a grinder," Milwaukee manager Ron Roenicke said.
"And the crowd got into the game, too," said Rodriguez, who authored two of the Brewers' great escapes. "It was a great ballgame. The atmosphere was huge. And obviously we expected that, playing a team that we've got in our division. It's going to be fun from now on."
With their 10th victory in 16 games, the National League Central-leading Brewers headed into an off-day 12 games over .500, back to within one win of their high mark this season. They have won 10 of 13 matchups this season against the Pirates.
Gallardo set a season high with eight strikeouts and threw a season-high 121 pitches over seven scoreless innings and won for the second time in three starts because the Brewers were able to scratch out a run against Pirates left-hander Jeff Locke, and because Brewers relievers Rob Wooten and Rodriguez kept the Pirates at bay. Rodriguez struck out Russell Martin to end the eighth inning to leave the tying runner at third, then did it again in the ninth, aided by defensive gems from Segura and Carlos Gomez, whose running catch sealed Rodriguez's 19th save.
All afternoon, the Brewers made their own breaks. The trend started in the first inning, when Brewers right fielder Braun saved a run with a perfect throw to home plate to retire Neil Walker and finish an inning-ending double play, but not before the umpires reviewed the play to determine a possible violation of Rule 7.13, which bars catchers from blocking the plate.
The call stood, and Gallardo had the start of his scoreless outing.
All he and the Brewers needed was a run.
They got it with some help from a Bucs-backer in the top of the seventh, when Lucroy blooped what he thought was a foul ball to left field. Lucroy was standing still between the batter's box and first base when the baseball landed fair and bounced toward that black-shirted fan, who gobbled it up.
Lucroy was granted a double, which loomed very large when he advanced to third on Gomez's flyout before scoring on Aramis Ramirez's groundout to first base.
"I didn't even know the guy grabbed it," Lucroy said. "I hit it and saw it and I'm like, 'Oh, it's hooking.' Then it dropped straight down and I thought, 'Oh, crap, I'd better run.' Thank God the guy grabbed it." What if the fan hadn't grabbed it? Roenicke believed it would have caromed off the wall, and Lucroy would have had a double anyway. Lucroy was not so sure.
"Come on man, it doesn't matter," Lucroy said with a laugh. "I got there. It depends on where the left fielder was. I would have judged it. I might have taken a shot, but whenever you hit a ball foul, you almost always know it's going to go foul. That ball was hooking and it just went straight down. It was a weird thing."
The Pirates were poised to answer in the bottom of the inning against Gallardo, who found big trouble when Pittsburgh loaded the bases with one out. Already at 110 pitches after Jordy Mercer's squeeze bunt attempt lingered too close to home plate for the runner to score from third, Gallardo struck out pinch-hitter Jose Tabata on eight pitches -- one of which was hit over the right-field fence, but foul -- before inducing a Josh Harrison popout to first base to preserve the 1-0 lead.
The 121 pitches were most by a Brewers' starter this season.
"In that certain situation, the game's in your hands," Gallardo said. "You're going to win the ballgame or you're going to lose the ballgame one way or another in that situation. Especially when I got the strikeout for the second out, I wanted to stay in there and just make pitches to Harrison."
The rest was up to Rodriguez, who inherited a tough spot from Wooten in the eighth inning, with Martin at the plate, two outs and a runner at third.
Rodriguez fell behind, 2-0, before evening the count. He struck out Martin on the seventh pitch of the at-bat, a curveball down and in. Martin was so incensed by umpire Ed Hickox's call that he slammed his bat and was ejected. Pirates manager Clint Hurdle found a similar fate.
There was disagreement in the Brewers' own clubhouse about the pitch. Lucroy believed the Pirates had a legitimate beef. Roenicke and Rodriguez each argued that the pitch was a strike (MLB.com's pitch tracker agreed), and said it looked worse than it was because of the way Lucroy received it, shifting his weight to block a ball in the dirt if necessary.
"The way Luc received it, dropping his left knee made it look bad," Rodriguez said. "But if you go back and stick the ball where it's supposed to be, it would have been right there. That's my view from the mound. I haven't seen any of the video."
The Bucs made another run in the ninth. Starling Marte walked and was caught stealing second, but the call was overturned after a challenge. Pinch-hitter Ike Davis then walked, and Travis Snider nearly delivered the game-tying single, but he was robbed by Brewers shortstop Segura with a diving stop up the middle for a force at second.
Harrison then flied out to a hustling Gomez in short center to end the game.
"That was a crazy game, one of those games where both starters [were] on, so you knew it was going to be a pitchers' duel and you had to go out and grind it out and make things happen," said Lucroy. "Things went our way, but [the Pirates] are tough. They always play us tough, and we can't ever let up against them because they'll come get us."
Adam McCalvy is a reporter for MLB.com. Read his blog, Brew Beat, and follow him on Twitter at @AdamMcCalvy. This story was not subject to the approval of Major League Baseball or its clubs.