Hunter activated from DL for series finale vs. A's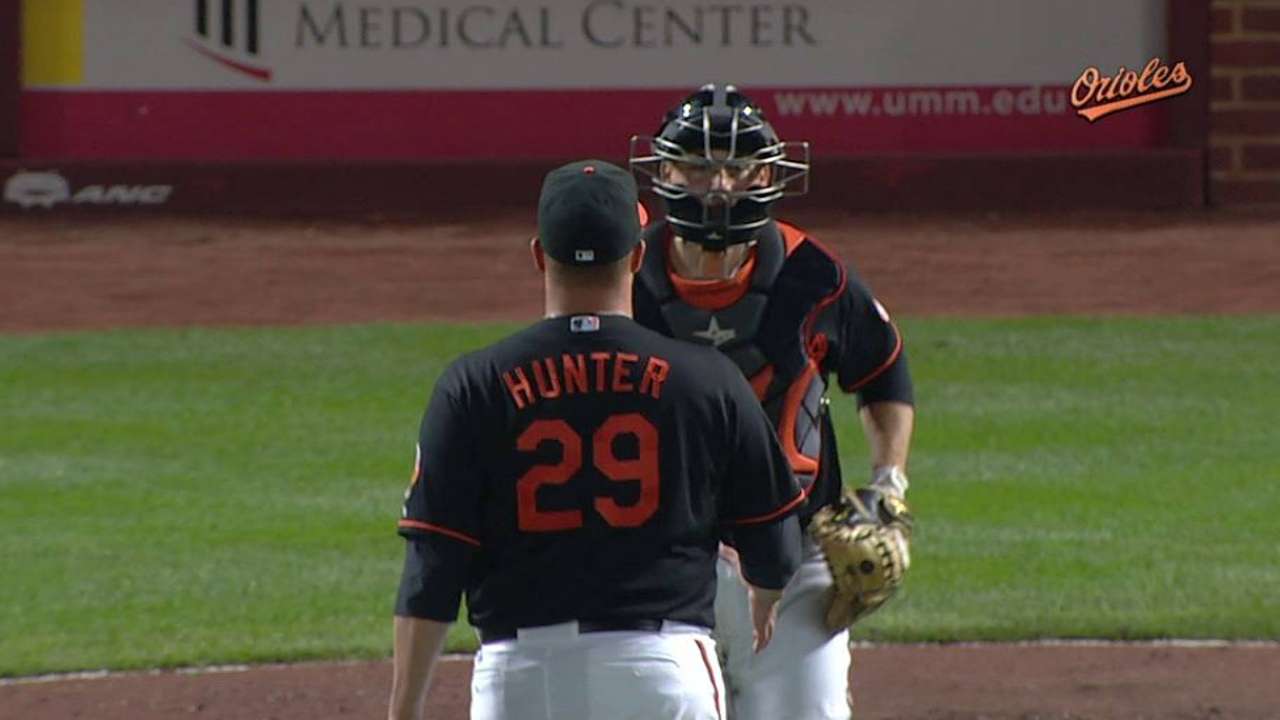 BALTIMORE -- After one rehab appearance in the Minors and just 11 pitches on Saturday night, Tommy Hunter was back at Oriole Park at Camden Yards on Sunday and available to pitch in the series finale against the A's.
Hunter struck out two batters and had a hit batsman with a caught stealing during his brief outing for low Class A Delmarva on Saturday. He threw eight strikes and three balls in his first outing since hitting the disabled list on May 22 with a groin strain.
"I felt good," Hunter said. "I was able to throw the ball over the plate for the most part -- except the last guy."
To make room for Hunter on the 25-man roster, the Orioles optioned right-hander Evan Meek to Triple-A Norfolk prior to Sunday's game.
Hunter started the season strong for the O's, converting 11 of his first 12 save opportunities, although he allowed an earned run in four of them. But Hunter blew his final two save opportunities and saw his ERA balloon to 6.06 during his final four appearances before landing on the DL.
"I don't think rest physically was needed, but potentially and hopefully a little mental break might help," Orioles manager Buck Showalter said. "I think a lot of times when you can kind of reset with guys, especially pitchers, sometimes you get a guy who pitches more like his track record suggests."
Hunter posted a 2.81 ERA in a career-high 68 appearances last season and took over the full-time closer role at the start of this season. Zach Britton has taken over as Baltimore's closer since Hunter blew his last save against the Tigers on May 13.
Hunter has battled groin injuries in the past and has spent two extended stints on the DL because of them, but he says there's nothing special he can do about it this time around. He's just going to keep stretching it out and make sure he stays well rested.
"Once you get hurt, you're bound to hurt it again," Hunter said. "This is like the fourth time with it, so I keep doing it and keep stretching. There's really not much you can do."
David Wilson is an associate reporter for MLB.com. This story was not subject to the approval of Major League Baseball or its clubs.