Ubaldo can't escape third inning in loss to A's
Righty allows six runs in third; Machado ejected in eighth after fracas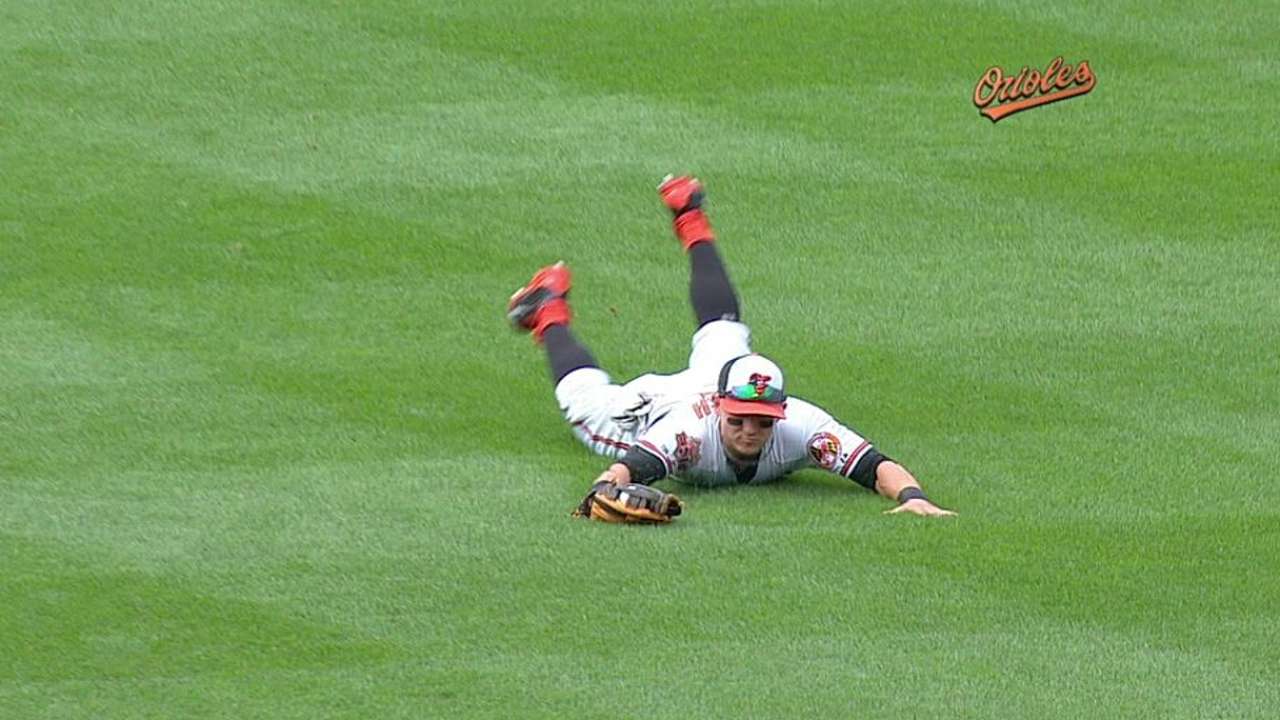 BALTIMORE -- For a moment, it seemed that the Orioles were going to get the type of start from Ubaldo Jimenez they had hoped for when they signed him to a four-year, $50 million contract this offseason.
The starting pitcher walked one batter, but with two strikeouts -- one on a blistering fastball, the other on a devastating splitter -- and a double play he had managed to face the minimum through two innings.
By the time the third came around, everything had changed. Jimenez couldn't find the strike zone against the Athletics. Derek Norris walked on eight pitches. Alberto Callaspo took his free pass on five. Kyle Blanks battled back to walk on seven. The 7-8-9 hitters loaded the bases without putting a ball in play.
John Jaso delivered a near grand slam that was instead ruled a double to give Oakland an early lead. Three batters later, Brandon Moss delivered a no-doubter with the bases loaded to give the A's a six-run inning, chase Jimenez (2-7) from the game and sending some of the 38,244 out of their seats on the way to an 11-1 blowout at Oriole Park at Camden Yards.
"The first two innings it looked like we were going to get a quality start and then the walks were a challenge for everybody today," O's manager Buck Showalter said. "You just can't compete, especially against a team like that, walking too many people."
Baltimore couldn't muster anything on offense -- not that it mattered -- as Scott Kazmir (7-2), the Major League castoff turned quiet Cy Young candidate, shut out the O's over the course of seven four-hit innings.
"We knew that Kazmir is having about as good a year as anybody in baseball," Showalter said. "We beat one of the best pitchers in the American League last night. There'll be another good team coming in behind them. That's why they call it the big leagues. It's relentless."
The Orioles only run came after the second bases-clearing, bullpen-emptying altercation of the series.
Relief pitcher Fernando Abad threw inside to third baseman Manny Machado twice in a row with two outs in the eighth. Machado got out of the way both times, but after the second pitch he flung his bat just beyond third base. Both players were ejected.
"It was obvious the pitcher threw at him the second time," crew chief Larry Vanover said. "The first time you have some doubt, but the second time there was no doubt he threw at him. And then he threw the bat. That wasn't accidental."
Jimenez's day started fine for Baltimore, but the signs that he wasn't at his best were visible even in the opening frame. The righty walked the second batter he faced before inducing a double play from Josh Donaldson to get out of the first unscathed.
After a 1-2-3 second, the wheels fell off. He put the first three runners on in the third before Jaso lifted a ball off the wall in right-center. One umpire signaled that the ball was in play. Vanover waved his arm to signal home run. Either way, Jimenez was in trouble.
"I started so good the first couple innings and then that inning I lost the ability to throw a strike," Jimenez said. "It's one of those days. It's a really tough game."
After a review by Vanover, Jaso was awarded a double and Moss broke open the game with his actual grand slam three batters later.
Both relief pitchers the O's turned to, Brad Brach and T.J. McFarland, allowed at least one more run and Brach walked five batters of his own in two innings.
"A lot of times we'll have success based on the fact we take a lot of pitches and we make you work, and then somebody squares one up," Athletics manager Bob Melvin said. "When we're doing things correctly, that's how we attack pitchers who are a little bit wild."
Jimenez's latest poor outing was perhaps the worst in a season full of them. He was pulled after just 2 1/3 innings after allowing six earned runs and matching a season high with five walks.
Jimenez had been better of late -- he went at least 5 2/3 innings with one earned run in each of his last two starts -- but after Sunday, his ERA is up to 5.01.
"It's been difficult because I haven't been consistent at all," Jimenez said. "I had a couple good games and then had a bad one. I haven't been consistent at all. That's something you want as a starter."
David Wilson is an associate reporter for MLB.com. This story was not subject to the approval of Major League Baseball or its clubs.