Hamilton shows off arm on relay throws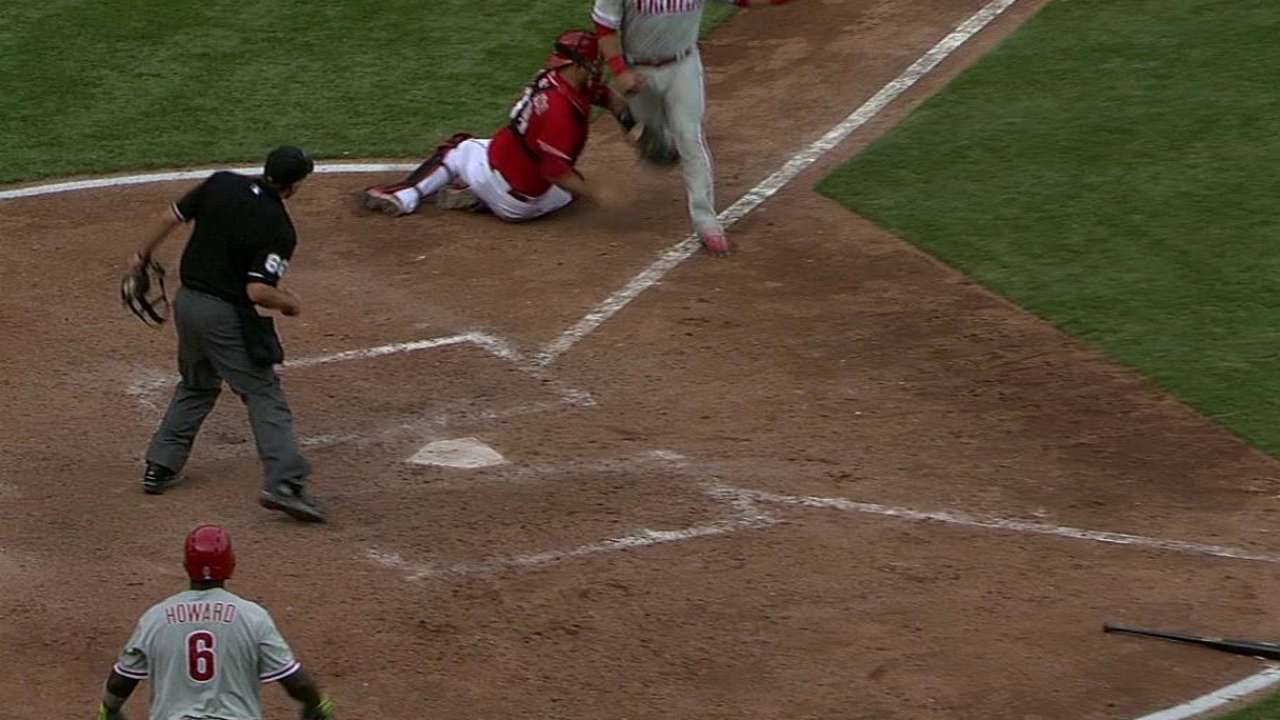 CINCINNATI -- Reds center fielder Billy Hamilton doesn't exactly have a long resume of successful relay throws to home plate.
"I've only been playing there a couple of days," joked Hamilton, who moved from shortstop to center field in the Minors before the 2013 season.
Now, Hamilton is 2-for-2 in starting successful relays. Both happened on Saturday and were critical plays that helped give the Reds a 6-5 victory over the Phillies. In the sixth and seventh innings, Hamilton retrieved doubles and threw to second baseman Brandon Phillips, who threw to catcher Devin Mesoraco for the third out at the plate.
"It's crazy. I never did anything like that before," Hamilton said on Sunday. "That's one big thing they preached to me when I became an outfielder and learned the position -- hit your cut-off man. If there's going to be a play at home plate, you have to be the start of everything. I know Brandon made the throw to home. But if you don't make that first throw, you don't have a chance at home."
On both occasions, Hamilton made quick throws to Phillips. The first one, on Domonic Brown's double, was from the warning track in right-center field.
"Get rid of it quick, make a good throw, give him something he can handle," Hamilton said. "My main thing was getting it to him. I knew if I could get it to him, Brandon has a great arm. I'm pretty sure he can make that throw 20 times out of 20. I know my job is to get it to him as fast as I can.
"You should've seen my reaction. I was excited. I knew once I got a good throw to him, there was a great chance to get them out at home."
Hamilton missed a game last Sunday with a sore elbow from making a throw from the warning track to third base at Arizona. No such problems this time.
"That long throw was another good test of my elbow. It feels really good," Hamilton said. "It was two big plays. I'm still excited about it today. We got a 'W.'"
Mark Sheldon is a reporter for MLB.com. Read his blog, Mark My Word, and follow him on Twitter @m_sheldon. This story was not subject to the approval of Major League Baseball or its clubs.