Reds hopeful Latos' next rehab start is his last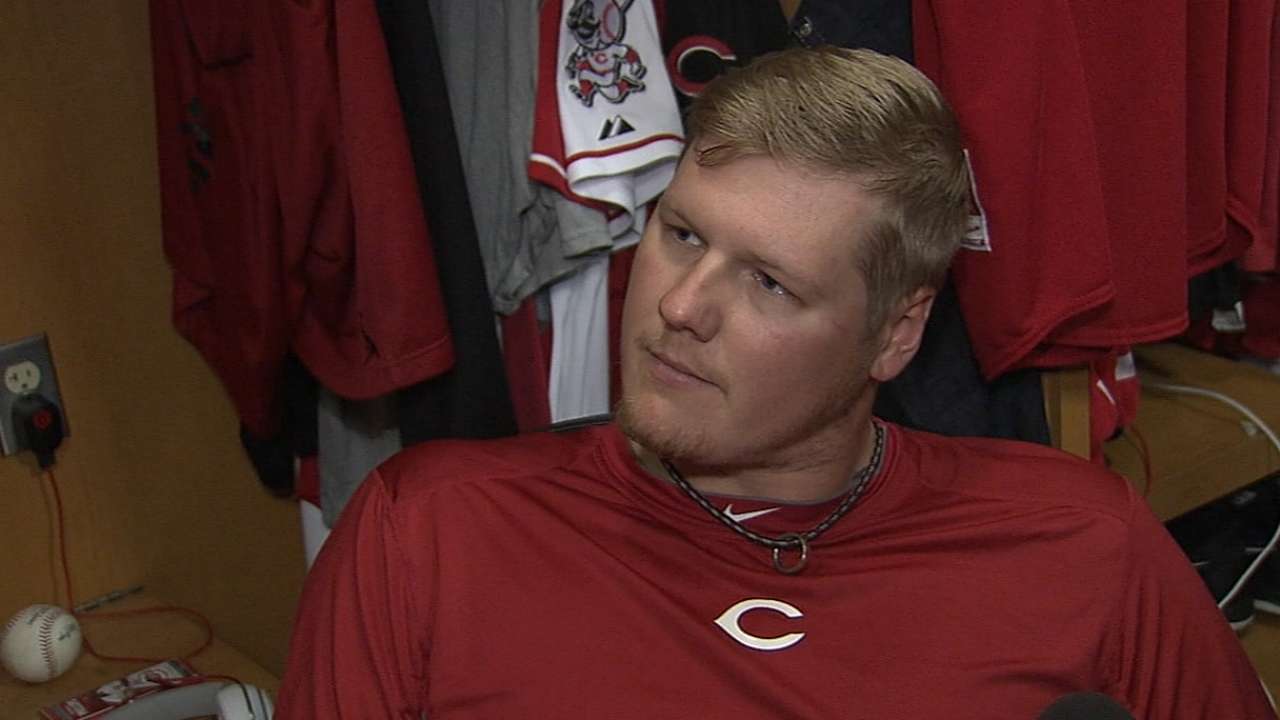 CINCINNATI -- Reds pitcher Mat Latos' fourth, and likely final, rehab assignment start will be for Triple-A Louisville at Pawtucket on Monday.
Latos is expected to throw 90-100 pitches in the game.
"He'll go out there in search of that longer outing, that 90-plus pitch outing, and we hope to have him ready and in our rotation after that," Reds manager Bryan Price said on Sunday.
Latos has a 2.63 ERA in three rehab starts in 13 1/3 innings for Louisville. His previous outing at Lehigh Valley was expected to be his last before activation from the disabled list, but he exited in the sixth with a cramp in his calf.
The Reds decided that one more start was needed, which left Latos miffed.
"It's pretty bogus I've got to go on another rehab assignment, but it is what it is," Latos said on Friday. "I'll go down there and throw 100 fastballs and call it a day and come back up here and we'll assess what's going on."
Price is hopeful that Latos will use the start as a chance to prepare himself for joining and helping the rotation the rest of the season.
"We're looking to string together victories and get ourselves back to the top of the division, and he can play a large part in that effort," Price said. "So it benefits everybody that he goes out there and gets the work done, competes well and uses it as a stepping stone into his first start for us and we'll see what the results are."
Latos' impatience is understandable because it's already been a long and frustrating comeback road. He had elbow surgery to remove bone chips in October and he was almost ready when he needed left knee surgery at the start of Spring Training to repair torn minsicus cartilage. He had started a rehab assignment in April when he suffered a strained flexor mass tendon in his right forearm.
"Yeah, and I'm aware of some of his comments that he's ready to pitch, beyond all the other stuff. And I believe to a certain extent he probably is," Price said. "I would like to be able to expect him to throw as many innings or pitches as the other four guys or five guys we have currently in the rotation are expected to throw, simply, in large part, because we don't have a true long-relief pitcher. We don't have a Triple-A starter, we don't have a Jeff Francis.
"So if something happens to a starter early in the game, it can blow up our bullpen and so I'd like to know going into it that he's capable of throwing 100 to 100-plus pitches."
Price was asked whether one of the existing starters -- presumably Tony Cingrani or Alfredo Simon -- could fill that long-man role.
"Yeah, but that's when [Latos is] added. And that's if we make that decision to keep that pitcher here," Price said.
Mark Sheldon is a reporter for MLB.com. Read his blog, Mark My Word, and follow him on Twitter @m_sheldon. This story was not subject to the approval of Major League Baseball or its clubs.