Phillies' bats unable to get going vs. Reds
Buchanan allows four runs over six innings while striking out six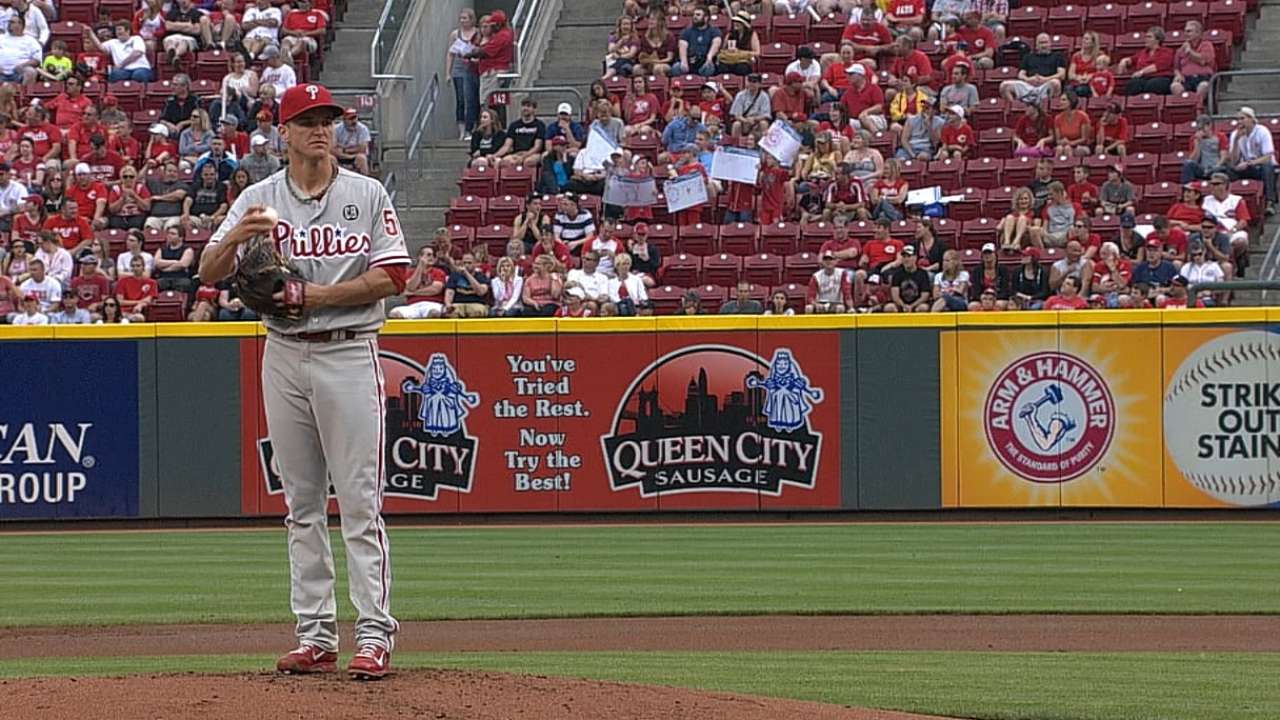 PHILADELPHIA -- The Phillies keep hoping and waiting for a run.
They insist they have one in them, but it will take more than positive thoughts to make it happen.
"Everybody has to have the same mentality, not just like one, two or three guys," Phillies catcher Carlos Ruiz said following Sunday's 4-1 loss to the Reds at Great American Ball Park. "And as a team we have to stay together and we have to believe that we can turn around everything."
Does this team have the same mentality?
"I know that everybody tries to do their best," Ruiz said. "We would like to win a little more. We have some good games, like the first day here [in Cincinnati]. It was exciting. We were pumped. We have to find a way to stay that way. We're going to lose some games, but at the same time, if we could put together the same mentality, a lot of good things could happen."
But if a turnaround comes will it come before it is too late, if it isn't too late already? The Phillies left Cincinnati on a cloudy afternoon with a 25-36 record, which is the worst record in the National League and the second-worst record in baseball. They are on pace to lose 96 games following an 89-loss season in 2013. Since a 15-14 record on May 4, the Phillies are 10-22, including a 1-5 mark on their just completed road trip through Washington and Cincinnati.
"I believe in my team," Ruiz said. "We have some great players here. Like I say, we put everything together and believe, we can turn around everything. I hope you know we can do this. We have to do our best at home and go from there. We've got to keep going."
The road trip started Tuesday with a very brief team meeting at Nationals Park in Washington, where Phillies manager Ryne Sandberg spoke for only a minute or two to stress the urgency of the moment and the need to focus and execute in big moments.
"Well, that's what we need to see going forward," Sandberg said. "Execution and putting everything together. That's what's needed; playing solid games. That's what we need to do."
But does this team have the ability to do that?
"Well, I see the potential every now and then," he said. "We just need to be more consistent with putting everything together."
The Phillies thought a controversial play at the plate cost them in Saturday's 6-5 loss to the Reds, but they had nothing like that to point to Sunday. They simply could not hit Reds right-hander Homer Bailey, while Phillies right-hander David Buchanan made a couple of costly mistakes in a four-run fifth inning.
The Phillies took a 1-0 lead in the third, which included Jimmy Rollins' 2,230th hit of his career. He needs five more hits to pass Mike Schmidt (2,234) for the franchise's all-time hits record.
Buchanan worked effectively through four scoreless innings, allowing only three baserunners. But things fell apart in the fifth inning as the Reds took a three-run lead.
Todd Frazier started the inning with a leadoff single to center and Zack Cosart followed two batters later with a one-out double to right to put runners on second and third. The Phillies moved the infield in with Bailey at the plate. He hit a 0-1 curveball past Rollins to score both runners to make it 2-1.
"Just missed my spot," Buchanan said. "I got the ground ball. I was hoping it would get to Jimmy. He happened to find the hole up the middle. It's unfortunate."
Buchanan then threw Billy Hamilton a 3-2 changeup and he hit the pitch out to right field for a two-run home run. It was Hamilton's second homer of the season.
"If I throw that ball down and away ... looking back at the video, he was out front," Buchanan said. "He was probably sitting on it a little bit, but if I put that ball down and away, he probably doesn't hit it."
Asked if he liked the changeup there, Sandberg said, "He had a real good fastball today. He was effective with it. [The changeup] was elevated, even the curveball to the pitcher. He was real good the rest of the game with his fastball to both sides of the plate and his slider. Executed better, it would have been a better pitch."
The Phillies just completed a stretch of 20 games in 20 days with an off-day Monday. They follow that grueling stretch with 21 games in 20 days with their next off-day June 30. If they continue to play like they have until June 30 there is little doubt this team will be a seller, not a buyer at the non-waiver Trade Deadline on July 31.
"This is considered early in the season," Sandberg said, which appears to contradict the urgency message from Tuesday. "It's about everybody chipping in and doing something each day."
So when isn't it early anymore?
"Well, we still haven't had a hot streak," he said. "I believe there is a hot streak in there. If we could put together two or three weeks or a month with a hot streak, we can chip away and get back."
Todd Zolecki is a reporter for MLB.com. This story was not subject to the approval of Major League Baseball or its clubs.