NCAA roundup: Royals' Finnegan leads TCU in Game 1
Lefty dominant in win over Pepperdine; Texas, Louisville, Irvine advance to CWS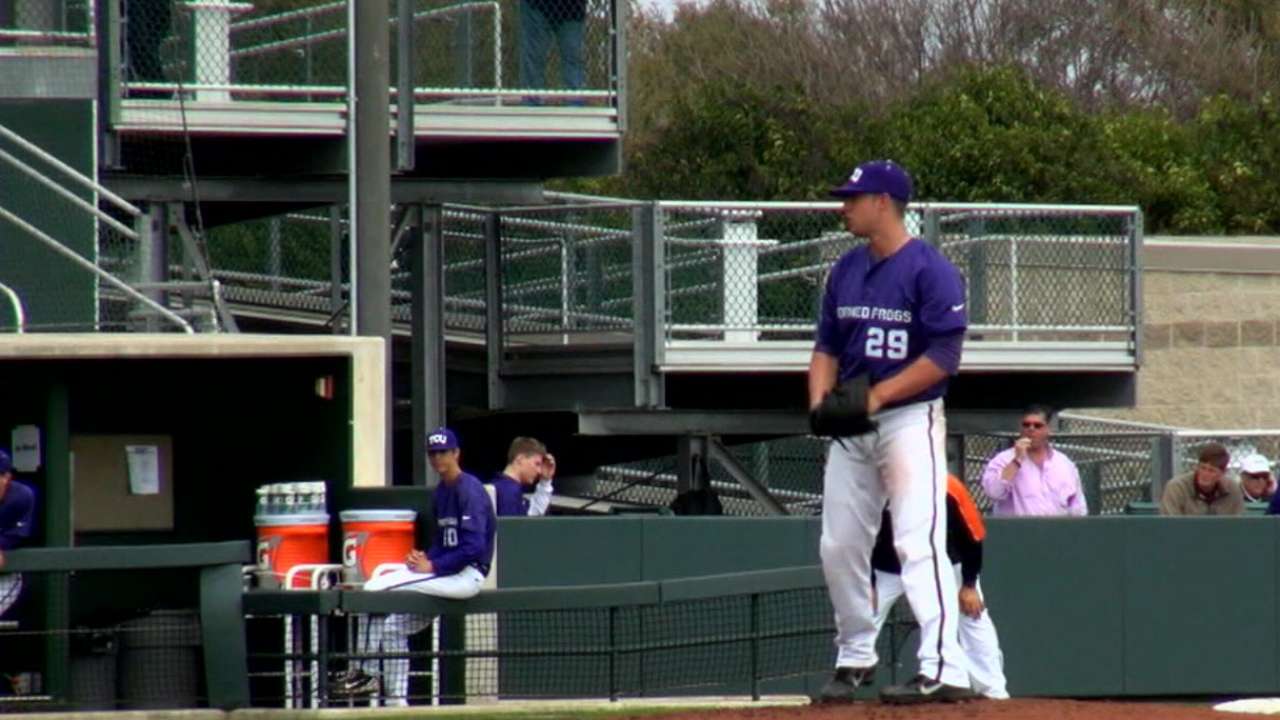 It's been quite a weekend for TCU left-hander Brandon Finnegan.
After being drafted No. 17 overall by the Royals on Thursday night, Finnegan capped a busy few days with a dominant start against Pepperdine on Saturday, moving the Horned Frogs within one game of their second College World Series appearance and first since 2010.
Finnegan allowed two runs on three hits in 6 1/3 innings, picking up the win in a 3-2 TCU victory. He didn't allow a run until the seventh inning, while D-backs Draft pick Kevin Cron went 1-for-2 with two walks and a run to lead the offense.
With the win, the Horned Frogs took a 1-0 lead in the best-of-three Super Regionals. Meanwhile, three clubs ended their respective Super Regionals with a two-game sweep on Saturday.
Texas advanced to its first College World Series since 2011 with a 4-0 victory over Houston. Right-hander Parker French tossed six shutout innings, allowing five hits, while Houston ace Aaron Garza surrendered four runs in just 3 2/3 innings. The win propelled Texas to a record 35th College World Series appearance.
Joining the Longhorns in Omaha will be top-seeded Louisville and third-seeded UC Irvine. Andrew Morales pitched a complete-game shutout to lead Irvine to a 1-0 victory over Oklahoma State, while Louisville second baseman Zach Lucas celebrated being drafted by the Pirates on Saturday with two hits as the Cardinals topped Kennesaw State, 7-4.
Catcher Max Pentecost ended his career at Kennesaw State with a three-hit night to go along with three RBIs. Pentecost was drafted No. 11 overall by the Blue Jays and was the highest Draft pick remaining in the NCAA tournament before Saturday's loss.
In fact, among the four teams on the brink of elimination, only Stanford managed to extend its series to a decisive third game. Wayne Taylor went 2-for-4 and hit a walk-off home run in the bottom of the ninth for the Cardinal, and freshman right-hander Cal Quantrill -- son of former big leaguer Paul Quantrill -- pitched seven solid innings, allowing two earned runs.
In Charlottesville, Va., Maryland grabbed the first game in the best-of-three series behind six innings from Cubs Draft pick Jake Stinnett. The Cubs made Stinnett the highest Drafted player out of Maryland since 2007 when they took him at No. 45 overall on Thursday night. He allowed three runs (two earned) on six hits against Virginia on Saturday.
Cavaliers first baseman Mike Papi gave Stinnett and the Terrapins all they could handle, however. Papi, who was taken No. 38 overall by the Indians on Thursday, went 3-for-3 with a pair of walks in defeat.
In other Game 1 action, Texas Tech knocked off Charleston -- this year's Cinderella story as the only No. 4 seed to advance to the tournament's second weekend. Louisiana-Lafayette also topped Ole Miss, behind seven innings from right-hander Austin Robichaux, who had been selected by the Angels in the 18th round earlier in the day.
Saturday's results
Maryland 5, Virginia 4
Texas Tech 1, Charleston 0
Texas 4, Houston 0
Stanford 5, Vanderbilt 4
TCU 3, Pepperdine 2
Louisville 7, Kennesaw State 4
Louisiana-Lafayette 9, Ole Miss 5
UC Irvine 1, Oklahoma State 0
Sunday's games (all times ET)
Maryland at Virginia, noon
Stanford at Vanderbilt, 3 p.m.
Charleston at Texas Tech, 3 p.m.
Pepperdine at TCU, 6 p.m.
Ole Miss at Louisiana-Lafayette, 9 p.m.
AJ Cassavell is a reporter for MLB.com. Follow him on Twitter @ajcassavell. This story was not subject to the approval of Major League Baseball or its clubs.