Hutchison chased early as Blue Jays fall to Cards
Team sees its series winning streak snapped at seven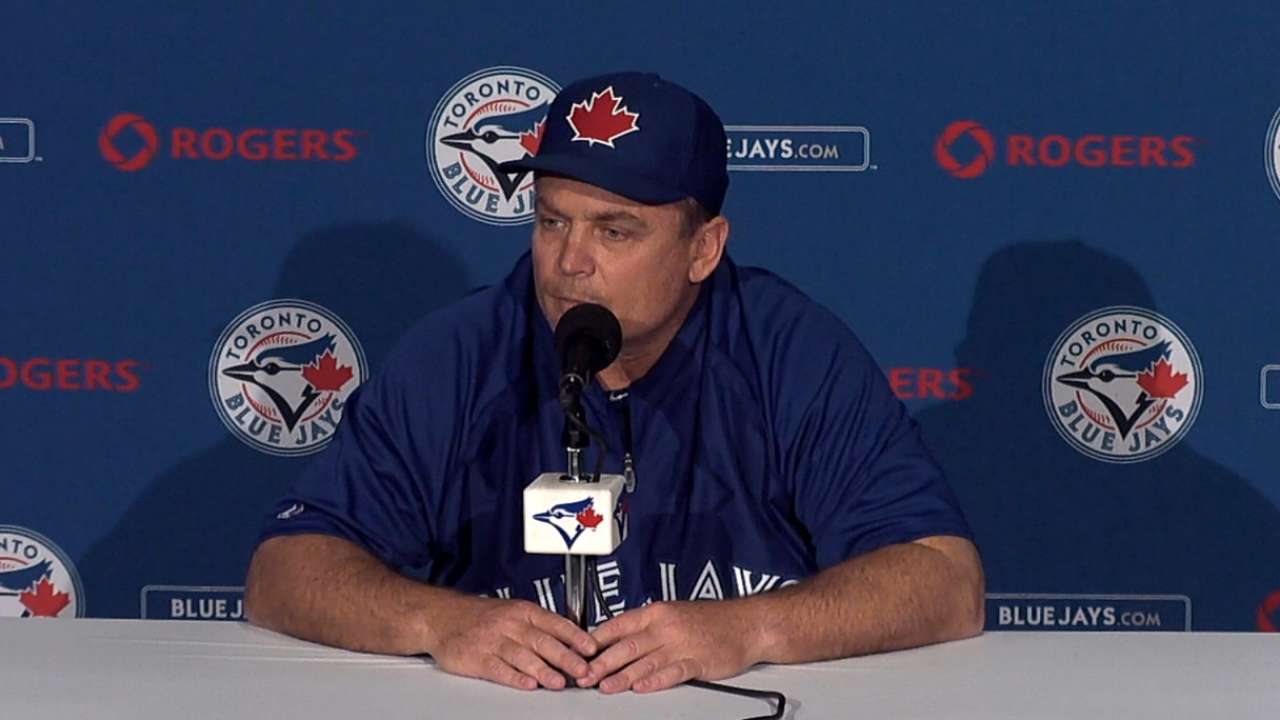 TORONTO -- There are a couple of trends starting to emerge with right-hander Drew Hutchison now that the Blue Jays are more than a third of the way into their 2014 season.
The first is that Hutchison has struggled at home, but has been borderline dominant on the road. The second is that the 23-year-old has been extremely effective when pitching on extra rest, but has seen his numbers substantially drop on his regular turn.
Both of those tendencies continued on Sunday afternoon, as Hutchison surrendered five runs over three innings in a 5-0 loss to the Cardinals in front of 45,726 fans at Rogers Centre. At least for now, Toronto doesn't seem to have any answers for the discrepancies.
"He's definitely pitched better on the road -- and some guys are like that," Blue Jays manager John Gibbons said. "It's hard to put a finger on it. But you can't pitch them on the road every time. ... He wasn't very good today. They hit him around pretty good, but he's been pretty good for us."
Hutchison laboured through a scoreless first inning before his outing fell apart in a four-run second. He allowed a sacrifice fly to Peter Bourjos, an RBI double to Tony Cruz and a two-run homer to Matt Carpenter before he got out of the inning after throwing 34 pitches.
The sample size is relatively small -- and it's very possible the numbers will eventually even out. But the trends are still worth pointing out. In five starts at home, Hutchison has posted an 8.72 ERA (21 earned runs in 21 2/3 innings), with seven homers, 13 walks and 21 strikeouts.
Those splits at Rogers Centre aren't even remotely comparable to Hutchison's success on the road, which has seen him post a 2.03 ERA (12 earned runs in 53 1/3 innings), with three home runs, 10 walks and 46 strikeouts over eight starts. That's good enough for the third-best road ERA among starting pitchers in the American League.
"Not that I know of," Hutchison said when asked if there were any reasons behind the stark difference between his home and road numbers. "Obviously, I feel the same way when I take the mound every time -- home or on the road. I just haven't executed well here and put together good games."
The other discrepancy emerging in Hutchison's numbers are his stats when pitching on normal rest compared to extra rest. Following a start against the Rays on May 26, the Blue Jays decided to push back Hutchison's next game by three days to give him additional time to recover. The reason given was that Hutchison missed all of last season because of Tommy John surgery and looked a little fatigued during the five-earned-run outing vs. Tampa Bay.
Hutchison responded by tossing seven scoreless innings vs. the Tigers on June 3, after receiving eight days' rest. He was back on regular rest on Sunday afternoon, and the Cardinals responded with a lot of hard-hit balls.
When Hutchison has received at least one extra day of rest this season, he has a 2.62 ERA (13 earned runs in 44 2/3 innings), with eight walks and 45 strikeouts. On regular rest, Hutchison has a 5.93 ERA (20 earned runs in 30 1/3 innings), with seven homers, 15 walks and 22 strikeouts.
"I haven't broken it down," Gibbons said. "We're aware when they get extra rest and things like that, but I just evaluate that particular outing. Some days, he has that little extra snap -- and some days, he doesn't. I guess that's pitching.
"He's coming off Tommy John, he's healthy. But probably, in a lot of ways, he's still building up. A year off is a year off. But they swung the bats good today, they came after him. I don't think it was that he was so bad, they attacked him pretty good."
Toronto entered this weekend series against the Cardinals having been held without a run once all season. The club now finds itself with zeros on the scoreboard in two consecutive games. First, it was right-hander Shelby Miller with a shutout on Saturday afternoon and then Cardinals left-hander Jaime Garcia tossed an additional seven scoreless innings on Sunday.
The Blue Jays' best scoring opportunity came in the fifth inning, when Jose Reyes and Melky Cabrera reached base with two outs. Jose Bautista then stepped in and took a pair of borderline strikes on the inside part of the plate. Bautista took issue with the calls by home-plate umpire Manny Gonzalez and then proceeded to strike out on an 83-mph offspeed pitch to end the threat. The rest of the game went off without a hitch for St. Louis.
"Jaime and Shelby were just fantastic," Cardinals manager Mike Matheny said. "That's just a great win, a great series against a team that couldn't be any hotter than what they were when we rolled in here."
The loss meant the Blue Jays' streak of series wins has come to an end at seven. Toronto hadn't lost a series since May 9-12 vs. the Angels. The streak of seven series was the longest since 2000, when the club also had a run of seven. A streak of eight hasn't been achieved by the franchise since its World Series run in 1993.
Gregor Chisholm is a reporter for MLB.com. Read his blog, North of the Border, and follow him on Twitter @gregorMLB. This story was not subject to the approval of Major League Baseball or its clubs.