Stellar Garcia baffles Blue Jays in finale
Southpaw tosses seven scoreless frames to clinch series win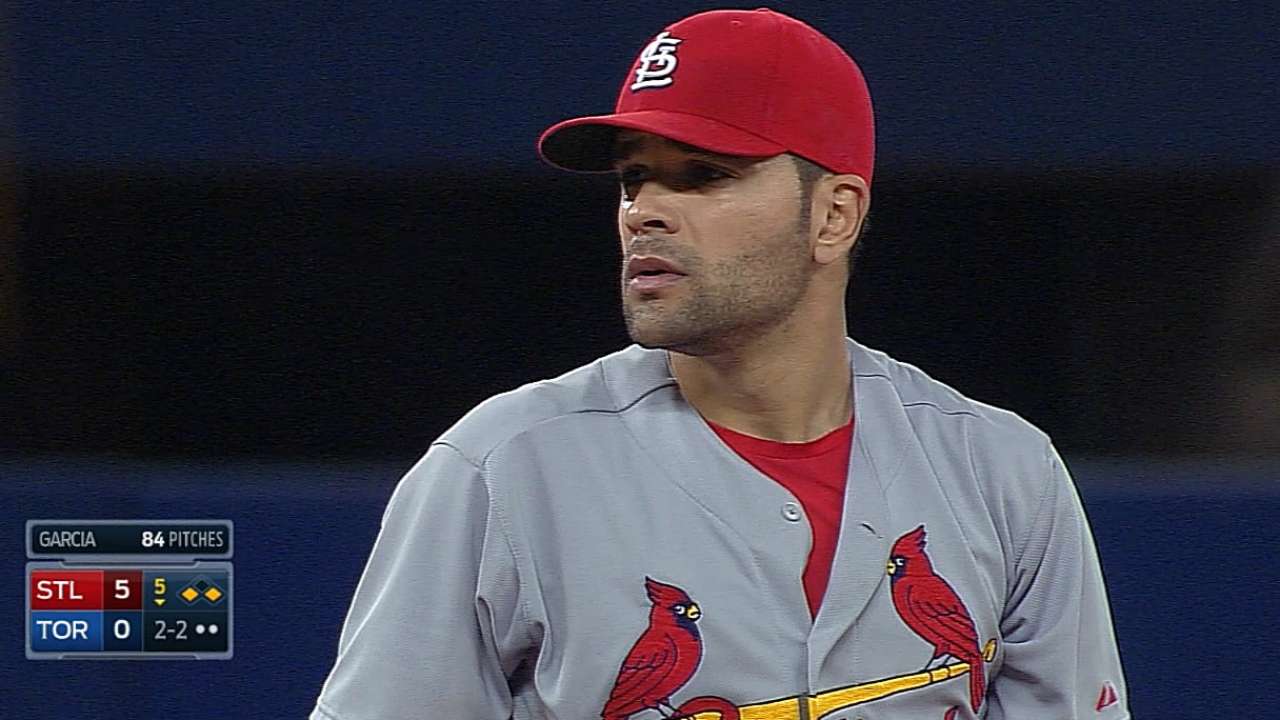 TORONTO -- Jaime Garcia stood in the clubhouse after his last start, lamenting the four-run lead he squandered and characterizing his performance as "unacceptable."
Sunday offered an immediate chance to make everything right.
As they did in his start last week, the Cardinals staked Garcia to an early lead with a four-run second. This time, though, the lefty didn't give an inch of ground, following Shelby Miller's shutout with seven scoreless innings of his own to lift the Cardinals to a 5-0 win over Toronto.
"This is a big series for us," said Matt Carpenter, who contributed a two-run homer and a lot of glove. "Not only were [the Blue Jays] playing great ball and on a [six-game] winning streak, but we're playing them at their ballpark. For us to win two out of three against a really good team is a really big deal for us."
It wasn't the literal complete game that Saturday's was, but Sunday's victory did showcase a complete team effort.
Garcia finished a turn through the rotation in which none of the starters gave up more than three runs. The offense scored early with a dose of timely hitting, an executed hit-and-run and even the rare show of power. The defense was busy, but strong, behind Garcia, and the bullpen kept the ending anticlimactic.
"That's a great display of what we're looking for and what we want to be known for and how we want to play," manager Mike Matheny said. "In order for a team to figure themselves out, which I still believe is what we're doing, you have to see all those components together to let yourselves know what the expectations are.
"Now, our responsibility is: How can we keep it [going] as long as we possibly can?"
The win, in front of 45,726 at Rogers Centre, halted the Cardinals' string of four consecutive winless series and gave the club back-to-back victories for the first time since a May 20-22 sweep of Arizona.
Also impressive is that the shutdown pitching came against an American League club that led its league in runs and had been held scoreless just once before this series.
"They have one of the best lineups in the league," Garcia said. "I knew it was going to be a challenge. I was able to get them off balance a little bit and then keep the ball down."
Though the Cardinals' only loss in this series came with Lance Lynn on the mound, it was Lynn who helped build the foundation for the 16 scoreless starter innings to follow. Before he left the ballpark on Friday, he sought out Miller and Garcia, letting them know what he saw in a Blue Jays approach that differed from the scouting report.
All Miller and Garcia had to do then, was execute.
"That's something he's never really done before, at least not to the extent that he's done this time," Matheny said of Lynn's teaching moment. "That's a big step for the guy who has always kind of been the young guy -- the one receiving instead of the one out there giving [advice]."
Even though Garcia had finished seven innings twice previously, this performance was unquestionably the most dominant of his five starts since returning from a shoulder injury. It was also uninhibited by any physical issue.
Garcia revealed on Sunday afternoon that his left elbow -- which was struck by a ball during a rehab start in early May -- had caused him to sometimes lose feeling when throwing offspeed pitches. That was not an issue against Toronto.
Coming off an outing in which he wasted Kolten Wong's grand slam by giving up a six-run frame to the Royals, Garcia remained in control throughout.
"It was like he was ahead of us the whole game, moving in and out. But he's pretty good," Blue Jays manager John Gibbons said. "It looks like he's healthy again. He pitches like [Mark] Buehrle does, and when those guys are on, they make it tough."
The Blue Jays advanced four runners into scoring position against him, only one as far as third. That was Jose Reyes, who was left there when Jose Bautista struck out swinging with runners on the corners to close the fifth.
"If there was a stressful inning that [Garcia] had, it was right there," Matheny said. "He turned it up and made some really nice pitches when he had to, and got out of the tough spot."
The number of ground balls hit to the left side of the infield was also an indicator of nasty movement -- in particular with Garcia's cutter and sinker.
Carpenter and shortstop Jhonny Peralta combined for 14 assists on the 21 outs Garcia garnered. Another two balls went Carpenter's way -- one for a hit, the other an error.
"I can't remember the last time I had that much action," Carpenter said. "When I get a lot of balls over there, that's when Jaime is at his best."
Carpenter and Peralta were also responsible for much of the run support. Carpenter's two-out homer capped the Cardinals' second-inning scoring against Blue Jays starter Drew Hutchison. Peter Bourjos had delivered a sacrifice fly and Tony Cruz a two-out RBI double before Carpenter connected for his second blast of the year.
An inning later, Peralta teed off on a 1-0 slider for his team-best 10th homer of the season. It was one of six hits off Hutchison, who was out of the game after the third.
"I did a bad job of controlling the situation," Hutchison said. "I fell behind some guys and hung some pitches and made mistakes -- and they got hit."
After throwing a season-high 106 pitches, Garcia handed the shutout to the 'pen. Pat Neshek and Trevor Rosenthal preserved it, giving the Cardinals a Major League most 12 this season.
"That's just a great win," Matheny said, "A great series against a team that couldn't be any hotter than what they were when we rolled in here."
Jenifer Langosch is a reporter for MLB.com. Read her blog, By Gosh, It's Langosch, and follow her on Twitter @LangoschMLB. This story was not subject to the approval of Major League Baseball or its clubs.