Parra's bloop walk-off caps D-backs' thrilling win
Hill, Montero deliver clutch hits before Arizona breaks through in 11th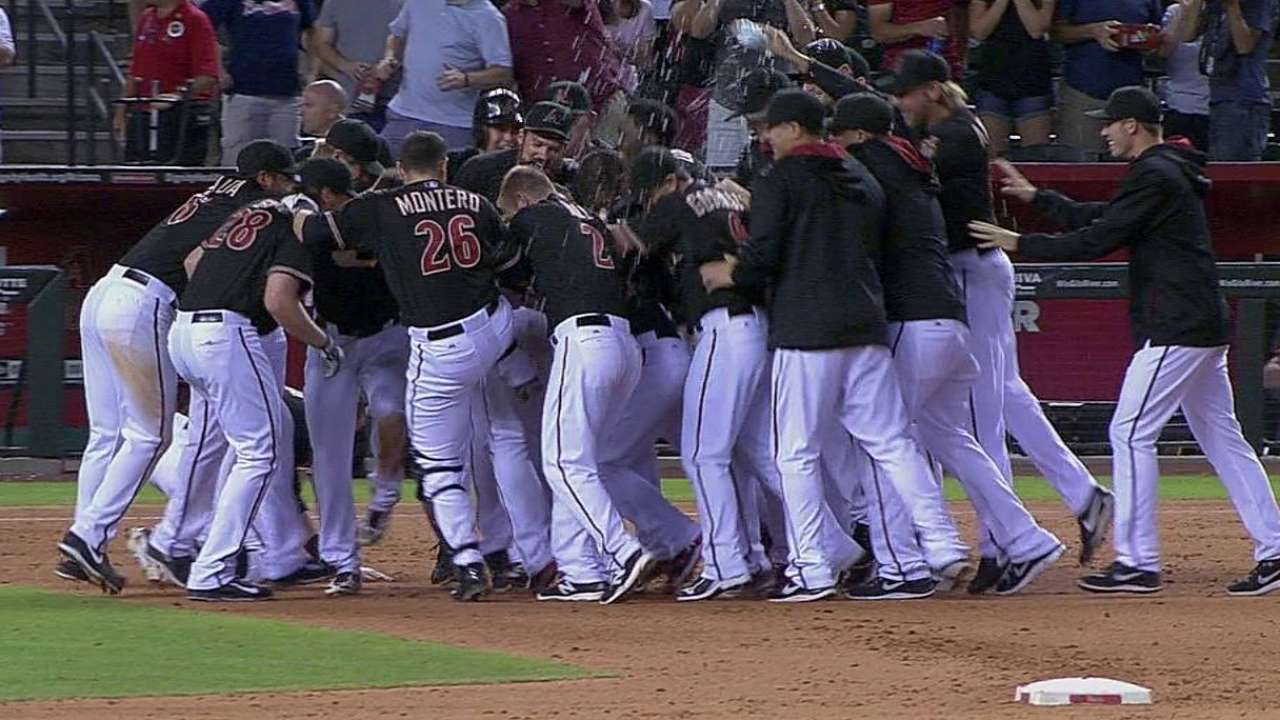 PHOENIX -- As the ball left his bat in the 11th inning, Gerardo Parra had a good feeling about it.
Sure it was a good pitch from David Carpenter and it broke Parra's bat, but the D-backs outfielder thought it had just enough carry to land in the outfield grass.
That was the same read that Cody Ross got as he stood just off second base looking up at the ball. So Ross put his head down and ran as fast as his surgically-repaired hip would allow around third and he slid in with the game winner as the D-backs beat the Braves, 4-3, at Chase Field.
"We just never let up," Ross said. "Just a great game all around. The pitchers threw well, good defense and big timely hits when we needed them."
The game took plenty of turns before Parra's hit ended it.
Down 2-1 against the best closer in baseball, the D-backs rallied to tie the game in the bottom of the ninth.
Then their elation turned to disappointment as Jason Heyward hit a two-out homer in the 10th to put the Braves back on top 3-2.
Miguel Montero rescued the D-backs in the bottom of the 10th when he drove a 2-1 pitch from Anthony Varvaro the opposite way into the left-field seats to tie game.
"It was a good game overall," Montero said. "They took the lead and we came back, they took the lead again and we came back and we capitalized, so it was great."
Down 2-1 heading into the ninth against Atlanta's Craig Kimbrel, who was 16-for-18 in save opportunities this year, things looked bleak for Arizona.
Ender Inciarte, though, worked a walk and proceeded to steal second base.
"Yeah, you don't walk guys and let them steal second," Kimbrel said. "That's what happens when you let a guy get two free bases like that. Walks always kill you. You can ask any pitcher. It was a tough game to lose. I felt like we played well enough to win. It just didn't turn out that way."
Aaron Hill, pinch-hitting for the pitcher, followed Inciarte and lined a 97 mph fastball down the right-field line for an RBI double that tied the game at 2.
"I think we did show some character tonight," D-backs manager Kirk Gibson said. "They brought in Kimbrel, that's no easy task. We stayed aggressive, we went first pitch on him, tried to get the guy in scoring position and Aaron Hill comes off the bench with an awesome at-bat."
Arizona closer Addison Reed retired the first two hitters of the 10th before Heyward hammered an 0-1 pitch into the bleachers in right for his seventh home run of the year and suddenly the D-backs were back in a hole at 3-2.
To that point in the game the D-backs were a dismal 1-for-14 with runners in scoring position.
One of the biggest culprits was Montero, who was 0-for-5 with all of the at-bats coming with runners in scoring position. So when he stepped in against Varvaro in the 10th, he was not a happy camper.
"I was so mad at the plate already because I left so many guys on base," Montero said. "I was like, 'You know what man, you've got to calm down and hit it out.' I really was thinking about hitting a homer. I'm not going to lie."
Montero's homer to left tied things up once again and set the stage for the game-winning rally in the 11th.
Ross, who had been out of the lineup the last few games while working desperately on his mechanics at the plate and only entered Saturday's game in a double switch that inning, grounded a single back up the middle.
Didi Gregorius then walked to put runners on first and second for Parra.
"I'm just thinking about putting the ball in play, because the last four at-bats I didn't feel good about," Parra said.
So Parra was able to hit a high, inside pitch and get just enough of it to bloop it into center in front of B.J. Upton and beyond the infielders.
"Initially you don't really freeze, you take a couple of steps and look when you're running," Ross said. "You see that play so many times in your career that you know it's going to fall and you just take off and pray that nobody runs underneath it for some reason. I went for it and luckily it was in between them.
Steve Gilbert is a reporter for MLB.com. Read his blog, Inside the D-backs, and follow him on Twitter @SteveGilbertMLB. This story was not subject to the approval of Major League Baseball or its clubs.