Rangers' pick from VMI follows orders to play ball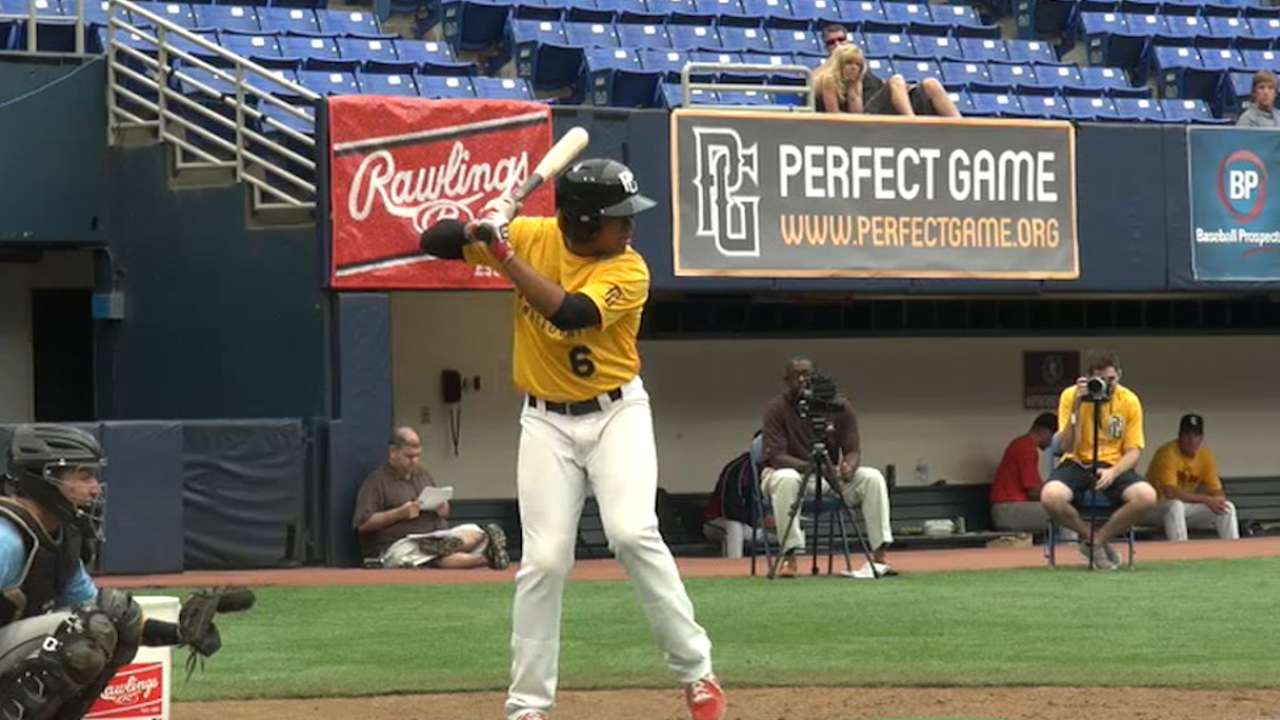 ARLINGTON -- Reed Garrett vividly remembers his first week of college nearly three years ago.
It was the worst week of his life.
Gone was his cell phone, and therefore all contact with anyone off campus. Stripped from him was the freedom to watch a movie on his computer, the luxury of listening to music out loud without headphones. He didn't have a watch, so he never knew what time it was, and every second of every day was already planned out for him before he ever woke up.
Uniforms. Marching. Drilling. Garrett was in his first week of training at Virginia Military Institute, and almost every day, he asked himself why -- why he chose to put himself through that.
"You're considered a rat at VMI for the first four months," Garrett said. "It's crazy."
The next few weeks wouldn't ease up for the right-handed pitcher, who was selected by the Rangers in the 16th round with the 486th overall pick in the First-Year Player Draft on Saturday.
Each day he'd wake up at 7 a.m., line up for breakfast formation with his company for the raising of the flag, eat breakfast -- sometimes for only 15 minutes -- and then head to class. He'd have an hour for lunch, one more class after, and then baseball from 2-6:30 p.m.
"At 7 is another formation, dinner formation, where they lower the flags," he said, "and then after dinner it's homework, studying, and bed at 12:30 or 1 a.m."
Rest. Rinse. Repeat. That was the routine every day.
But Garrett found a way to stay focused on his baseball career, all while pursuing a double major in business and economics. Motivated by the desire to be drafted since he was 4, encouraged by his father who also played collegiate baseball, the diamond was Garrett's priority.
But even more so, it was his safe haven -- particularly when the military lifestyle began to take its toll.
"[The other students] would do training and stuff, but we would be in practice," Garrett said. "Being able to get down to the baseball field and just being in the locker room, we were allowed to live with a little more freedom."
The more time he spent there, the better he got. Though he was originally recruited as a two-way player after hitting .440 his senior year of high school and playing in the outfield, the Keydets made him strictly a pitcher not long after they saw him pitch for the first time.
"I threw in the Fall World Series and I think had 12 strikeouts or something in five innings," Garrett said. "They said, 'You're not gonna hit. You're just gonna focus on pitching.' So I didn't really have a chance or have any argument."
But now three years later, the right-hander doesn't mind.
At the conclusion of his junior season this spring, Garrett had received Second Team All-Big South honors with a 6-6 record and a 2.23 ERA to complement the first no-hitter of his career. Just one year earlier, those numbers were 3-8, 5.56.
The no-no came on Feb. 21. The second the last strike smacked his catcher's mit, Garrett remembers his teammates tackling him at the mound. His shortstop and third baseman showed their affection by punching him in the ribs.
"I did my best not to look at the scoreboard the entire game … it was just me and my catcher," Garrett said. "I don't know if I necessarily knew what was going on, but I had an idea something special was about to happen."
His hunch was right. Garrett racked up 13 strikeouts that day. And now in Washington state for his final summer playing at the collegiate level, Garrett hopes his hunch is right one more time.
He's decided he'll likely forgo his last year of eligibility at VMI in an effort to pursue the one thing he thought he went there to do -- play baseball, to get drafted.
"I'm completely at a loss for words," Garrett said. "I can't even describe it, really."
But in the meantime -- despite being the site of his worst memory -- VMI gave him a whole lot more than just baseball.
"If I went to a normal college, I probably would've slacked off and struggled a little bit," Garrett said. "I decided this was best for me because it taught me so much about myself."
And he was right.
Grace Raynor is an associate reporter for MLB.com. This story was not subject to the approval of Major League Baseball or its clubs.