Braves cough up two late leads, fall in extras
Kimbrel, Varvaro blow saves before Carpenter allows walk-off in 11th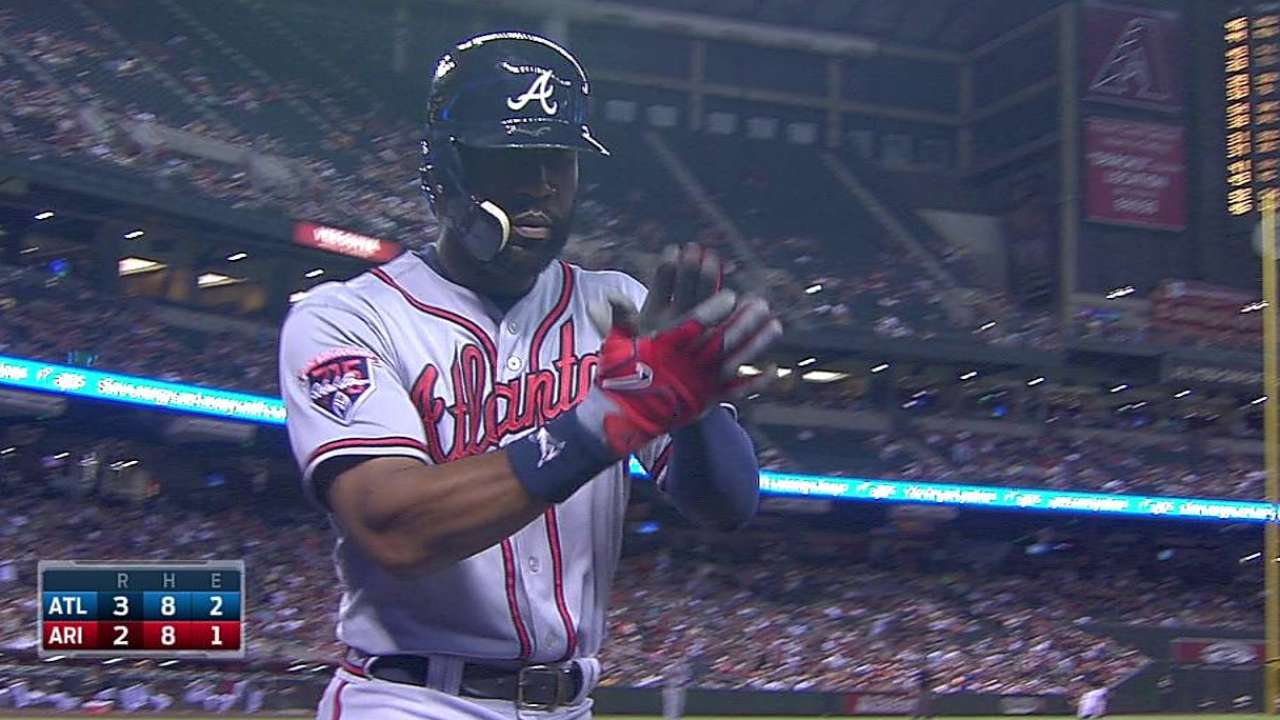 PHOENIX -- Such is the life of a closer.
A night after setting the franchise record with his 155th career save, Craig Kimbrel blew his third of the season on Saturday at Chase Field and 18th in his five full seasons.
It cost the Braves the game as the D-backs came from behind to win in 11 innings, 4-3, on a run-scoring single by Gerardo Parra off David Carpenter, the sixth Atlanta pitcher of the evening.
"You know what? He's human," Braves manager Fredi Gonzalez said about Kimbrel after the tough loss, the third for the Braves in their last four games. "That's what I told him. It's tough to convert one-run saves. And he's human and I told him that in the dugout. 'Be ready. Go back out there tomorrow if the opportunity arises.' He's good. He'll get back on the horse."
Unlike Friday night's rare four-out save, Kimbrel issued a one-out walk to Ender Inciarte on five pitches in the ninth. After Inciarte stole second, pinch-hitter Aaron Hill followed with a line-drive double down the right-field line to tie the score at 2. Kimbrel then whiffed the next two hitters to get out of the jam.
The walk and the steal were the key to the inning, Kimbrel said.
"Yeah, you don't walk guys and let them steal second," he said. "That's what happens when you let a guy get two free bases like that. Walks always kill you. You can ask any pitcher. It was a tough game to lose. I felt like we played well enough to win. It just didn't turn out that way."
Jason Heyward came back and homered in the top of the 10th off D-backs reliever Addison Reed to give the Braves a 3-2 lead. It was the eighth homer Reed has allowed this season in 28 innings. Miguel Montero matched Heyward with his own homer off Anthony Varvaro in the bottom of the 10th, giving the Braves two blown saves in the one game.
For Kimbrel, it was his first blown save since May 9. He blew only four all last season. Considering that he's had 173 save opportunities in his career, the 18 blown saves represents only about nine percent.
"You're talking about one of the best closers in the game for the last five years or so," D-backs outfielder Cody Ross said of Kimbrel. "He's normally lights out and to come up with a big walk, big stolen base and big hit, it was huge."
The Braves, at 32-28, still lead the National League East by a game over the Nationals and Marlins. It should be noted that closers for the division-rival Nats and Mets also blew ninth-inning saves in losses on Saturday night at San Diego and San Francisco, respectively. That illustrates Gonzalez's point about how tough the job is.
"Hey, we got to their closer with Heyward's home run, too," he said. "Short-term memory. The sooner you get them back out there the better."
Going into the game, lifetime against the D-backs, Kimbrel had only allowed five runs on nine hits in 11 appearances. Arizona was batting only .225 against him. But this time Kimbrel was throwing in back-to-back games after recording only the third multi-inning save of his career on Friday night. But all the great closers have the ability to bounce back.
"It kind of stinks," Kimbrel said. "You give up one run and it costs you that game. Pitchers are going to give up runs. It just seems like this year they're one-run ballgames when I do. It's unfortunate, but I've got to go out there next time and make sure it doesn't happen again. You still have to go back out there and do your job no matter how bad you feel about what happened the day before."
The Braves wasted a quality start from right-hander Ervin Santana, who held the D-backs to six hits and an unearned run in seven innings. Santana was a late free-agent signing after Kris Medlen and Brandon Beachy went out for the season because of Tommy John elbow ligament replacement surgery.
Santana was having some problems early in the game working with catcher Evan Gattis, who went 3-for-5 with a pair of doubles and an RBI that gave the Braves the 2-1 lead Kimbrel eventually surrendered. But the two went back into the clubhouse and resolved their differences.
"After the first inning we just talked about it and we got back to the simple stuff and tried to be on the same page," Santana said. "They were baseball problems. Everybody has problems."
Including the usually unflappable Braves closer.
"It happens," Santana said. "You just have to pick yourself up and get 'em tomorrow."
Barry M. Bloom is a national reporter for MLB.com and writes an MLBlog, Boomskie on Baseball. Follow @boomskie on Twitter. This story was not subject to the approval of Major League Baseball or its clubs.