Green optioned to Triple-A; Cron remains with Angels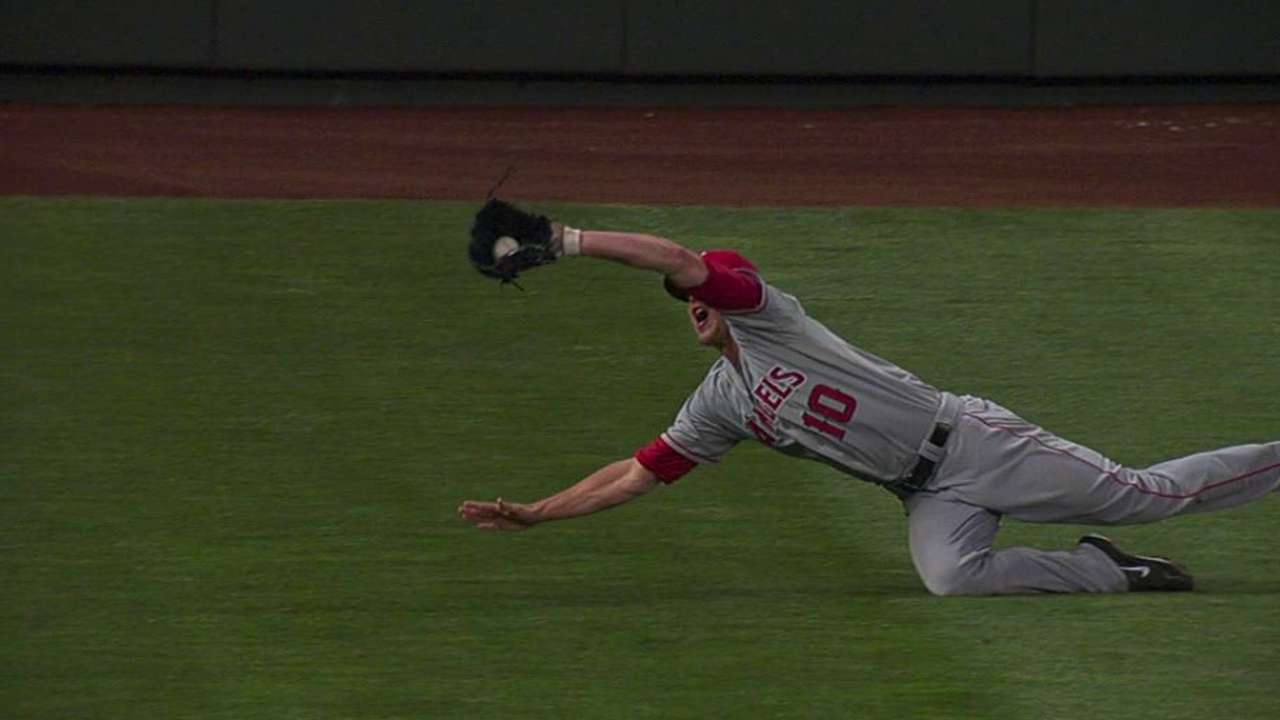 ANAHEIM -- The excruciatingly difficult and painfully inevitable roster decision finally came down early Saturday afternoon, when Angels manager Mike Scioscia called Grant Green into his office and told him he'd be the one going back down to Triple-A.
Green was optioned despite his .359/.373/.469 slash line in 22 games and C.J. Cron stays with his .299/.322/.517 slash line, with right-handed reliever Cory Rasmus called up from Triple-A so the Angels can get back to a seven-man bullpen.
Green seemingly had the upper hand because of his versatility, which allows him to fill in at second base, left field, shortstop and, to a lesser extent, both corner-infield spots. But with Raul Ibanez continuing to struggle at the plate, the Angels need someone to get a lot of plate appearances at designated hitter -- a spot at which Cron has produced, and one that negates Green's versatility.
"Every player on our roster has pluses they bring to our team, but right now, C.J.'s really hitting well in the clutch, he's providing some first-base depth, which will help us maneuver Albert [Pujols] a little bit when he needs to DH, and I think that the element of power is also something that C.J. can bring," Scioscia said. "You never know what needs your club's going to have from week to week, but right now we feel like this is the best roster to move forward with."
Another option was to release Ibanez, who signed an incentive-laden $2.5 million contract in the winter and is batting .143/.249/.259 more than two months into the season. But the Angels will continue to be patient with the 42-year-old left-handed hitter, who can at the very least serve as a valuable late-game pinch-hitter if he's right.
Scioscia said "there's going to be plenty of righties" against whom Ibanez will start at DH, but the Angels will face an opposing lefty in three of their next four games, including Chris Sale on Saturday. Cron figures to get the majority of the at-bats at DH moving forward, but Scioscia wouldn't commit to that.
"I don't think it's much different than we've talked about," he said. "When a guy is performing well, obviously he's going to get more looks. And when a guy is struggling, maybe you take him off that horse for a little bit to let him catch his breath. That's kind of where we're at right now."
Cron, ranked third in the Angels' system by MLB.com, has posted an .889 OPS against righties, a .779 OPS against lefties and a 1.037 OPS with runners in scoring position.
On Saturday, the 24-year-old right-handed hitter was finally able to breathe a little easier.
"A little bit," Cron said. "They make decisions at any moment, really, so you have to continue to play baseball and help the team."
Alden Gonzalez is a reporter for MLB.com. Read his blog, Gonzo and "The Show", and follow him on Twitter @Alden_Gonzalez. This story was not subject to the approval of Major League Baseball or its clubs.