Nats' winning streak snapped in 11th inning
Rookie Treinen was on brink of first big league win before Padres' rally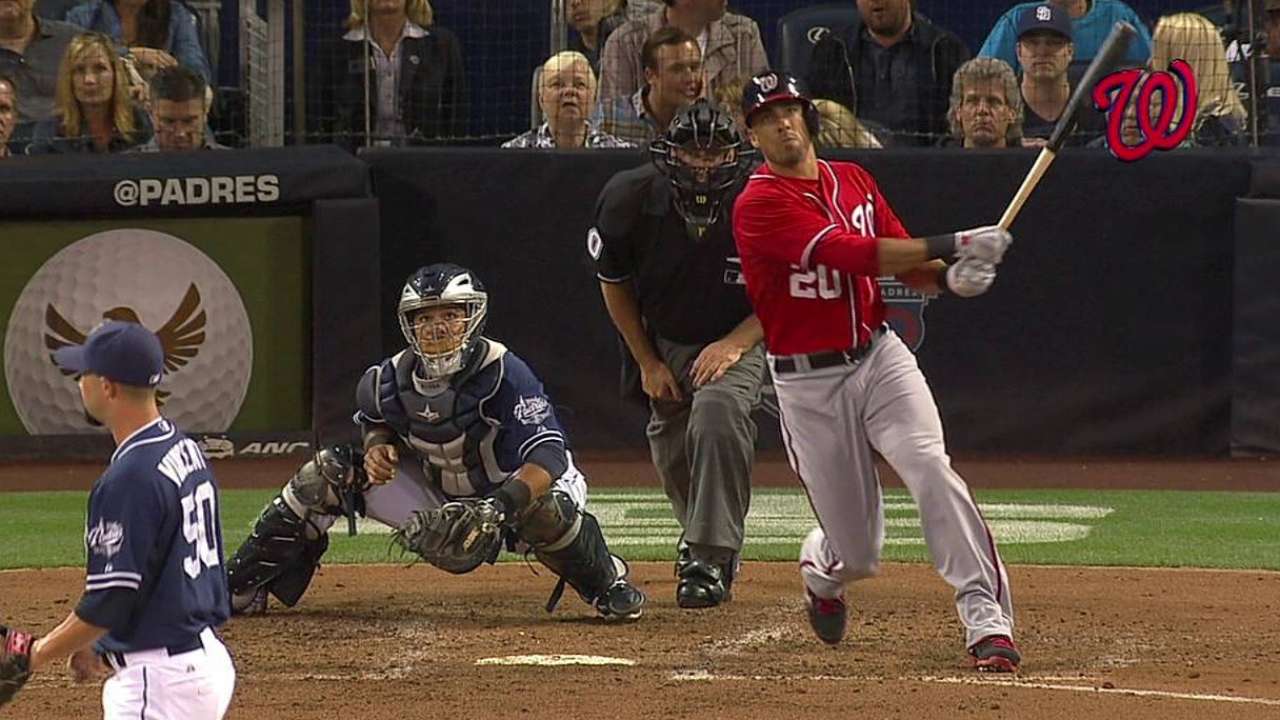 SAN DIEGO -- Cameron Maybin's single in the 11th inning defeated the Nationals, 4-3, at Petco Park on Saturday night. The Padres snapped Washington's four-game winning streak and dropped its record to 31-29, a game behind the Braves.
Nationals right-hander Craig Stammen was on the mound when San Diego scored the game-winning run. With one out, Chase Headley singled to left field before Yonder Alonso drew a walk to put runners on first and second. Maybin followed, singling to right field and scoring Headley. It was the first walk-off hit of Maybin's career. He was 0-for-12 with runners in scoring position with two outs this season before the at-bat.
"I was able to get enough bat on it to get to right field, but I thought it was a good pitch," Maybin said.
Right-hander Blake Treinen was just as good as the team's previous four starters. He pitched six innings, allowed one run on five hits and had 12 ground-ball outs.
Treinen threw just 63 pitches in the game, but he was taken out because of a long layoff he had between starts. The last time he started a game was May 22 against the Pirates, because of off-days and rainouts.
"He pitched well," manager Matt Williams said. "We had an opportunity there to go to our 'pen, which has been so good. Still in the 60s in his pitch count, but had such a long layoff and us taking the lead in the top of the inning, it set up good for us."
The Nationals starting pitchers have been outstanding the last five games. They have allowed six earned runs in 36 innings (a 1.50 ERA) and allowed just one walk.
Treinen was down, 2-0, when the Nationals came back and took the lead in the top of the seventh inning off reliever Nick Vincent. After Adam LaRoche blooped a double to left field, Ryan Zimmerman followed with a bloop double of his own down the right-field line, scoring LaRoche.
After Wilson Ramos lined out hard to right fielder Will Venable, Ian Desmond came to the plate and crushed a monster home run over the center-field fence for a two-run homer. The ball went an estimated 432 feet.
That was the sixth time this season that a Desmond home run gave Washington the lead. Although Desmond isn't hitting for an average, teammate Kevin Frandsen took notice that Desmond often comes through in the clutch.
"Desi just continues to do it all the time. He came through with another big hit," Frandsen said. "He put some life in there. It seems he is the one who is delivering it. That was huge."
During night games, it's hard to hit home runs at Petco Park. To Frandsen, he hasn't seen a player hit a ball that far since Barry Bonds did it several years ago with the Giants.
"I've only seen a couple of balls hit that far and they were by Bonds. It was impressive. It something Desi does. That's Desi for you," Frandsen said.
The Nationals were two outs away from victory when closer Rafael Soriano allowed a game-tying home run to Alonso. It was Soriano's second blown save of the season. He was trying to throw a sinker down and away, but the pitch was in the middle of the plate.
"Sori's been really good, so we'll take our chances every day with him and a one-run lead in the ninth. Didn't happen for us tonight," Williams said.
Padres right-hander Andrew Cashner was just as good as Treinen. Making his first start since May 13, Cashner blanked Washington for six innings. The Nationals had Cashner on the ropes in the first inning. They had runners on second and third with one out, but Frandsen was picked off at third base. It was a designed play by Padres, according to Williams. It's a signal from the catcher to the third baseman. Frandsen, who wandered off too far off the bag, acknowledged that he made a mistake.
"[Cashner] was off [the mound]. I watched Cashner go into the windup' Frandsen said. "He was off. It was a set play, obviously, you could tell. It killed the momentum. It something that should never happen, but it happened."
After getting Frandsen at third, Cashner retired the next 16 hitters that he faced. Cashner missed several starts because of elbow soreness.
"It was fun to get back" Cashner said. "The first inning was a little trouble tonight. I was able to get out of the first inning. It was a big throw by Rene, getting that out. I think my fastball had the most movement it's had in a long time. I don't think it was rust, I just think it was balls moving more than they have and they ran back to the middle of the plate."
Bill Ladson is a reporter for MLB.com and writes an MLBlog, All Nats All the time. He also could be found on Twitter @WashingNats. This story was not subject to the approval of Major League Baseball or its clubs.