Mets' skid at five after lead gets away late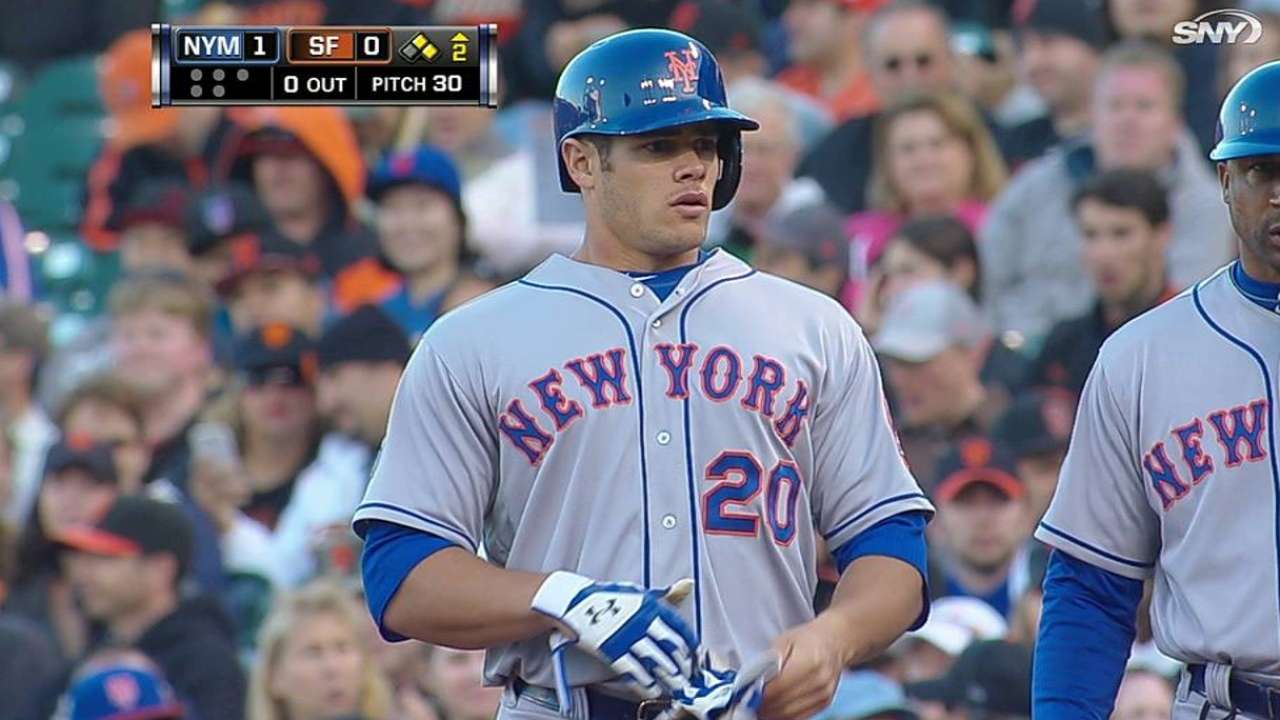 SAN FRANCISCO -- The Mets gathered in the visitors' clubhouse at AT&T Park about two hours prior to Saturday's game to discuss the state of their team. Manager Terry Collins spoke. Captain David Wright spoke. Veteran Curtis Granderson spoke. They talked about how the season is long, and things, for the Mets, are not as bad as they seem.
Then they went out and played one of their more dispiriting games of the season, blowing a late lead in a walk-off, 5-4 loss to the Giants.
"It's very frustrating," said backup catcher Anthony Recker, whose playing time figures to increase now that the Mets have optioned starter Travis d'Arnaud to Triple-A Las Vegas. "We were in control most of the way."
They were in control until the ninth, when the Giants took their first and only lead of the night on Michael Morse's walk-off single.
The winning rally began when closer Jenrry Mejia struck out Angel Pagan on a pitch in the dirt to open the ninth. The ball squirted away from Recker, whose throw to first base sailed just wide. Lucas Duda could not get to the bag before Pagan, who reached safely with no outs after a video replay review.
The next batter, Hunter Pence, lined a double into the left-field corner to tie the score at 4. Buster Posey's flyout to left moved Pence to third base, prompting Mejia to intentionally walk Pablo Sandoval. That brought up Morse, who smoked Mejia's first pitch into the gap in right-center to end things.
"You've got to make plays when you're playing anybody at this level," Collins said. "We talk about it on a daily basis. You can't give good teams more than three outs, and if you do you're going to get burned by it."
Coming off three consecutive strong outings, starter Bartolo Colon was at something less than his best in giving up eight hits and two walks in 5 2/3 innings, but he made pitches when he needed to. In the first inning, Colon retired three in a row after a hit and an error put two runners on base. In the third, Colon escaped a two-on, one-out rally. And in the fifth, he coaxed a double-play ball out of Posey with the bases loaded and no outs, limiting the damage to a single run.
Further trouble surfaced in the sixth inning after Wright committed a throwing error on what would have been an inning-ending ground ball. Instead, Colon loaded the bases and Pagan chased him with a bloop two-run single. Colon lasted 5 2/3 innings, giving up one earned run and two unearned.
"The thing I notice is that we are going through a very bad streak right now," Colon said. "We only have to keep working hard to get through this bad streak."
Still, Colon left in line for his sixth victory thanks to an offense that pounded out three early runs against Giants starter Tim Hudson. Recker did much of the damage, singling home runs in the second and third innings -- though the Mets might have rallied further in the third had they not committed a key baserunning blunder. After Recker's second single, both he and Ruben Tejada were caught near second base, allowing the Giants to easily tag out Tejada.
Lucas Duda also singled home a run against Hudson, and the Giants allowed another to score on George Kontos' wild pitch in the sixth.
"They definitely didn't make it easy for me," Hudson said.
Jeurys Familia pitched 2 1/3 shutout innings of relief, bridging the gap to Mejia.
It was how the Mets might have drawn it up in their pregame meeting, but it did not end the way they envisioned. Now they have lost five straight, ensured themselves a losing road trip and optioned one of their core players to the Minors. Home can't come soon enough for the Mets, who won four of their first five games on this trip before losing the last five.
After Saturday's loss, they spoke in hushed tones about a team that must experience change.
"It's easy to play the 'woe is me' card and get some negativity to creep up in here," Wright said. "Although we've played pretty poorly these last four or five days, overall on this road trip, it's not the end of the world. Our best baseball is ahead of us."
Anthony DiComo is a reporter for MLB.com. Follow him on Twitter @AnthonyDicomo. This story was not subject to the approval of Major League Baseball or its clubs.