Trout's slam highlights six-run game-winning rally
Shut down for seven innings by Sale, offense comes to life in eighth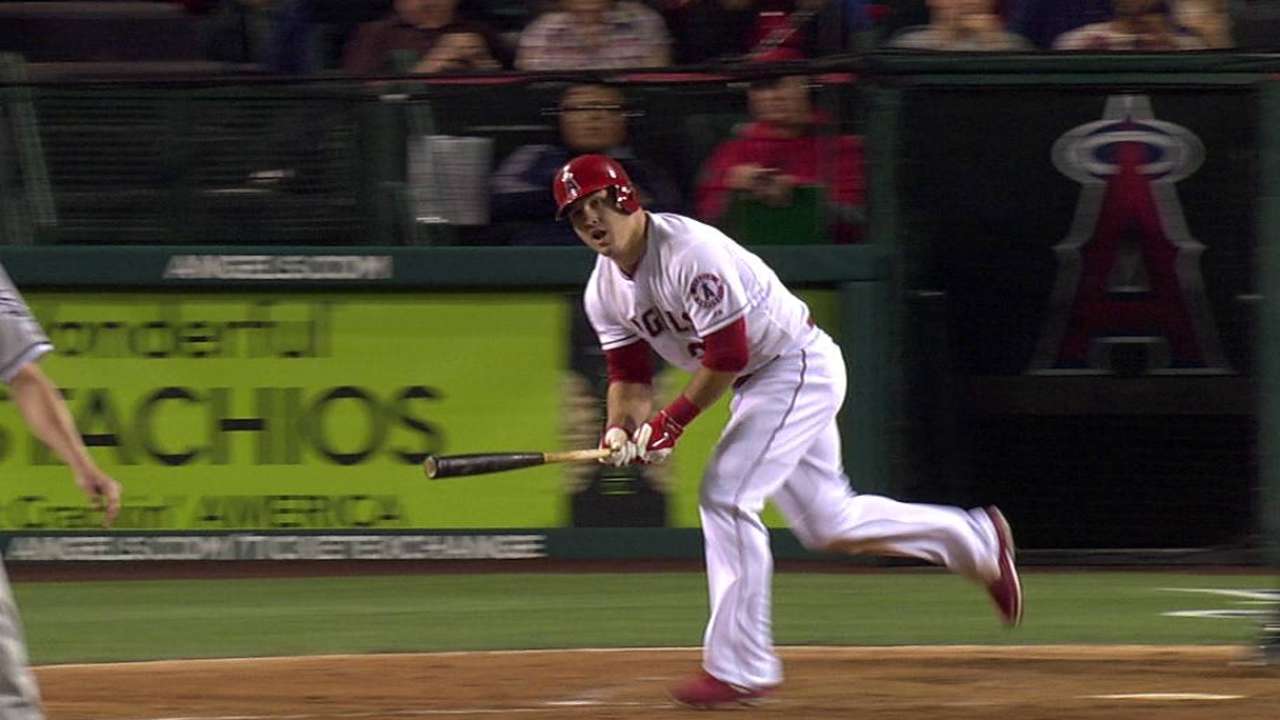 ANAHEIM -- The bases were loaded, nobody was out, Chris Sale was on the mound, his Angels were down by four with six outs left and he's only human, so of course Mike Trout was searching for a grand slam when he strolled to the plate late Saturday night.
Then he got a couple of mid-90's fastballs, fouled them off and knew he had to change his mindset.
"I was thinking home run," Trout said. "That's why I fouled them off. You get big in situations, and you lose your mechanics in the swing."
So the 22-year-old center fielder re-focused, ran the count full, stepped off to collect himself and reminded himself of an approach that has already made him the game's best all-around player: "Stay up the middle and put the ball in play."
Trout stayed up the middle, but he never quite put it in play. His line drive sailed into the rocks in left-center field, tying a game the Angels seemed primed to lose, setting up for Erick Aybar's two-out, game-winning single five batters later and keying a thrilling, 6-5 victory over the White Sox.
"We needed it," Trout said. "We never stopped fighting."
Not since Game 6 of the 2002 World Series have the Angels won at home when trailing 5-0 after the seventh inning, and it just so happened that they did it against arguably the best pitcher in the American League.
It was their 16th come-from-behind win of the season, perhaps the most satisfying of them all -- and it only added to Trout's growing legend.
It's not just that he came through in such a big situation, or that he battled back despite being down 0-2 against a menacing Sale, or that his home run came on a low-and-away changeup that couldn't have been spotted any better. It's that he was able to make such a big adjustment on the fly, in a situation when nerves typically don't allow it.
"That's why he's the best in the league," Sale said of Trout. "I can't really say too much about a guy like that hitting a home run off of you. The best."
Sale entered his start 5-0 with a 1.59 ERA on the year, and entered the bottom of the eighth having given up just one run in 31 career innings against the Angels.
Then Aybar hit a liner to left, rounded the bag hard and slid safely into second. Then Chris Iannetta singled up the middle to get his team on the board. Then Alexei Ramirez bobbled a potential double-play ball from Collin Cowgill. Then Howie Kendrick worked a nine-pitch at-bat to line a single to right and load the bases with none out. Then Trout uncorked his 12th home run of the season, and the second grand slam of his career, to electrify the 39,089 fans at Angel Stadium.
"We got a couple mistakes to hit," Kendrick said. "I don't know if that was because he was tired or what. We just were able to get some guys on base, and guys came up with some really good at-bats and that amounted into some hits for us."
Sale left the game after Trout's homer, his night ending 115 pitches into it, and right-hander Jake Petricka replaced him a batter too late. Petricka retired the first two hitters, but Josh Hamilton hit a single -- giving him his third three-hit game of an injury-shortened season -- and C.J. Cron did the same to put runners on the corners with two outs.
Then Aybar, who entered batting .302 with runners in scoring position, hit a dribbler up the middle that rolled past the infield and gave the Angels their first lead.
The six runs were the most by the Angels in one inning since July 10, 2013. It marked the second straight night they've scored at least five in one frame, and it was the most runs they've scored in the eighth inning or later since they came up with nine in the 13th inning on Aug. 16, 2009.
"Down 5-0, we could've easily just put our heads down and stopped playing," Trout said. "But you never know."
Given the score and their opponent, the Angels had a 2.0 percent chance to win when the eighth inning began, according to Fangraphs, making this their biggest comeback of the season. But there have been several others. And when asked why, Iannetta pointed to the unsung heroes who relieved Matt Shoemaker after he gave up four runs (three earned) in five-plus innings -- Mike Morin, Cory Rasmus and, for the 1-2-3 save, Ernesto Frieri.
"Our bullpen's giving us a chance to stay in games," Iannetta said. "You're going to have starters go deep into games and you're going to have some games when guys don't go as deep. Those are the games we need our bullpen to keep it close, because we have an offense that we can come back with."
Alden Gonzalez is a reporter for MLB.com. Read his blog, Gonzo and "The Show", and follow him on Twitter @Alden_Gonzalez. This story was not subject to the approval of Major League Baseball or its clubs.