Sale stunned by Trout's slam, Angels' comeback
Left-hander carries five-run lead, three-hit shutout into eighth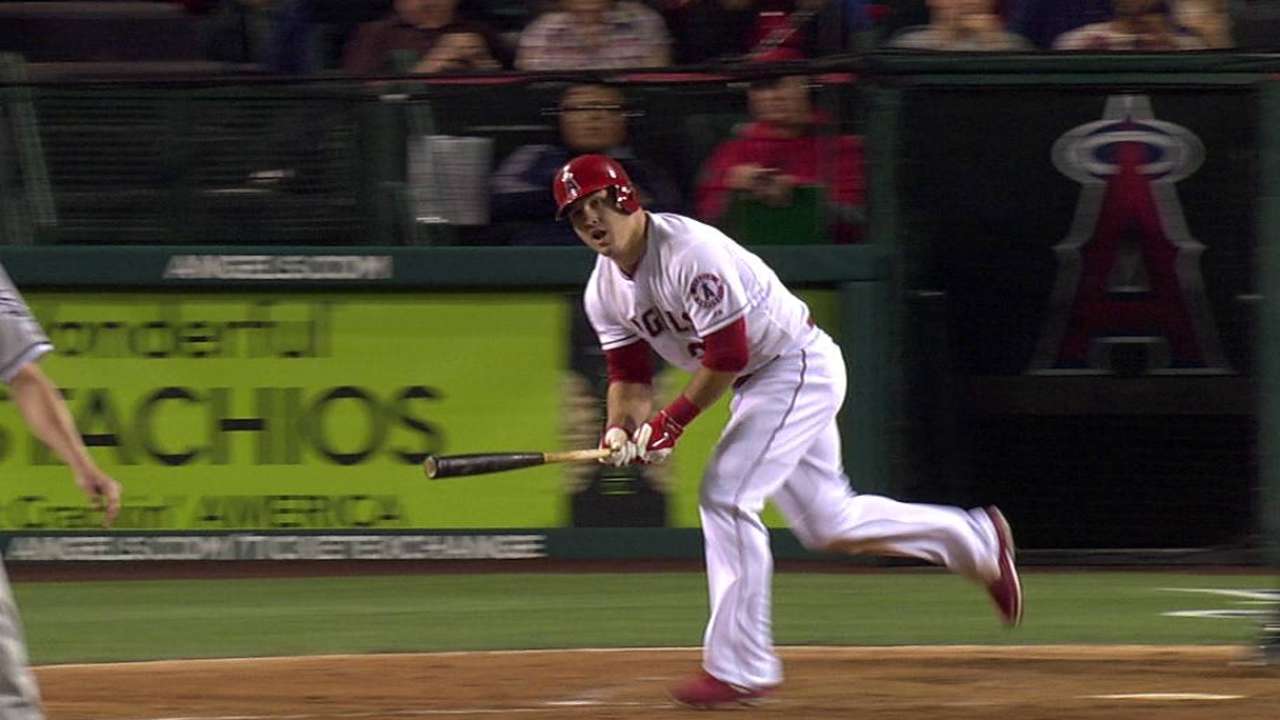 ANAHEIM -- It was a dream matchup pitting one of the game's best pitchers, in Chris Sale, against one of the games top players, Mike Trout, with the bases loaded, nobody out and the White Sox leading by four in the eighth inning of Saturday's contest at Angel Stadium.
Then again, with Trout delivering a stadium-rocking, game-tying grand slam on a full-count changeup from Sale in what turned out to be an almost implausible 6-5 victory for the Angels, many pundits will ask why the left-handed Sale was even in the game to face the right-handed-hitting force of nature.
Trout walked and flied out deep to center earlier in the game, when Sale was limiting the Angels (33-28) to one hit over 6 2/3 innings. Sale also entered the at-bat with 108 pitches and having allowed five hits in the last seven at-bats.
But if there was any doubt as to whether Sale should have faced Trout or even began the eighth, the hurler and White Sox manager Robin Ventura quickly silenced them postgame.
"Yeah, without a doubt, I wanted to be in there," a calm and collected Sale said after the eighth-inning uprising. "I wanted to be in there, for sure, without a doubt."
"You're not going to pull him out the way he's going there," Ventura said. "You have to let him have his game."
Sale jumped ahead of Trout with two foul balls off of fastballs at 95 and 96 mph respectively, before missing three of the next four pitches out of the zone with another foul ball sandwiched in between. The 3-2 change was low and away from Trout, a pitch that looked as if it would be ball four if Trout didn't swing, and somehow he drove the ball into the rocks beyond the left-center-field fence.
"I thought it was a strike. I think it was down and away. It's tough with him," Trout said. "He's got three-plus pitches, throws 96, funky delivery. We just put some great at-bats together, put some balls in play. We battled and our pitching staff kept us in it."
Upon contact, Sale turned around quickly and knew immediately the ball was gone. He crouched near the mound in disappointment and disbelief. Sale starts usually don't end in despair.
"That's why he's the best in the league," said Sale of Trout. "I can't really say too much about a guy like that hitting a home run off of you. The best. I don't really remember much from it. I just remember that ball going over the fence and wanting to rip my own head off."
A stranger side note from this rally came from the Angels scoring five runs in just five hitters. Erick Aybar opened the frame with a double, followed by Chris Iannetta's run-scoring single. Collin Cowgill reached on an Alexei Ramirez fielding error and Howie Kendrick singled to right to load the bases as the culmination of a nine-pitch at-bat.
Jake Petricka (0-1) replaced Sale after the Trout blast, and allowed two-out singles to Josh Hamilton, C.J. Cron and Aybar to bring home the game-winner. Gone were the chances for the White Sox (31-32) to rise above .500, not to mention the chance for Sale to move to 6-0, although he can still hit that target Thursday at home against the American League Central-leading Tigers.
Gone was the solid offensive work done by the White Sox against Matt Shoemaker, who had previously started and won games where Cliff Lee and David Price were pitching on the other side this season. Shoemaker didn't factor in the outcome, with Cory Rasmus (1-0) getting the win in relief, but he allowed four runs (three earned) on nine hits over five-plus innings and struck out six.
Adam Eaton and Gordon Beckham singled home runs in the third, while Alejandro De Aza doubled home one and drove in a second with a sacrifice fly. Adam Dunn added his 11th homer, and the 451st of his career, leading off the sixth to end Shoemaker's night.
Hamilton broke up Sale's no-hit bid with a leadoff single in the fifth and singled again in the seventh. Those hits marked the first two by left-handers this season off of Sale and the first time he has allowed two hits to a lefty in a game since July 27, 2013.
Just a minor blip on the path to victory for a pitcher who had allowed two runs over the last 32 innings, striking out six with one walk Saturday. Or so it appeared.
"He's a pretty good pitcher, so you can't really take him out of that game at that point," Ventura said. "They were finding holes."
"Down 5-0, we could have easily just put our heads down and stop playing, but you never know," Trout said. "Josh getting two, three hits off Sale. It was big. Everybody contributed. It was a team win for sure."
While this setback was up-all-night tough to stomach, the White Sox, who are 0-10 on Saturdays this season, have been a resilient group all season. Sale clearly was aggravated in the moment, but showed the poise of a leader postgame.
Ventura expects his team to follow suit.
"Everybody goes home, probably doesn't sleep that great," Ventura said. "But they come back ready to go the next day."
"They have a lot of good hitters. That's a good team. I felt loose. I felt fine. It just unraveled for whatever reason it was," Sale sad. "I'm going to keep going, hold my head up high and be ready for the next one."
Scott Merkin is a reporter for MLB.com. Read his blog, Merk's Works, and follow him on Twitter @scottmerkin. This story was not subject to the approval of Major League Baseball or its clubs.