Blue Jays hope to add Pop to their pitching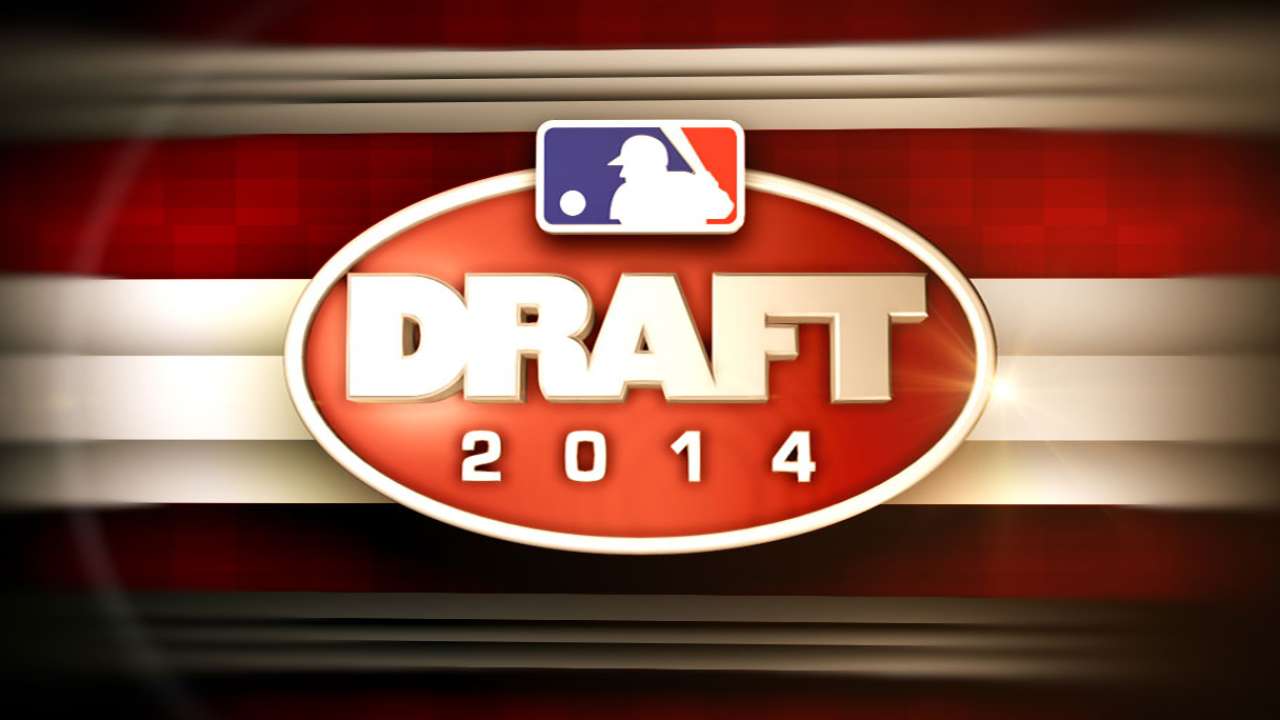 As the Blue Jays continued to add big-framed pitchers in the 2014 First-Year Player Draft, they reached north of the border and found one in Brampton, Ontario, native Zach Pop.
Pop, the 6-foot-4, 225-pound right-hander, was selected by the Blue Jays in the 23rd round, 684th overall, on Saturday.
A senior at Notre Dame Catholic High School, Pop had just come off the mound after throwing six innings of one-hit ball for the Ontario Blue Jays U18 team when he heard the news that he had been selected.
"To be honest, the first thing that went through my mind was, 'I'm out of the game,'" Pop said afterward by telephone. "But as soon as I took a seat, it started to sink in."
Pop was the eighth Canadian prospect selected in the Draft and the second to go to Toronto.
The Blue Jays drafted 6-foot-6 right-hander Jordan Romano in the 10th round, 294th overall. Romano is a native of Markham and is in his junior year at Oral Roberts University in Oklahoma.
What happens next in Pop's young career is not set in stone, but as of Saturday his eyes were still focused on attending the University of Kentucky to pitch for the Wildcats baseball program in the fall.
He acknowledged it would take "life-changing money" for him to sign a pro contract at this point, but he did not completely rule out taking the professional route.
Whichever path Pop chooses, the end game is the big leagues, he said.
"I have a great offer from a great program," said Pop, whose summer schedule is set to be packed with baseball. He will travel with the junior national team to Cuba to play that country's junior national program for seven games in July before heading to the University of Houston in late August, when the JNT will play a four-game set against the U.S. junior national team. From there, Pop and his teammates head to Mexico for the World Junior tournament qualifiers, which run until the middle of September.
Pop will miss the first few weeks of school because of his national team commitments, but it's a sacrifice he will happily make.
"You just can't turn down that opportunity to play for your country," he said. "It's an honor and such a great opportunity."
National team head coach Greg Hamilton said Pop had the makings of a big league pitcher, and he seemed confident the 17-year-old would end up in the Major Leagues one day regardless of the path he chose to take to get there.
"He's really got the pitcher's body, he's a strong, horse of a kid," Hamilton said by telephone. "He's got a strong lower half, and he's still probably going to put on 20 pounds. He'll be a big man, in a good way. "
The fact Pop's hometown Blue Jays drafted him was not completely lost, though, and he expressed gratitude in being drafted at all, let alone by a local team.
"Just being drafted is an honor, regardless of who it is. Not many people can ever say that," Pop said. "And if I go to school, hopefully in three years, the Blue Jays draft me again, and then I can come in and help them out."
In total, 13 Canadians were selected in this weekend's Draft, the highest being Morgan Gareth, a high school outfielder taken by the Mariners in the Competitive Balance Round B.
Other Canadians drafted include:
Brock Dykxhoorn, RHP, Central Arizona College, to Houston (6, 166)
Chris Shaw, C, Midland College, to St. Louis (14, 435)
Ben Onyshko, Vauxhall High School, LHP, to Milwaukee (16, 476)
Mitch Robinson, 3B, Clayton Heights Secondary School, to Miami (22, 647)
Rob Byckowski, 3B, Blyth Academy, to Cincinnati (22, 665)
Kurtis Horne, LHP, Edward Milne High School, to the Mets (31, 925)
Austen Swift, OF, Bishop Allen Academy, to Oakland (35, 1062)
Cody Chartrand, RHP, Lewis-Clark State, to Texas (36,1086)
Michael Foster, 2B, Northeastern, to Houston (38, 1126)
Louis-Philippe Pelletier, 2B, Cegep De Maisonneuve, to San Diego (38, 1137)
Jamie Ross is an associate reporter for MLB.com. This story was not subject to the approval of Major League Baseball or its clubs.