Napoli to come off disabled list for series finale
Farrell eager to get slugger back; Holt likely to see action in outfield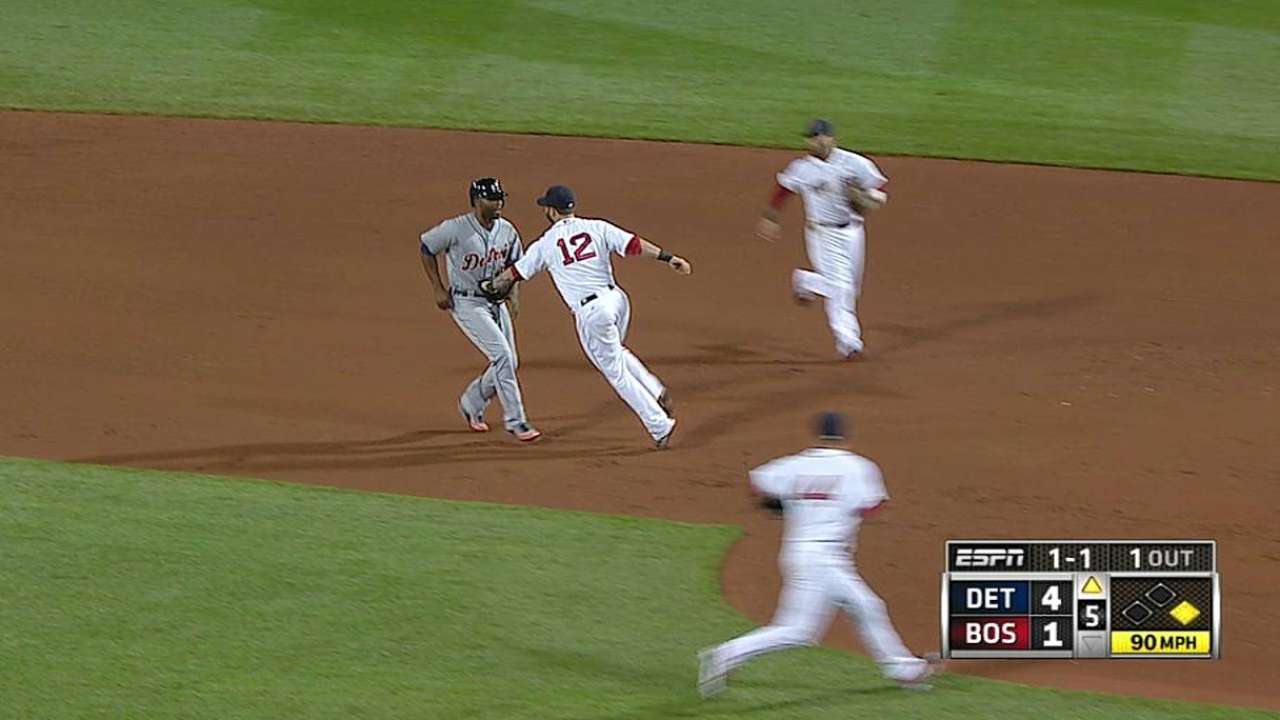 DETROIT -- Red Sox first baseman Mike Napoli is coming off the 15-day disabled list Sunday, and manager John Farrell will be throwing him right in at the No. 5 spot in the lineup.
Napoli went on the DL on May 25 with a sprained finger. He's hitting .260 with five home runs and 22 RBIs in 43 games this season, and Farrell is looking forward to getting his bat back.
"You're talking about a guy that's mid-20s home runs and nearly 100 RBIs a year ago," Farrell said. "That type of production has been missed. … I think any time you can lengthen the lineup with another quality hitter, it's going to be advantageous for us. We're certainly looking forward to Mike being in that spot."
The decision to put Napoli on the DL was a tough one, but with the team's injury problems, Farrell said the Red Sox couldn't afford to wait and see.
"There was a few things he was dealing with at the time," Farrell said. "The debate was, could it have been less than 15 games? Possibly, but at the same time, we had to make moves because of issues with the roster, the condition of certain players and the need for pitching. Hopefully, this has given him a chance to clear things up and be free of the nagging injuries he's dealt with for the better part of a month or so."
Napoli is 3-for-7 with a home run, a double and two walks off Sunday night's Detroit starter, Anibal Sanchez.
Farrell also said infielder Brock Holt will likely get his first professional experience in the outfield Sunday. With injuries and struggles from some of the club's outfielders, Farrell is trying something new and believes Holt's athleticism will be able to translate.
Holt, who entered Saturday hitting .314, has been shagging balls in the outfield for the past week to get ready.
Chris Vannini is a contributor to MLB.com. This story was not subject to the approval of Major League Baseball or its clubs.