Gomes has unforgettable day as Cleveland romps
Indians catcher belts three-run homer, then learns Tribe drafted brother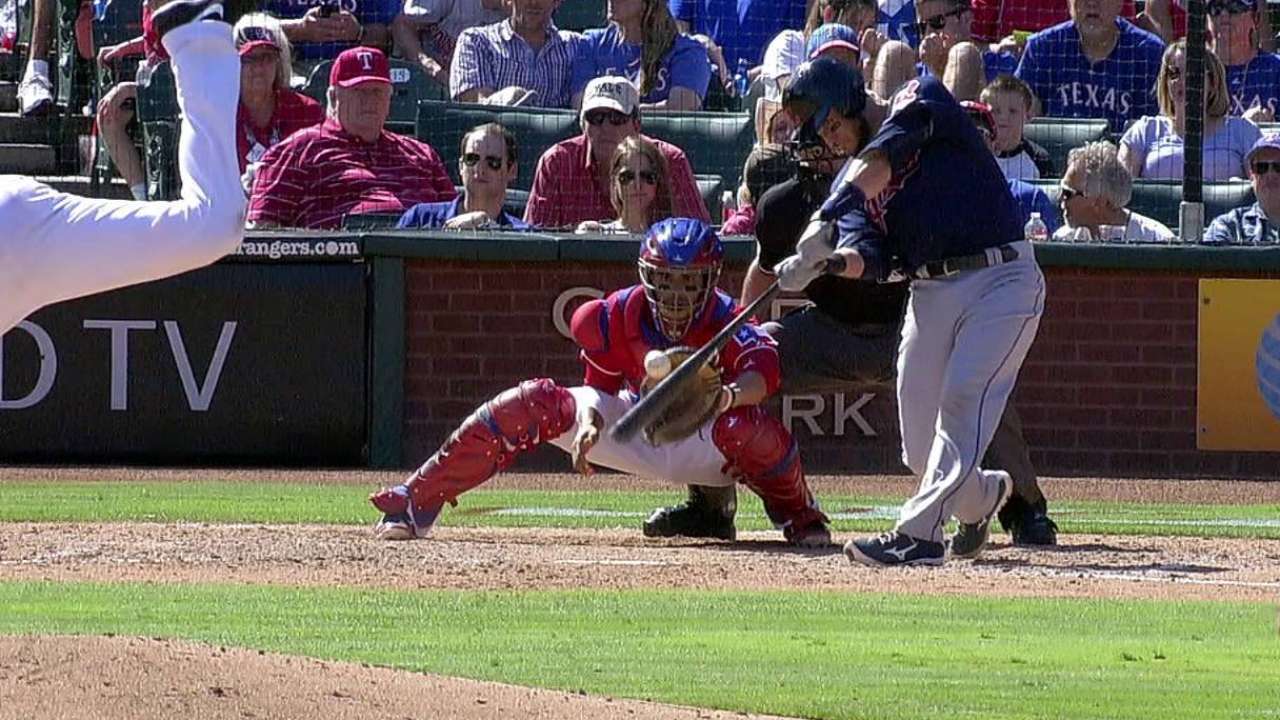 ARLINGTON -- Yan Gomes paced back and forth across the tunnel outside the visitors' clubhouse at Globe Life Park on Saturday afternoon. The Indians catcher was still in uniform, his jersey untucked, smiling as he quietly talked and continued to retrace his own steps.
Gomes had just played a key role in Cleveland's 8-3 romp over the Rangers, a win powered by his three-run home run, a late offensive flurry and another solid effort from Tribe starter Josh Tomlin. This was more than a good day for the Indians catcher, though. It was a memorable day for the entire Gomes family.
While the Tribe was finishing off its win over Texas, Cleveland selected Juan Gomes, Yan's younger brother, in the 37th round on the final day of the First-Year Player Draft. When Yan Gomes returned to his locker, his phone was filled with messages, alerting him of the good news.
"I'm not going to lie, man," Gomes said with a smile. "I was acting like I was the one who got drafted or something. It was extremely emotional and I'm super happy for him."
If Juan Gomes develops anything near to the kind of player his older brother has for Cleveland, the Indians will certainly be thrilled. After Yan Gomes claimed the starting catching job last season, the club thought so highly of him that it rewarded him with a six-year, $23 million extension that has club options that run through the 2021 season.
The pact was the largest in baseball history for a catcher in his pre-arbitration years.
During Saturday's win, the 26-year-old Gomes again showed his worth, guiding Tomlin through eight solid innings and putting his power on display in the batter's box. The latter contribution came in the sixth inning, when Gomes crushed a 1-1 curveball from Texas' Nick Tepesch over the wall in dead center field for a three-run homer that pushed the Tribe to a 4-1 advantage.
"That was obviously a huge lift," Indians manager Terry Francona said.
The home run served as a bit of redemption for Gomes, too.
In the second inning, Gomes drilled an offering from Tepesch to deep center field, where the baseball dropped into outfielder Leonys Martin's glove a few feet short of the wall. Instead of a grand slam, Gomes' towering shot ended a potential rally. Then, in the fourth inning, Gomes grounded out to end the frame, stranding two runners.
"You hit the ball good and get nothing out of it. It frustrates you sometimes," Gomes said of nearly hitting a grand slam in the second. "I get another opportunity and I grounded out. I'm like, 'Come on, man. I've got to be able to drive the ball somewhere.'"
Gomes did just that with his momentum-swinging blast in the sixth inning. That preceeded a four-run outburst for the Indians in the seventh, when Carlos Santana capped off the seven-run, two-inning showing for Cleveland with a two-run home run that sailed over the wall in right-center field.
Santana and Gomes now have seven home runs apiece this year.
Through 53 games played this season, Gomes has turned in a .271/.320/.436 slash line to go along with 16 extra-base hits, 22 RBIs and 26 runs scored for the Indians. Among his American League positional peers, Gomes ranks first in slugging percentage and runs, is tied for first in homers, is second in OPS (.756) and is just six RBIs off the leader.
"It's still defense first," Gomes said of his mentality. "All I was really worried about was trying to get Tomlin through a ballgame, especially the way he was pitching."
Through the first five frames, Tomlin's lone misstep was a run-scoring sacrifice fly off the bat of Elvis Andrus. In the sixth, the right-hander ran into some more trouble, giving up two more runs (one on an RBI double to Adrian Beltre, who then crossed the plate on a wild pitch). Rather than come unglued, Tomlin settled down and pitched one batter into the ninth inning.
Tomlin (4-2) scattered seven hits, struck out five, walked none and picked up the victory for the Indians, who have won seven of their past eight games.
"I was hoping to come back after the sixth," Tomlin said. "The inning kind of snowballed for a second. I had to reel it back in and get that inning over with and get back in the dugout."
From the bench, Tomlin had a nice view of Gomes' home run.
"That definitely helps out," said the pitcher.
Juan Gomes can now dream of one day helping out the Indians, too.
"It's a blessing," said the younger Gomes. "Having the Indians, coincidentally the team my brother plays for, give me the opportunity to live out my dream is really special. It just motivates me to want to be up there and share the same ballfield as my brother."
Told that there will now be another Gomes in Cleveland's farm system, Francona cracked a smile.
"Hopefully, he resembles his brother," said the manager.
Jordan Bastian is a reporter for MLB.com. Read his blog, Major League Bastian, and follow him on Twitter @MLBastian. This story was not subject to the approval of Major League Baseball or its clubs.