Led by Ackley, bats come alive behind Elias
DH, Bloomquist combine for five RBIs; left-hander solid in 7 2/3 innings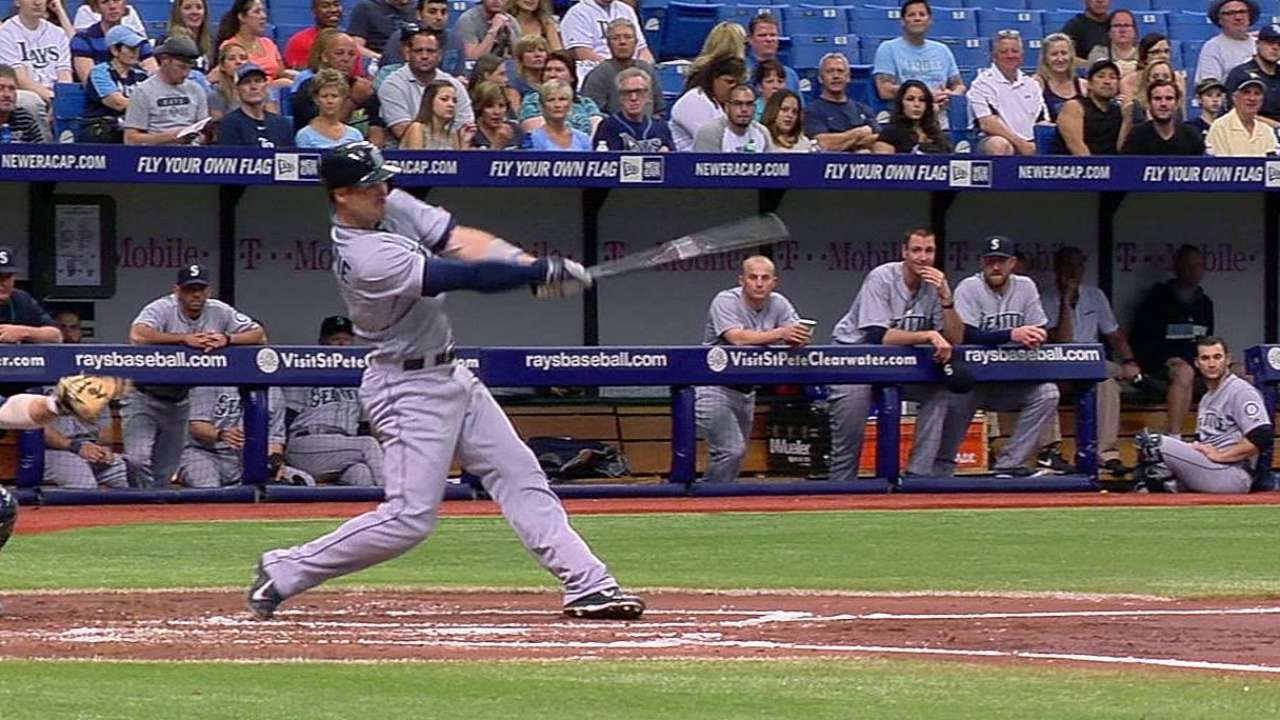 ST. PETERSBURG -- Dustin Ackley's three-run double highlighted a big day for the Mariners' offense and rookie Roenis Elias won his fifth game of the season as Seattle topped the Rays, 7-4, on Saturday at Tropicana Field.
The Mariners improved to 4-1 on their road trip to put their record at 32-29, a six-win improvement from this time last year under their first-year skipper, Lloyd McClendon. The Rays have lost 11 of their last 12 to fall to 24-39.
While Seattle still ranks last in the American League in slugging percentage and on-base percentage, the Mariners are making the most of what they've got recently with some timely hitting. And the latest to come through big was Ackley with his three-run double on a 2-for-4 day.
"That was a big hit. It's nice to see him drive in runs, because he's capable of doing that," McClendon said. "I tell him every day, 'I want you to be the best player on the field' because he's capable of doing that."
That's a big statement on a team fielding a $240 million second baseman, but McClendon wants all his guys walking tall.
"There's no law that says he can't be better than our second baseman, and that's the point I'm trying to get across to our players," McClendon said. "You don't have to take a back seat to anybody. And that includes Robinson Cano. Be the best player on the field. And today he was the best player on the field."
Ackley, the second player chosen in the 2009 Draft, is one of the youngsters the Mariners need to step up in order to compete in the American League West.
"You look over the last week or two and from top to bottom, we've been producing," Ackley said. "Not just one, two and three, everybody has been putting up good at-bats, and we're finding ways to score throughout the lineup. That's how you win games. Robinson can't be the only guy that does it. We have to do it from all aspects."
One aspect that hasn't faltered much all year is pitching, and Elias has been a big part of that. The 25-year-old from Cuba allowed five hits and four runs over 7 2/3 innings as he improved to 5-4 with a 3.64 ERA. The only rookie pitcher in the Majors with more wins is Masahiro Tanaka of the Yankees with nine.
"I felt really good out there," Elias said through interpreter Fernando Alcala. "I'm doing what I'm capable of doing, and just to come out here and do the things that have made me successful in the past, I'm working hard to keep that going."
Elias, coming off a three-hit shutout of the Tigers at Safeco Field, saw his scoreless streak snapped at 10 innings when James Loney homered with one out in the second. The Rays then pushed across another run for a 2-1 lead in that inning when rookie catcher Ali Solis dropped down a squeeze bunt to score Yunel Escobar from third.
But Elias slammed the door from there and allowed just one hit over the next five frames, carrying a 7-2 lead into the eighth until a Desmond Jennings double and two-run homer by Evan Longoria ended his day.
"I think the biggest challenge for this young man now is just making sure he brings it from a mental standpoint every day," said McClendon. "Not just against the elite, quote-unquote, teams in the league. I really liked what I saw today. I probably left him in a little too long, but he gave us a nice outing."
And it helps when the offense puts up seven early runs. Ackley's bases-loaded double highlighted a four-run fifth inning as the Mariners knocked Rays right-hander Alex Cobb out early.
Willie Bloomquist and Cole Gillespie, filling in for the injured Justin Smoak and Michael Saunders, respectively, contributed offensively as well, as Seattle racked up 11 hits on the day, 10 coming in the first 4 1/3 innings against Cobb.
Bloomquist stepped in for Smoak at first base for the second time in the past three games and was 2-for-4 with a double and two RBIs. The veteran utility man is 9-for-22 (.409) with eight RBIs in his last six starts.
Gillespie got the start in right field and kept up his recent pace with a solo home run to dead center field in the second inning. It was the 29-year-old's fourth Major League homer and first since 2011 with the D-backs. Gillespie has gone 8-for-17 in his last five starts to raise his average to .325.
"Those are ones you don't really feel the contact, just everything works together," Gillespie said of his 417-foot blast. "That was one of the better swings I've had this year, if not the best."
Greg Johns is a reporter for MLB.com. Follow him on Twitter @GregJohnsMLB as well as his Mariners Musings blog. This story was not subject to the approval of Major League Baseball or its clubs.