Rangers can't hold down bottom of Indians order
Gomes, Santana crank homers off Tepesch, Scheppers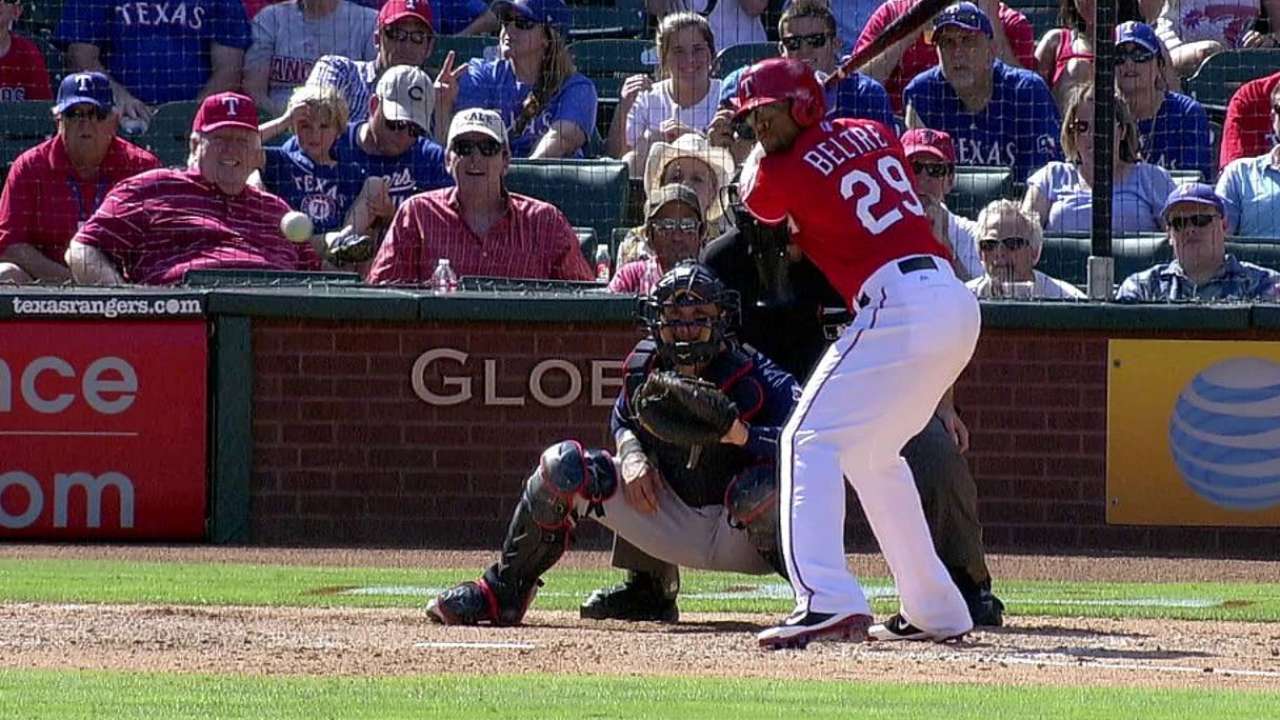 ARLINGTON -- The Rangers limited the damage done by the top of the Indians order, but it was the last two men in Cleveland's lineup that proved to be the difference.
Carlos Santana, batting eighth, provided a key two-run homer in the seventh while Yan Gomes, the last batter in the Cleveland lineup, hit a tiebreaking three-run shot in the sixth as the Indians beat the Rangers, 8-3, at Globe Life Park on Saturday afternoon.
Gomes broke that 1-1 tie with a 404-foot, three-run homer to dead center with one out in the sixth on a hanging curveball from Nick Tepesch. It was the 88th and final pitch thrown by Tepesch, who allowed four runs on eight hits over 5 1/3 innings, striking out one and walking a season-high four.
"They were making me work a little bit. I felt like I made some pretty good pitches but it was really that one bad pitch right there that kind of got me," said Tepesch, who is 0-2 with a 9.82 ERA in his last two starts after going 2-0 with a 2.95 ERA in his first three. "They put some good swings on some good pitches today and I made just one bad pitch in the last inning."
Gomes narrowly missed on hitting a grand slam in the second inning, flying out to center to leave the bases loaded, but he came through in the sixth. The first four batters in the Indians lineup managed just three hits in 18 at-bats while everyone else went a collective 9-for-19.
"Early in the ballgame, you try to get some runs in, you hit the ball good and get nothing out of it. It frustrates you sometimes," Gomes said. "Then I got a curveball. Maybe that's what it was. It had to be a different pitch, because all the other ones I hit were fastballs."
Elvis Andrus and former Ranger David Murphy traded sacrifice flies in the third and fourth to tie the game at 1 before Gomes' blast two innings later. Leonys Martin, who scored on Andrus' sacrifice fly, caught the run-scoring fly ball from Murphy in the fourth before throwing to an unoccupied first base trying to double off Lonnie Chisenhall.
"It wasn't the right idea," Rangers manager Ron Washington said. "The play is to home plate to cut the run off. Whether you get the run or not, the cutoff man makes that decision. So there wasn't anyone at first base. There wasn't supposed to be anyone at first base. He just made a bad decision."
Chisenhall was awarded two bases as the ball skipped past the Rangers dugout and into the nearby seats. Fortunately for Martin, Robinson Chirinos picked off Chisenhall at third base two pitches later, giving him three pickoffs this season -- the most by a Rangers catcher since Ivan Rodriguez picked off seven baserunners in 2002.
The Rangers rallied in the bottom of the sixth, getting an RBI double off the top of the left-field fence from Adrian Beltre, who scored on a wild pitch by Josh Tomlin to trim the Indians lead to 4-3. Tomlin delivered his first quality start in his last four outings, holding the Rangers to three runs on seven hits while striking out five and walking none over a season-high eight-plus innings.
Tomlin was replaced by John Axford after giving up a leadoff single to Beltre in the ninth. It marked the first time since a complete-game win over the Royals on Sept. 24, 2010 that Tomlin pitched into the ninth inning.
"Today was one of those days where you have to tip your hat to somebody that threw the ball pretty well," Andrus said. "[Tomlin]'s a guy who lives off of throwing you one strike and then making you chase. He did that pretty good today. He kept everybody off balance the whole game."
The Indians made sure it did not stay a one-run game for long. Michael Brantley's leadoff double in the seventh sparked a four-run rally as he scored on a single to center from Chisenhall, who came home when Luis Sardinas bobbled a throw at second base from Andrus instead of turning what would have been an inning-ending double play.
The next batter, Santana, drove a 95-mph fastball from Tanner Scheppers over the wall in right to extend the Indians' lead to 8-3. Three of the four runs in the seventh inning were charged to Robbie Ross Jr., the most runs he's allowed since returning to the bullpen last month.
"It was a pivotal inning," said Washington. "You have to give those hitters credit for fighting off pitches and finding holes. That's what happened."
Christian Corona is a contributor to MLB.com. This story was not subject to the approval of Major League Baseball or its clubs.