Gausman wins first as starter in gem vs. A's
Recalled from Triple-A before game, righty allows one run over seven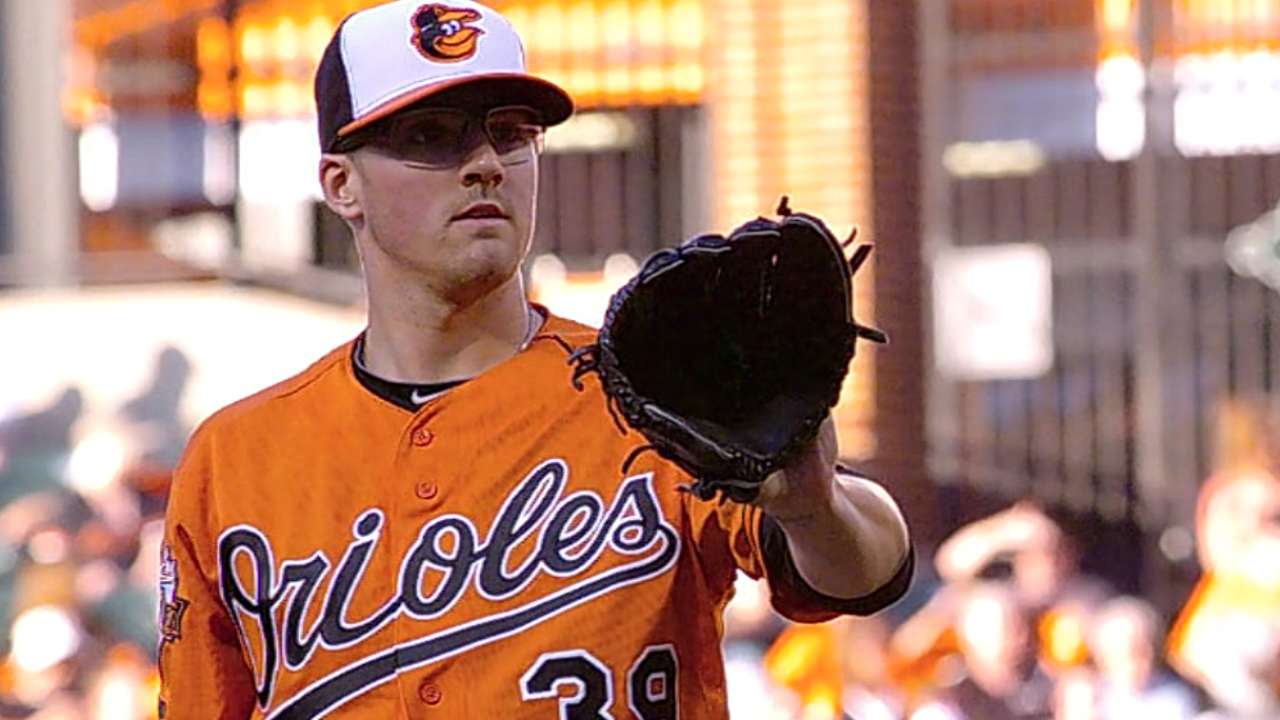 BALTIMORE -- Kevin Gausman has teased the Orioles at times. The first-round pick in the 2012 First-Year Player Draft made it to the Major Leagues during each of the past two seasons and sometimes threw very well, while looking lost on other occasions, especially during starts.
Gausman proved more effective out of the bullpen last season, but just couldn't put it all together in starts, going 0-4 with an 8.16 ERA in six starts over the past two seasons.
On Saturday night, though, Gausman gave a command performance when the Orioles desperately needed it, throwing seven solid innings and earning his first career victory as a starter in a 6-3 win over the A's at Camden Yards.
The Orioles (31-29) called up Gausman before Saturday's game after putting starter Miguel Gonzalez on the disabled list Friday with a right oblique strain. Gausman (1-1) came through in a big way, giving up one run on four hits over seven innings. He struck out six and walked just one, twice escaping from tough jams and allowing just a Coco Crisp homer.
"Kevin was good, really good," Orioles manager Buck Showalter said. "He got in couple situations and went to another level, which was good to see. You never know what a 23-year-old guy is going to do in that situation. But he responded to a need we had."
Gausman threw fastballs reaching into the high-90s several times, but Showalter said he thinks Gausman realizes now that just throwing fastballs isn't the answer. In addition, Gausman said he learned from his bullpen days last year when landing in a big jam in the sixth while holding a 4-1 lead.
The A's (38-24) put runners on second and third with just one out. Gausman then struck out both Josh Donaldson and Brandon Moss to end the inning.
"I kind of went back to when I pitched out of the bullpen last year," Gausman said. "Guys on second and third, one out, that's when you've got to bring you're A-game. I think pitching out of the bullpen last year kind of helped me be able to dig deep and get my best stuff right there."
Gausman got double-play grounders in both the second and fourth innings. The second-inning twin killing helped him squirm out of a jam, with Oakland having put runners on first and second with none out.
He also seemed to get stronger as the game went on, retiring the final six batters he faced while the Orioles scored five runs to take a 6-1 lead.
"[He] started mixing up, pitching a little differently," A's manager Bob Melvin said. "His two-seamer is significantly different from his four-seamer in velocity and movement, and then he started throwing his slider for strikes and putting away his splitter, so you have to give him some credit."
The offense also backed Gausman with homers from Adam Jones and David Lough, plus run-scoring hits in the fifth from Caleb Joseph, Nick Markakis and Jones. Baltimore finished with just seven hits, but five of them drove in runs.
Jones homered in the first off Sonny Gray (6-2) for a 1-0 lead before Crisp tied it with his blast in the third. The Orioles then broke it open with a three-run fifth, starting with Joseph's tie-breaking RBI double. Markakis and Jones also added RBI singles that inning for a 4-1 lead.
Melvin pulled Gray with one out in the sixth after he walked J.J. Hardy. Former Oriole closer Jim Johnson came on, and Lough greeted him with a two-run homer to put Baltimore up, 6-1.
Kyle Blanks added a two-run pinch-hit single off Darren O'Day in the eighth, but the right-hander then retired the final five batters to lock up the win.
The offense came through at crucial times in this game, but the story certainly was Gausman on this night.
"Now he's going to get his shot to start," Jones said. "I told him, 'Hey, go after [them]. Use your stuff. You've got a good arm for a reason, so use your stuff and go after them.'"
Jeff Seidel is a contributor to MLB.com. This story was not subject to the approval of Major League Baseball or its clubs.