Red Sox chip away, but can't pick up Lester
Lefty gives up five runs in 4 1/3; club posts 15 hits, but strands 10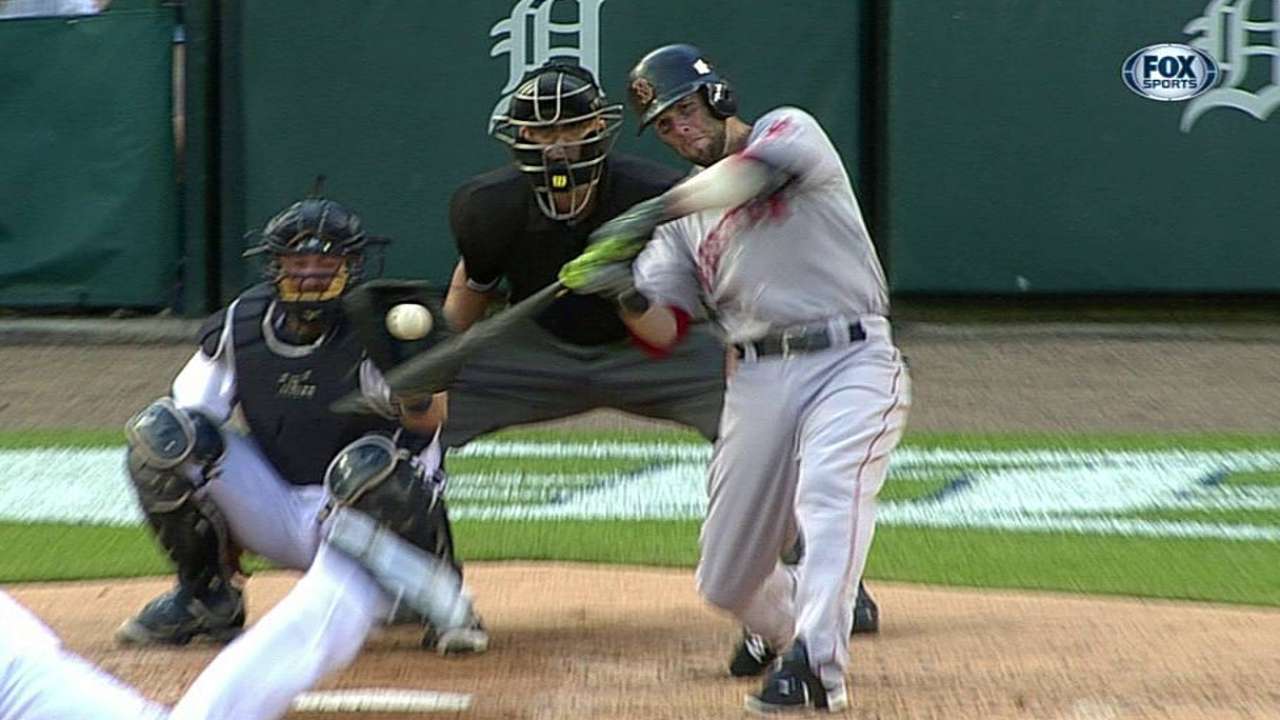 DETROIT -- Coming off one of his best performances of the season, Jon Lester turned in one of his worst as the Red Sox fell to the Tigers, 8-6, on Saturday night at Comerica Park. It was Boston's fifth straight loss, dropping the club to 0-5 against Detroit this season.
Lester allowed five earned runs and 12 hits over 4 1/3 innings. It was his shortest outing of the season and the first time he didn't strike out a single batter since April 1, 2011, against the Rangers.
"Obviously, wasn't good from the start," Lester said. "It's one of those weird nights. I felt like, from the first throw in warmups to the last pitch in the mound, I just wasn't good. Combine that with a good hitting team like they are over there, obviously you get the results like tonight."
Lester recorded the first two outs of the first with five pitches, but back-to-back doubles by Miguel Cabrera and Victor Martinez gave Detroit the lead, and a single by Torii Hunter made it 2-0. Cabrera came in with a .480 career average against Lester and went 2-for-2 with a walk against him.
Lester allowed back-to-back singles to start the second, and a single by Rajai Davis scored another run for Detroit. A home run by Nick Castellanos in the third pushed it to 4-0.
"He wasn't as sharp or seemingly as powerful as we've seen him many times out this year," manager John Farrell said. "Predominantly right-handed-hitting lineup, and they got some cutters that didn't get to the intended spots for some base hits. He gave us what he had. Certainly it was less tonight than what we've seen this year."
Only 59 of his 90 pitches were strikes.
"For whatever reason, stuff just wasn't there tonight," Lester said. "Didn't have the power, didn't have command, curveball was loopy. Against a lineup like this, whether it's Detroit or the Yankees back in the day, you've got to command the baseball, especially down in the zone. I didn't do that tonight."
The last time Lester and Max Scherzer met, the Tigers pulled out a 1-0 win in Boston on May 16. The two pitchers combined to allow seven hits and one run that day. The Red Sox eventually got to Scherzer for four runs over 6 2/3 innings Saturday, but Boston couldn't climb out of the hole.
"We put up four against Scherzer," Lester said. "That right there, we should win those games when our offense gets four on their best guy. I flat-out didn't get it done for these guys. It was a wasted effort by our offense tonight."
The Red Sox scored one run each in innings four through seven, along with two in the ninth, but they also left two on base in four of the final five innings. Still, Farrell and the Sox hope to build off the offense's performance, which included 15 hits.
"We just couldn't find a way to score more than them," said Dustin Pedroia, who went 3-for-4 with a solo home run in the fourth. "They swing the bats great. We had some great at-bats today. Just one of those things where we couldn't get a couple more."
The Red Sox scored two in the ninth and put the go-ahead run at the plate, but Stephen Drew flied out to center to end the game. The Red Sox's skid comes on the heels of seven straight wins, which followed 10 straight losses.
Boston doesn't understand the streaky nature of the past month. The club just wants to take the positives out of the losses.
"I don't know. I didn't pitch well tonight, but I feel like, over the last five days, I feel like we've played better than 0-5," Lester said. "We had some close ones in Cleveland. I don't know what to take of it. I know we're grinding, playing good baseball. We're not beating ourselves by errors or walking a bunch of guys. We keep going and be a little more consistent on the winning side, but we can't do much more. We put up six runs on really good pitchers. I wasted that. Hopefully, [Sunday], we put up five or six again and be on the winning side."
Chris Vannini is a contributor to MLB.com. This story was not subject to the approval of Major League Baseball or its clubs.