Scherzer battles, while bats boost ace over Boston
Righty allows 11 hits, whiffs nine; Suarez homers for first career hit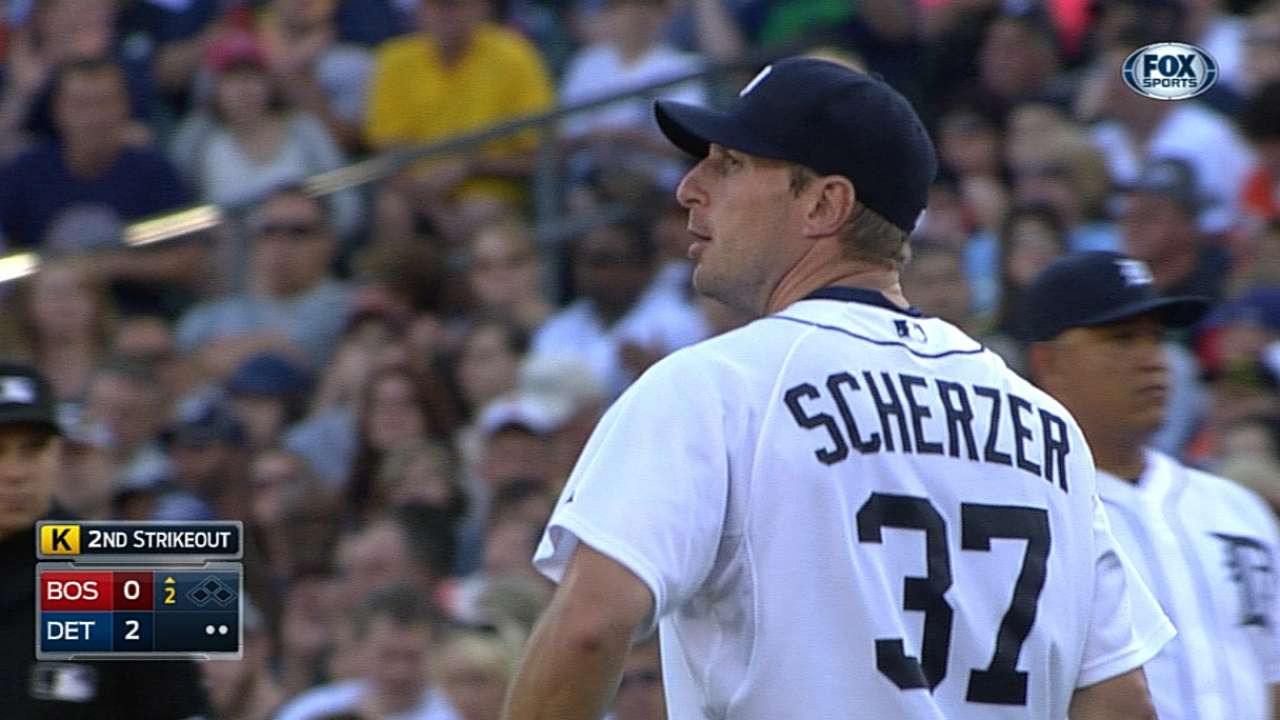 DETROIT -- The latest Battle of the Contract Year Starters ended up more offensive and less decisive than the duel Max Scherzer and Jon Lester engaged in three weeks ago in Boston. That was far from Scherzer's mind when Tigers manager Brad Ausmus came to the mound with two outs and two on in the seventh inning.
Ausmus walked out from the dugout prepared to bring in Phil Coke for David Ortiz, the Red Sox slugger who has tormented Scherzer. The numbers favored the lefty matchup. Scherzer, however, wanted his chance.
"I said I wanted the ball. I wanted to face Ortiz," Scherzer said after the 8-6 win Saturday night at Comerica Park. "I felt like I had the bullets. I still felt like I had my best stuff. I wanted the ball in that situation because I felt like I could get him out. I had a couple outs against him earlier in the game and I felt like I had what it takes."
He didn't get Ortiz, giving up an RBI double that brought the potential tying run to the plate, and the final margin eventually came down to a battle of bullpens. The fact that Ausmus trusted Scherzer in such a matchup, notably given the numbers, showed a trust that could have an impact well beyond Saturday.
"I had the option of having Coke ready for Ortiz right there," Ausmus said. "It was more Max, and what he said to me, and the look on his face that changed my mind, and convinced me to give him the opportunity to get Ortiz. This guy's a Cy Young winner, and we need him to go deep in games. So I like the fact that he wanted to go after one of the best hitters in the game, and I liked the fact that he wanted to do that, even though he was over 100 pitches, and he was deep in the game.
"It didn't work out, but it shows there's some fire in there. Really, he was throwing 96 [mph] to Ortiz, so it's not like he was out of gas. We ended up not getting him, but I really like the fact that he wanted to face him."
For all the recent focus on the Tigers' bullpen -- and given Boston's two ninth-inning runs off closer Joe Nathan, that focus isn't likely to shift -- the key to Detroit's long-term success is going to come down to its starters controlling games like they did early in the year.
With four runs allowed on 11 hits over 6 2/3 innings, Saturday wasn't Scherzer at his best. In a matchup of two starters who could top the free-agent market this winter, neither was near his best. The confidence Scherzer had in his stuff suggests he's closer to his best than he's been in a few weeks.
"Before the Seattle start [a week ago], I made a tweak to be able to control my body better," Scherzer said, "and then I made a tweak off that to be able to use my legs better. When I do that, that's when all the life on my pitches seems to take place. I felt that was very evident tonight, and I thought I did a great job at throwing first-pitch strikes."
Scherzer threw first-pitch strikes to 21 out of 31 hitters, setting up nine strikeouts and only one walk. That came on the heels of no walks and seven strikeouts in Seattle last Sunday.
"When you're filling it up and attacking the zone, you're going to have success," Scherzer said. "Four runs, that happens, but you turn the page and move on. If I keep doing this, good things are going to happen."
The Tigers head into Sunday night's series finale looking to sweep the Red Sox for the second time in three weeks. Scherzer and Lester, meanwhile, will go their separate ways with their respective free-agent seasons as separate stories after meeting twice in less than a month.
It was a departure from their May 16 matchup at Fenway Park, where Lester tossed five innings of one-run ball in a 1-0 loss that featured six shutout innings from Scherzer. Yet it was the same end result.
On a night when Miguel Cabrera and Victor Martinez slashed doubles into the gaps to help pick Lester apart early, Nick Castellanos and Eugenio Suarez provided the power with solo home runs. The combined efforts saddled Lester with five runs on a season-high 12 hits over a season-low 4 1/3 innings.
"Obviously Lester wasn't on his game, because when he is, that's not going to happen," Ausmus said. "But we certainly swung the bats well and took advantage of some pitches that were left over the plate."
Lester not only didn't strike out a batter for the first time in three years, he drew just four swings and misses from a Tigers lineup that had struggled mightily against left-handed starters over the past couple of weeks. All of those swings and misses came in the first two innings.
"The few good pitches, I threw, they either fouled it off or shot a ball though the hole," Lester said. "That was few and far between from the bad pitches I threw tonight."
Suarez's first Major League home run -- and first big league hit, making him the first Tiger to have both in the same hit since Wilkin Ramirez in 2009 -- sent Scherzer into the fifth with a 5-1 lead and the bottom half of the order due up, his only damage to that point a Dustin Pedroia homer in the fourth. Four fifth-inning singles later, including Jackie Bradley Jr.'s two-out RBI blooper to right, the Red Sox had a rally going.
Scherzer retired 12 of his first 14 batters, then gave up nine hits and a walk in his final 18 batters. The only extra-base hit in the bunch was the last, Ortiz's RBI double with two outs in the seventh.
Ortiz, 8-for-21 with three homers lifetime off Scherzer entering the game, reached at a 97-mph fastball on a 3-1 pitch and poked it into the left-field corner, bringing the potential tying run to the plate. With Jonny Gomes looming for a lefty reliever, Ausmus went to Al Alburquerque against Grady Sizemore and got the out he needed.
Add-on runs in the seventh and eighth off Andrew Miller and Edward Mujica provided a cushion Nathan needed after four singles and two runs put the tying run on base before Stephen Drew flied out.
Jason Beck is a reporter for MLB.com. Read Beck's Blog and follow him on Twitter @beckjason. This story was not subject to the approval of Major League Baseball or its clubs.