Cards ignite late as Miller shuts out Blue Jays
Grichuk's first MLB homer carries team until offense breaks out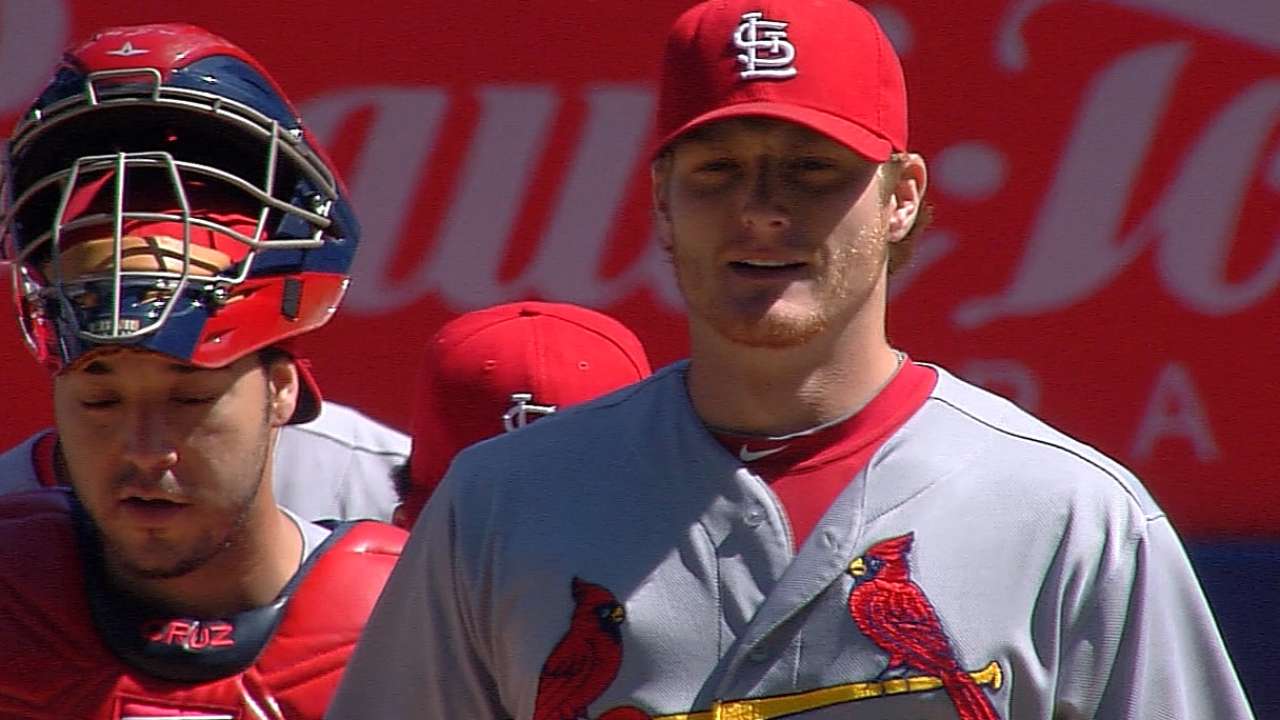 TORONTO -- Perhaps it was because of the freshness of the performance or its timing for a club grasping for positive momentum. But after watching Shelby Miller stifle baseball's hottest-hitting team in a 5-0 win on Saturday, manager Mike Matheny insisted that he had never seen his 23-year-old starter better.
While Miller may have relied on an overpowering fastball to mow down 27 Colorado hitters in a row in a start last May, this time he toyed with Toronto purely by pitching.
With a re-emerging changeup, a complement of off-speed pitches and an ability to throw his fastball high or low for strikes, Miller took a no-hitter into the sixth and a shutout all the way through. It made Randal Grichuk's first career home run and the team's eighth-inning insurance scoring plenty to ensure the Cardinals a win over Toronto in front of 42,981 at Rogers Centre.
"A little speechless still," Miller said of his second career shutout. "It's a big deal."
A day after the Blue Jays swarmed the bases against Cardinals pitcher Lance Lynn, Miller kept Toronto's activity to a minimum. He retired 13 straight to open his 13th start before a walk foiled that stretch. Toronto didn't get its first hit until Jose Reyes lined a single to right with two outs in the sixth.
That presented the only messy spot of the afternoon for Miller, as Melky Cabrera followed with a double off the glove of diving first baseman Allen Craig. With two in scoring position and three-hole hitter Jose Bautista up, Miller found a little something extra with his fastball.
Bautista swung through a high 96-mph heater for strike two. Cardinals catcher Tony Cruz, making the spot start, called for another.
"It's a big part of the game right there," Cruz said. "I'm sure [Miller's] adrenaline was going. He had a good fastball, too. I felt that."
Miller came back with a 97-mph pitch, his fastest of the afternoon. Bautista couldn't catch up.
"He turned it up, no question," Matheny said. "Just challenge is what he did. It was power on power, and it worked out good for us."
It was the third of five strikeouts for Miller, who improved to 7-5 with the win.
"Sometimes you get into situations where you just have a little bit more, I guess," Miller said. "That was a huge point in the game with runners on second, third and two outs and one of the best hitters in the game up."
Miller pitched with the lead beginning in the fifth after Grichuk took Mark Buehrle's first-pitch changeup and deposited it over the wall in center. The home run was the first of Grichuk's big league career. Before it, he had tallied just two hits (both singles) in 15 at-bats since being recalled by the club.
The ball was later retrieved by the team's assistant trainer and will soon sit alongside the ball Grichuk connected on for his first Major League hit.
"You just really have to be patient," Grichuk said of facing Buehrle. "He's having a really good year. You know he's going to go away, he's going to go in, he's going to go up, he's going to go down. You just have to wait and hopefully not chase and see a ball over the plate. "
While it was the only run the Cardinals scored off Buehrle in seven innings, St. Louis did work the veteran left-hander to several deep counts that had his pitch count up to 90 by the end of the fifth. Buehrle entered the afternoon seeking to become the Majors' first 11-game winner.
"Buehrle was great," Blue Jays manager John Gibbons said. "His command was off a little bit, but he gutted it out for seven innings and he did what he does; he kept them off the scoreboard. But the story of the game was Miller."
The Cardinals hope this is merely the start of a new chapter for Miller, who has been stung by inconsistent mechanics, walks, inefficiency and home runs in an up-and-down start to the season.
He started working out some of those mechanical issues his last time out, an appearance that opened with six scoreless innings before Miller was knocked around in the seventh. Part of that adjustment was keeping his glove hand still and farther from his body. A repeatable delivery has followed.
"My fastball location these past two games, I feel like a lot better," Miller said. "I just feel like I've thrown more strikes. We went back and looked at what I was doing early in the year last year. I'm trying to repeat my mechanics as much as possible. I'm in a groove where that feels good."
That fastball has also been made better by regular incorporation of Miller's off-speed pitches.
"Shelby, in the past, has really depended on stuff and just pure ability," Matheny said. "I see him realizing that this league is pretty good, and these guys are smart and have all the resources that we have and they're going to be getting better. That's huge for his confidence. … First inning, first pitch, it just looked like he had confidence and rhythm."
The Cardinals provided Miller with some breathing room and the opportunity to handle the ninth by scoring four times off reliever Aaron Loup in the eighth. Mark Ellis and Grichuk each drew bases-loaded walks. In between, two more scored on Cruz's single up the middle.
Miller, who had lost each of his past three starts, followed the big inning by retiring five of his final six batters. The Blue Jays, who lead the American League in runs scored, home runs and hits, had been shut out just once previously this season.
Miller, often frustrated by his inefficiency, flipped that script and finished with a pitch count of 105.
"That was everything you could ask for," Matheny said. "He just pitched today. It looked like a guy who had been around a while."
Jenifer Langosch is a reporter for MLB.com. Read her blog, By Gosh, It's Langosch, and follow her on Twitter @LangoschMLB. This story was not subject to the approval of Major League Baseball or its clubs.