Reds hold off Phillies with great defense, power
Bruce leads offense with two-run homer, sacrifice fly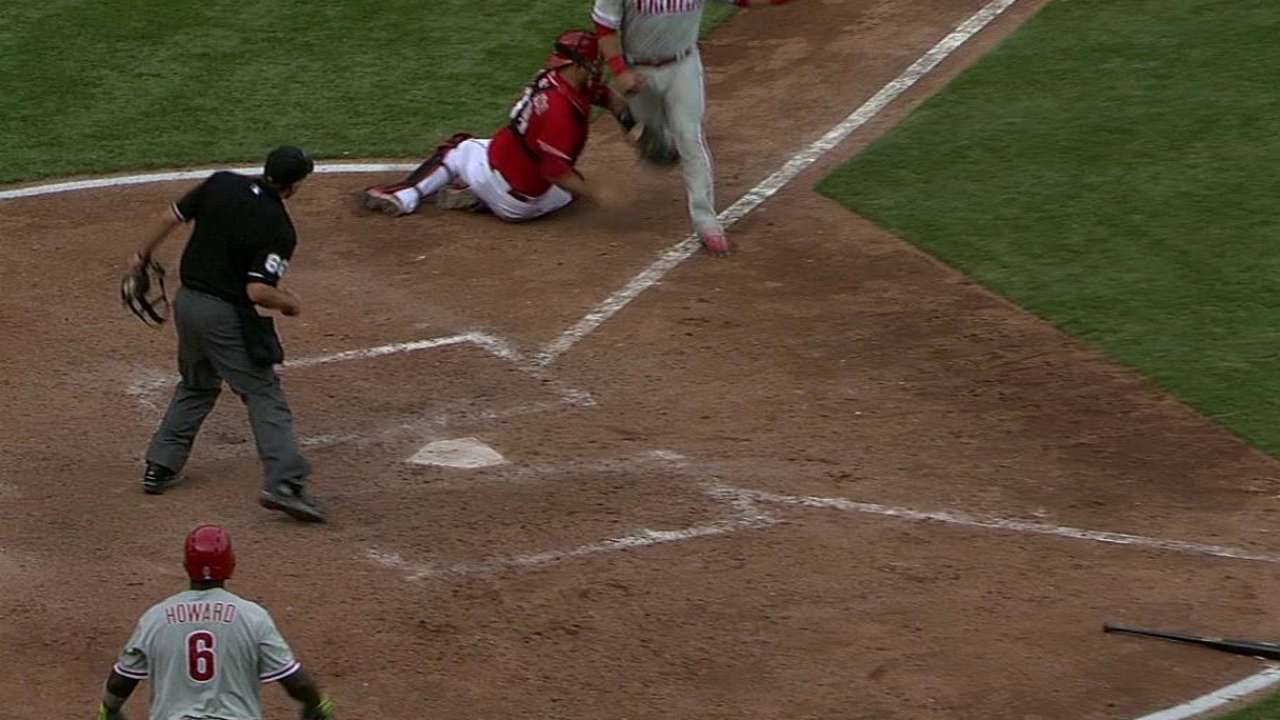 CINCINNATI -- The Reds have had their share of issues and struggles this season, but defense hasn't been one of them. Outside of errors, or the lack thereof, those strengths aren't always as tangible in plain view.
But on Saturday vs. the Phillies in a 6-5 Reds win, defense saved the day and also snapped a three-game losing streak. To end Philadelphia rallies in both the sixth and seventh innings, the Reds were 2-for-2 on relays that can be longshots to complete. Twice, they were perfectly performed from center fielder Billy Hamilton to second baseman Brandon Phillips to catcher Devin Mesoraco for the third outs.
"Defense, we show up almost every night. That's something we've always preached around here," Mesoraco said. "On those plays there, they're obviously an exciting play just because there's a lot going on, a lot of moving parts, a lot of action. To stop them from scoring and getting an out at home plate, that's definitely important."
Cincinnati had its 6-2 lead in the sixth trimmed when Carlos Ruiz hit a leadoff home run off starter Alfredo Simon. It was the first time this season that Simon allowed a run after the fourth inning. The Phillies were priming for more with Marlon Byrd on first base and two outs when Domonic Brown lined a double to right-center field.
Hamilton retrieved Brown's hit by the wall and fired quickly to Phillips, who threw a one-hopper to Mesoraco at the plate. Byrd collided into Mesoraco on the tag and was called out by home-plate umpire Chris Guccione as the crowd of 36,347 fans roared. A crew chief video replay review of a possible violation of Rule 7.13 for blocking the plate was done, but the call was confirmed. Phillies manager Ryne Sandberg was ejected for arguing the outcome.
"My argument was the catcher blocked the plate without the ball," Sandberg said. "Marlon Byrd almost twisted an ankle with indecision there. For me, he put his shin guard down and blocked the plate without the ball."
Mesoraco felt like he was only focused on catching Phillips' throw and being in the best possible position.
"If I would have stayed where I was at, I would've obviously given him more of home plate, but I would've gotten a tough hop," Mesoraco said. "For me, I wanted to back up and make sure I caught the ball. It's such a hard rule to decipher and it's not black and white."
In the seventh inning, after reliever J.J. Hoover gave up a two-run homer to Jimmy Rollins with two outs to make it a one-run game, Ruiz walked to put the tying run on first base. Lefty Manny Parra replaced Hoover and gave up a Chase Utley double to center field. As Ruiz was waved around third base, Hamilton once again made a quick throw to Phillips, who relayed to Mesoraco. The one-hop throw was a little up the third base line, but Mesoraco made a successful tag for another crucial third out.
"Those are two perfectly executed plays," Reds manager Bryan Price raved. "[Phillies third-base coach] Pete Mackanin had to send those guys. Those plays had to be executed perfectly to get those runners at the plate. He did his job of being aggressive and we were able to execute. You might be able to say nine times out of 10 you don't make that exact play because one of those throws pulls you off-line because of the length of each throw. It was spectacular to see it twice in one game, especially with the same three people executing the play."
From his vantage point in right field, Jay Bruce loved watching the play unfold.
"The most important part of that play is the outfielder getting the ball to Brandon cleanly," Bruce said. "Billy did a great job of that twice today. He's got a great arm, he really does. People don't talk about it a lot because he's the fastest guy on the planet. He can really throw."
Simon gave up three earned runs and seven hits over six innings with no walks, three strikeouts and two home runs. He improved to 8-3 with a 3.15 ERA in 12 starts this season.
It was a 2-2 game when the Reds scored two runs in the fourth inning. In the fifth after a leadoff walk by Phillips against reliever Ethan Martin, Bruce connected on a 3-2 pitch for a two-run homer to right-center field. It was Bruce's fourth homer of the season, but his first since April 20, and it gave Cincinnati a four-run lead.
"It's one of those things that I knew it was going to come," Bruce said. "I knew I had to keep on keeping on and continue to practice and have the same approach and really try to apply the approach I focus on all the time. It really hadn't been happening for me lately, but it's getting much better."
It certainly proved to be important in the later innings when the Phillies fought back. The Reds, which are now 11-14 in one-run games, have the highest fielding percentage and fewest errors in the Majors. They rank second in the National League in ultimate zone rating, which quantifies runs being saved through fielding.
During some recent games, Price would have liked to see better relay throws that didn't miss the cut-off man. This time, it was textbook effort.
"They're not small details. They're extremely significant details," Price said. "And those are the things for a team that plays a lot of one-run games are decisions and plays that have to be made for us to be the type of team that we think we are. Today, getting that perfect relay twice really substantiated what we're trying to do."
Mark Sheldon is a reporter for MLB.com. Read his blog, Mark My Word, and follow him on Twitter @m_sheldon. This story was not subject to the approval of Major League Baseball or its clubs.