Multiple losses as Dodgers fall to Rockies in 10
Puig, Gordon exit with hip injuries before Colorado walks off with win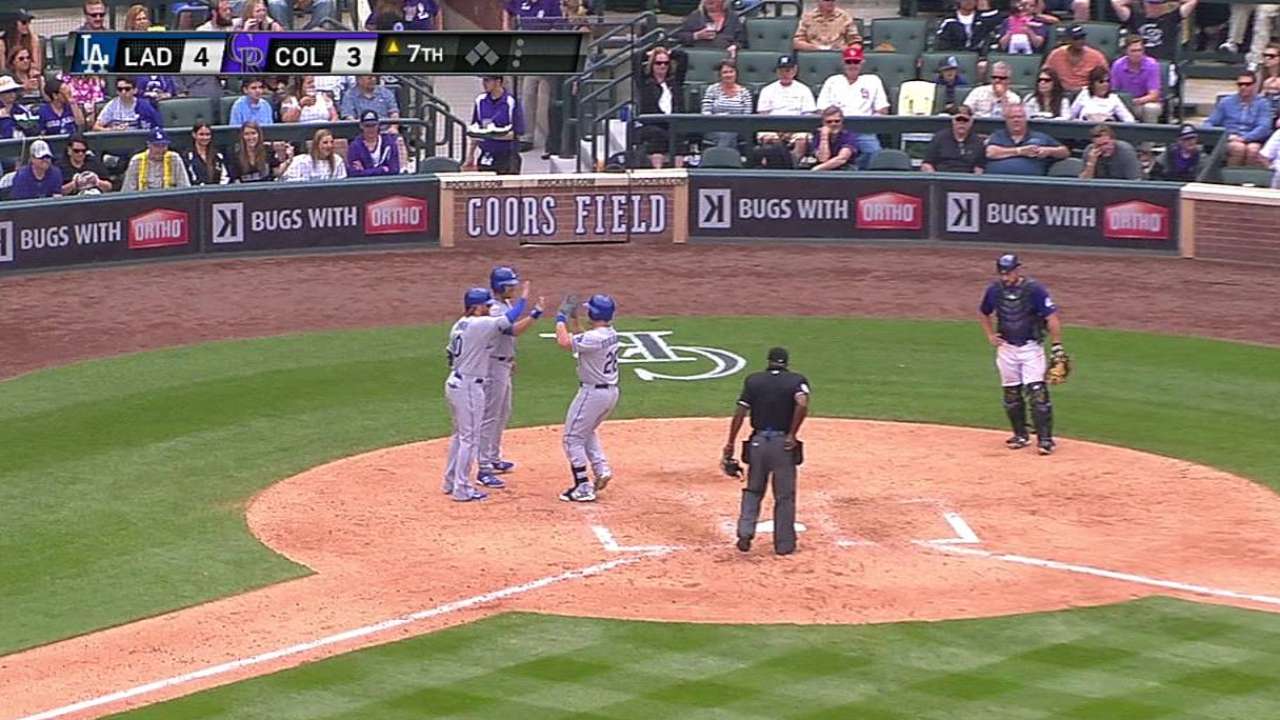 DENVER -- The Dodgers lost a coach, two top players, a late-inning lead and eventually a game to the Rockies in 10 innings on Saturday, 5-4.
Brandon Barnes' walk-off triple against reliever Chris Perez scored Justin Morneau with two out in the bottom of the 10th as Colorado snapped an eight-game losing streak.
That concluded for the Dodgers a dismal day in which coach John Valentin escaped a serious eye injury in a batting-practice mishap before the game, then top performers Dee Gordon and Yasiel Puig suffered hip injuries during the loss, Gordon with left hip discomfort, Puig with a left hip flexor strain.
"The fact there are no further tests scheduled [for Gordon or Puig] leads me to believe, hopefully, it's a day-to-day situation for them," said manager Don Mattingly, who could field a starting lineup Sunday missing five regulars -- with Carl Crawford, Juan Uribe and A.J. Ellis already on the disabled list.
Mattingly has plenty left to worry about after his club failed to keep the momentum after Friday night's win and fell to 3-8 in extra-inning games, despite third-string catcher Tim Federowicz's clutch three-run homer that gave the Dodgers a one-run lead in the top of the seventh inning. But a Justin Turner throwing error led to the unearned tying run against starter Zack Greinke in the bottom of the seventh.
Matt Kemp led off the eighth inning with a triple, but Andre Ethier, Turner and Federowicz grounded out, and Kemp was stranded. The Dodgers put runners on first and second with two out in the ninth, but Adrian Gonzalez grounded out, going 0-for-5 in the game and extending his slump to 1-for-25.
After pushing around debuting starter Eddie Butler on Friday night, the Dodgers' offense went into full retreat against veteran Jhoulys Chacin until finally chasing him with Turner's RBI single in the seventh inning. Colorado reliever Nick Masset took over and threw a first-pitch fastball that Federowicz drove over the fence in left-center for a 4-3 Dodgers lead. At the time, Federowicz's average was .098.
"We needed the runs right there, and it was good for me to come through in a big situation for us," said Federowicz. "It's been a tough couple of months."
The catcher's first home run of the season appeared to turn a loss into another win for Greinke, who allowed four runs (three earned) in seven innings, on 11 hits, all singles.
But the Rockies tied the game in the bottom of the seventh with an unearned run. With two out, third baseman Turner fielded Drew Stubbs' tapper barehanded and threw it away, Stubbs taking second and later scoring on Corey Dickerson's line single to center.
"I pitched all right, but not making enough really good pitches was the key," said Greinke.
After the Turner error, Mattingly went to the mound to talk to Greinke about facing Dickerson, with Troy Tulowitzki on deck.
"I missed too far out of the zone and got into a tough spot," said Greinke, who fell behind, 3-0, before Dickerson tied it on a 3-1 curve. "At the same time, with Tulowitzki on deck, I wanted to throw quality pitches and make him beat me. Maybe it was too many curves. Fed called a fastball, but I shook him off."
Greinke reflected the general cautious optimism in the clubhouse that the injuries to Gordon and Puig would be relatively minor, noting that injuries at the Colorado elevation are common.
"If it's just a game or two, it won't be that big of a deal," he said.
The game ended on Barnes' long fly to right-center off Perez, who is 0-3.
"He's a sinkerball/slider guy, and you've got to pick one or the other," said Barnes. "I ended up guessing right and put a decent swing on it."
Center fielder Ethier made a long run, but at the last moment appeared uncertain as the ball caromed off the fence.
"I shifted to right-center after the first pitch to Barnes," said Ethier. "He hit it and I had to run for it for a long time. It's one of the ones where you don't know how much room you have. I wanted to have more room than I did. You're taught to find the wall, and it was tough to find the wall. It was going to be a bang-bang play, and I didn't come up with it."
Ken Gurnick is a reporter for MLB.com. This story was not subject to the approval of Major League Baseball or its clubs.