Astros, Feldman get roughed up by Twins
Starting pitcher sees his day end after only 1 2/3 innings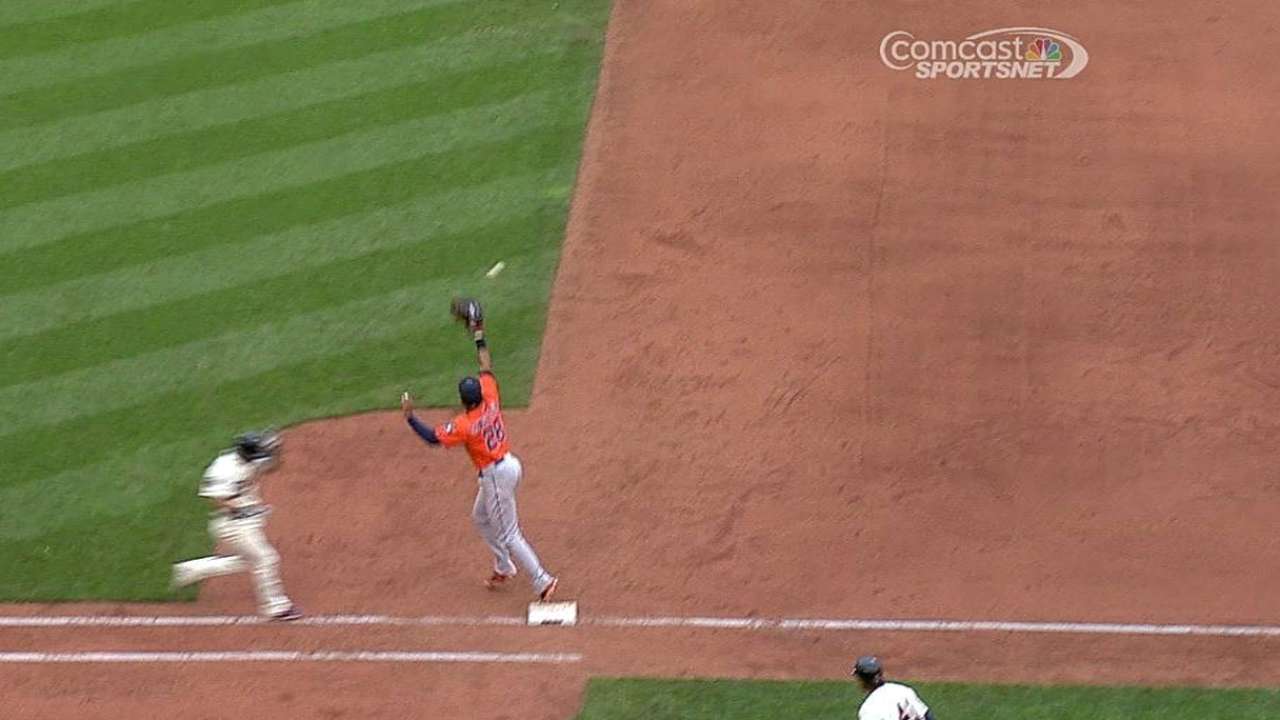 MINNEAPOLIS -- Astros starter Scott Feldman bent over at the waist with his hands on his legs while looking down as manager Bo Porter came to the mound in the second inning on Saturday to pull him after only 1 2/3 innings.
It was simply a day to forget for the Astros and Feldman, who was victimized by a pair of costly fielding errors in the second inning. The game tied for the shortest start of his career, as the Astros lost 8-0 to the Twins at Target Field, as Houston saw its six-game road winning streak snapped.
"This is one of those games you simply put in the [rear-view mirror] and say to yourself, 'Let's come back tomorrow and win the series,'" Porter said.
The Twins sent nine batters to the plate in the second inning and scored three times, though none of the runs were earned because of errors by third baseman Matt Dominguez and shortstop Marwin Gonzalez -- both of whom misplayed grounders.
"Those are definitely high-leverage, impact errors there," Porter said. "Our defense didn't help us. Scotty did have trouble commanding the strike zone today, but defensively we didn't help ourselves with two plays we usually make."
Feldman (3-4) did his part, though, by walking two batters, hitting a batter and giving up a bases-loaded single following Gonzalez's fielding error. The Twins tacked on more against reliever Paul Clemens, who gave up two hits, five walks and four runs in two innings, to build a 7-0 lead.
"It was one of those days where back-to-back guys struggled to command the strike zone and [had] a lot of deep counts," Porter said. "Give Minnesota credit; they took pitch after pitch after pitch and put themselves in some good hitting counts -- and, again, defensively we didn't help ourselves by allowing them to extend innings."
Feldman has lost his last two starts. He gave up 11 hits and nine runs over 5 1/3 innings on Sunday against the Orioles, his former team. The big right-hander is 1-3 with a 7.41 ERA in his last four starts, allowing 29 hits and six walks while striking out four batters in 17 innings.
"All around, just a frustrating inning," Feldman said. "It's stuff I've been through before. It's one of those frustrating times for me, personally. The team's been playing great, but obviously I dug us a hole today by going short and burned a couple of guys in the 'pen. Hopefully, I can get through this quick and get it on track for the next one."
Porter pulled Feldman after he threw 43 pitches in the second inning.
"He was physically fine," Porter said. "I think he was more upset with himself not making the pitches he wanted to make. But, like I told him when I came back in, 'I'm not going to let you crank 50 pitches in one inning.' That's way too many pitches, and I would rather him be able to make his next start and continue to pitch on than risk injury at that point."
The Astros couldn't manage much offensively against Twins starter Kyle Gibson (5-5), who allowed three hits, three walks and struck out five batters in seven innings. The Astros were shut out for the seventh time, including twice in the last four games.
"[Gibson] was in the strike zone and made them swing," Twins manager Ron Gardenhire said. "He got through a big seven innings and made pitches when he had to. We desperately needed that."
The bright spots for the Astros offensively included Dexter Fowler, who went 2-for-2 with a walk, and Jose Altuve, who went 1-for-4 and has hit safely in 27 of his last 29 games.
In the second, Feldman hit Josh Willingham with a pitch before Trevor Plouffe reached on a Dominguez fielding error. Kurt Suzuki walked with one out to load the bases for Eduardo Escobar, who struck out for the second out.
Aaron Hicks hit a grounder up the middle that went past Feldman and behind second base, where Gonzalez misplayed it allowing Willingham to score. Danny Santana (4-for-5) followed with a two-run single to make it 3-0, and Feldman was pulled after walking Brian Dozier.
"When something like that happens, I've got to pick the team up -- and it just didn't happen today," Feldman said of the errors. "We've been playing really well as a team, and if we can keep continuing in that trend for the next month [and] the rest of the season, I think we'll be alright."
Reliever Jerome Williams had the longest outing for the Astros, throwing three innings and allowing three hits and one run to help save some of the arms in the bullpen.
Brian McTaggart is reporter for MLB.com and writes an MLBlog, Tag's Lines. Follow @brianmctaggart on Twitter. This story was not subject to the approval of Major League Baseball or its clubs.