Twins celebrate big wins on and off the field
Santana, Gibson lead rout amid news of Morales signing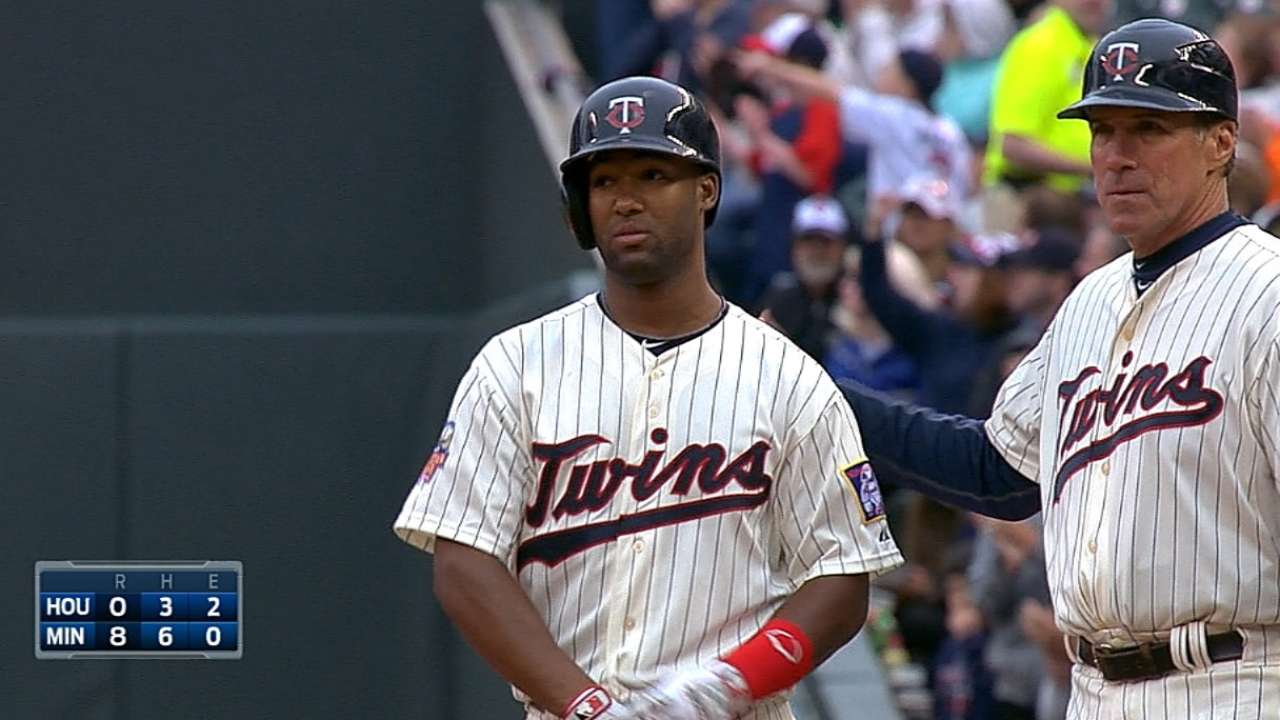 MINNEAPOLIS -- It was a banner day for the Twins and their production at designated hitter on Saturday.
The Twins found their regular designated hitter moving forward this season, as they surprised many in baseball by agreeing to terms with free-agent slugger Kendrys Morales on a one-year deal, according to a Major League source.
But it was rookie Danny Santana who stole the show on the field while serving as the DH, as right-hander Kyle Gibson tossed seven scoreless innings and Santana added a career-high five RBIs to lift the Twins to an 8-0 win over the Astros at Target Field.
"It was a big day from Danny -- unbelievable," Twins manager Ron Gardenhire said. "He's swinging it really good. He came up in some big situations and was really driving the ball."
Santana simply had another big day at the plate -- just one day after he hit his first career home run in Friday's 5-4 loss. Santana, serving as DH for the second game in a row, set a career high with four hits, while also setting a career best with five RBIs.
"I feel more comfortable every day," said Santana, who is hitting .373 in 21 games this year. "Every day I work hard at something new."
Gibson, meanwhile, continued his success while pitching in his home park, as he scattered three hits and three walks while recording five strikeouts to pick up his fifth win of the year. He also improved to 4-1 with a 1.54 ERA in six starts at Target Field this season.
"I don't know what it is, but I'm just comfortable throwing here," said Gibson, who has a 7.39 ERA on the road this year. "I'm definitely comfortable throwing on the road, as well. I don't think the numbers are really in my head. I'm still making pitches on the road, but maybe not in as big of situations as I have at home."
He outpitched right-hander Scott Feldman, who lasted a season-worst 1 2/3 innings, giving up three unearned runs on a hit and two walks. Feldman's subpar outing led to Houston having its six-game road winning streak snapped.
"I needed to make a pitch, and it never happened," Feldman said. "It's one of those frustrating times for me, personally. The team's been playing great, but obviously I dug us in a hole today by going short and burned a couple of guys in the 'pen."
The Twins opened the scoring with three runs in the second, after loading the bases with two outs -- thanks an error by third baseman Matt Dominguez. The first run came on an error by shortstop Marwin Gonzalez, who couldn't handle a grounder hit by Aaron Hicks that would've ended the inning. Santana followed with a two-run single to left field. Brian Dozier then walked to force Feldman from the game.
"Those are definitely high-leverage, impact errors there," Astros manager Bo Porter said. "Our defense didn't help us. Scotty did have trouble commanding the strike zone today, but defensively we didn't help ourselves with two plays we usually make."
Minnesota broke the game open with four runs in the fourth against reliever Paul Clemens, who struggled with his control on the afternoon, as he issued five walks over two innings.
"We made use of some mistakes by them and had some walks," Gardenhire said. "We got some big hits when he had to."
Santana again did most of the damage for the Twins, with a two-run double with one out to score Kurt Suzuki and Eduardo Escobar, who both walked. Josh Willingham brought home another run with a two-out RBI single to left before Chris Parmelee drew a bases-loaded walk to plate the inning's fourth run.
Santana picked up his fifth RBI with a two-out single in the seventh off reliever Jerome Williams to score Suzuki.
The win helped the Twins back to two games under .500 at 29-31, and they feel like they can get better as the season goes along -- especially once Morales joins the middle of their lineup.
"I think we feel good about ourselves," Gardenhire said. "This team is never out of games. Even last night, we were down, 5-0, and had a chance to win it. So they just keep playing and get after it pretty good. And it's not just one or two guys. It's up and down the lineup."
Rhett Bollinger is a reporter for MLB.com. Read his blog, Bollinger Beat, and follow him on Twitter @RhettBollinger. This story was not subject to the approval of Major League Baseball or its clubs.