Salvy sparks Royals' power surge against Yanks
Three-run homer breaks tie in sixth; Hosmer hits second jack of '14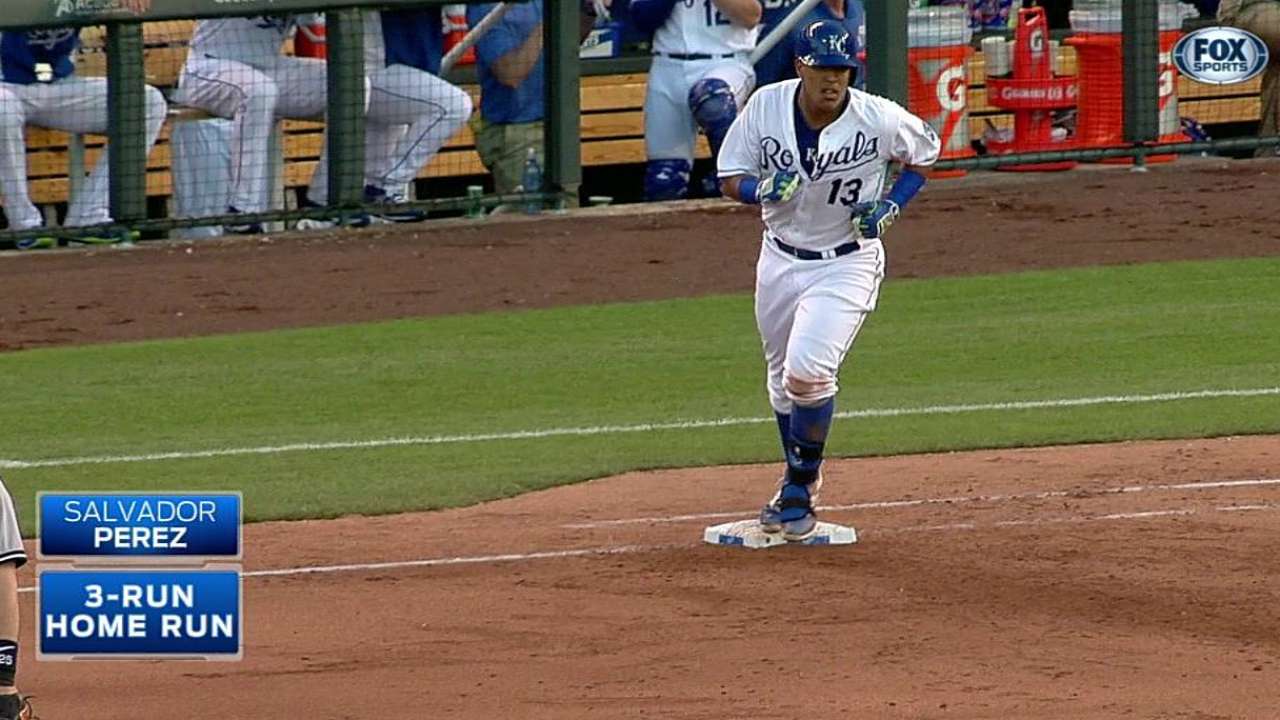 KANSAS CITY -- Maybe the Royals are starting to get the hang of this home run thing. It works pretty well, too, they've discovered.
Salvador Perez banged a three-run homer to drive the Royals toward an 8-4 victory over the New York Yankees with 26,991 fans enjoying a 76-degree Saturday night at Kauffman Stadium.
Eric Hosmer also homered, giving the Royals seven blasts in their last 10 games. They've won each of the five games in which they have hit homers. Do we see a trend here?
"I don't know if it's a trend or not," Royals manager Ned Yost said, "but I've said all along, I think we've got home run power and that it will manifest itself in time as it did last year, and I think it's starting to do that now."
The Royals still have only 28 homers for the season -- by far the fewest in the Major Leagues -- but, apparently, they're catching on.
"It's a good thing," Yost acknowledged.
Perez shattered a 3-3 tie to start a four-run sixth inning against Yankees right-hander David Phelps. The inning began with walks to Billy Butler and Alex Gordon.
"Those are the two biggest at-bats of the game. We had just scored three runs ... the worst kind of teammate right there," Phelps said. "We have all the momentum right there and in nine pitches I give it right back. I was just trying to be too fine. I've got to trust my stuff and throw something over the plate."
That prompted a mound roundtable conducted by pitching coach Larry Rothschild. It did no good because two pitches later, Perez crushed a Phelps delivery and put it over the left-field fence for a three-run homer.
"It was a sinker down and in, I got that one pretty good," Perez said. "It was a pretty good pitch, too. He threw me a lot inside in the first two at-bats and I was looking for something inside, and they gave it to me."
It was Perez's sixth home run, tying him with Gordon for the team high.
"I was trying to go down-and-in and maybe get a double play. I was shocked that he hit it like he did," Phelps said.
Phelps stayed on to give up a triple to Lorenzo Cain and a run-scoring single by Nori Aoki, making it 7-3 and ending his evening.
Hosmer ended a 130-at-bat home run drought in the seventh inning when he ripped an 0-2 slider from reliever Matt Daley into the right-field stands. It was just his second homer this season and was estimated at 427 feet.
Yost noted wryly that Hosmer was ahead of his 2013 pace when his second home run didn't come until June 13.
"He told me the same thing in the dugout. We're ahead of the pace of last year so things are looking pretty good," Hosmer said, laughing.
Well, ahead on the calendar at least. Actually, a look back shows that Hosmer hit his second homer last year in his 62nd game. This one also came in his 62nd game. Either way, it might be good sign -- he went on to belt a total of 17 homers last year.
Left-hander Danny Duffy, who has been on and off since joining the Royals' rotation on May 3, was in the "on" mode in his first five innings.
"He came out and had electric stuff from the beginning, got his fastball up to 97 miles an hour, commanded the strike zone well, mixed his pitches well," Yost said.
And the Royals gave him a 3-0 lead in the second, an inning started by back-to-back doubles by Butler and Gordon.
However, the Yankees came up with a three-run inning of their own in the sixth and nudged Duffy out of the game. It started, innocently enough, when Derek Jeter singled to right between two flyouts. But Mark Teixeira walked on a 3-2 pitch.
"I've got to hand it to Teixeira for spitting on two pretty good pitches," Duffy said. "It might've been the best changeup I've thrown all year to him, 2-2, and he just stepped at it, and I ended up walking him. And you just can't do that."
Carlos Beltran, who was traded by the Royals 10 years ago this month, drilled a double to the left-field-fence to score Jeter. Center fielder Cain took aim on Yangervis Solarte's liner in right-center but missed a diving attempt. Solarte had a hit and the Yankees had two more runs for a 3-3 tie.
"The changeup to Solarte on his single that scored two was a good pitch," Duffy said. "But you've got to hand it to Cain for going all-out. If anyone could've gotten to it, it would've been him."
But the Royals came right back in the bottom half with their four-run outburst and the game was in the hands of the bullpen. Aaron Crow, who got the last out of the sixth, came back for a perfect seventh. Kelvin Herrera worked a scoreless eighth.
With a five-run lead, Yost had to decide between Tim Collins and rookie Michael Mariot to finish up, and he went with Mariot. But after Solarte doubled and pinch-hitter Ichiro Suzuki singled, alarm bells went off. Or at least a call went to the bullpen to get closer Greg Holland up and throwing, hubba-hubba.
"Your job there is to get through that and not let Greg Holland come into the game, and it sure didn't look that way," Yost said. "But he ended up getting through it, he did his job."
Solarte scored on a groundout, Mariot got two more outs and it was over with Holland watching from the bullpen.
And with the Royals on what might be the makings of a home run binge.
"That's coming, that's coming," Perez said. "We need that. It's not easy but it's coming."
Dick Kaegel is a reporter for MLB.com. This story was not subject to the approval of Major League Baseball or its clubs.