Bats quiet behind Young as Seattle drops opener
Righty gives up three runs in five as former Mariner Bedard stifles hitters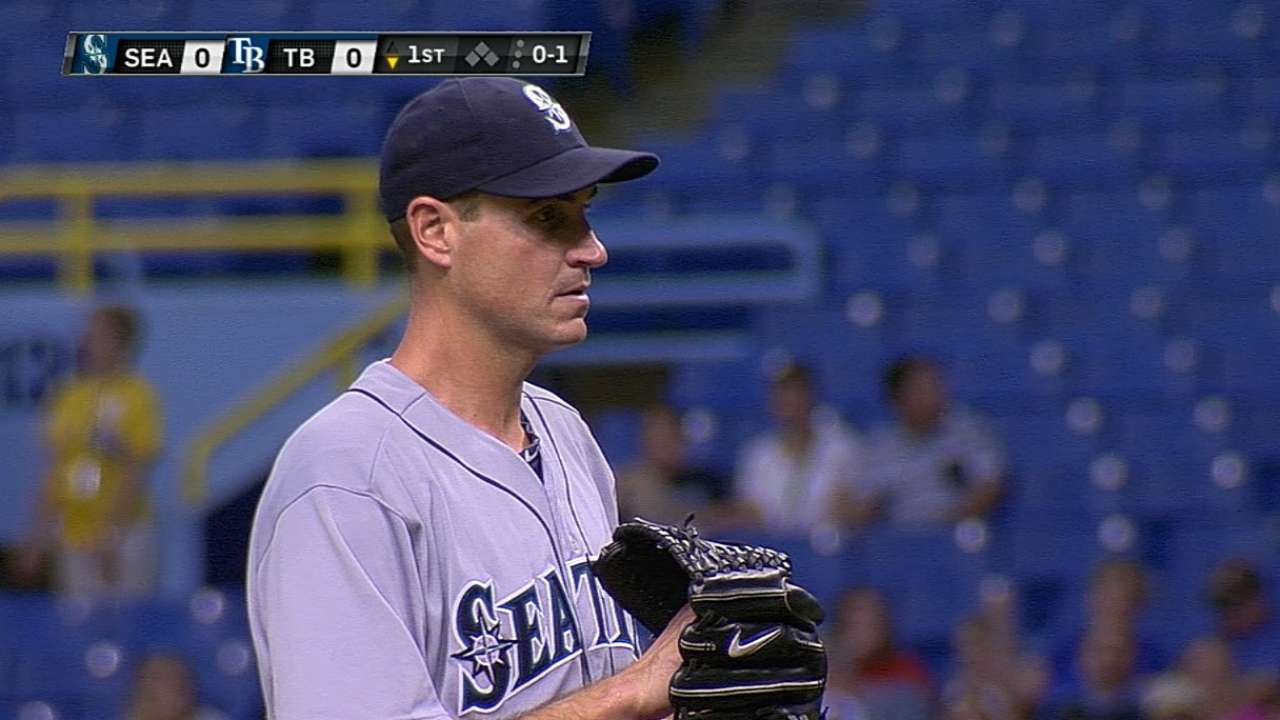 ST. PETERSBURG -- Former Mariners lefty Erik Bedard threw six shutout innings on Friday night as the Rays snapped Seattle's five-game winning streak with a 4-0 decision at Tropicana Field.
Bedard helped Tampa Bay end a 10-game losing streak as he allowed just four hits with one walk and eight strikeouts. The 35-year-old is now 2-4 with a 3.50 ERA in nine games against Seattle, where he pitched from 2008-11.
Seattle right-hander Chris Young gave up three runs in five innings and took the loss, ending his own two-game win streak, as he fell to 5-3 with a 3.42 ERA. The 6-foot-10 veteran dealt with control issues as he walked five and had a wild pitch, while needing 102 pitches to get through his second-shortest start of the season.
"You're not going to be as sharp as you like every night," said Young. "My command wasn't as good as I'd like it to be, but there'll be nights like that. Ultimately, you tip your cap to Erik Bedard. He shut us down and came in and threw a great game. Really the one run was enough. I wish I'd gone deeper in the game to save the bullpen some innings, but I was fighting it a little just trying to keep us in there."
Bedard held the Mariners hitless until an infield single by Stefen Romero and a double by Cole Gillespie put runners on second and third leading off the third. But Bedard dug in and struck out Brad Miller, James Jones and Michael Saunders to keep the game scoreless.
"Frenchy was good," said Rays manager Joe Maddon. "That second-and-third, nobody-out escape piece, that had a lot to do with winning that game. Maybe it had everything to do with winning that game, because if they'd put up several runs right there, it'd have been very difficult again with the mood and the thought of having to come from behind."
Maddon will get no arguments on that from the Mariners, who knew they needed to seize that moment on a night where they wound up 0-for-6 with runners in scoring position. The fact that the Rays were 2-for-12 and stranded 15 runners, three times coming up empty with the bases loaded, did little to salve the Mariners' frustration over their best missed opportunity.
"No question, that changes the game," Miller said. "If you get both those guys in, or at least one of them, you strike first and Chris can go out there and keep doing his thing. Anytime as a team where you get nothing out of that, the momentum goes back to the other guys. We have to do a better job of executing there and it started with me. That definitely would have helped."
Saunders said Bedard is a different pitcher than when he was in Seattle, but has found ways to compete, as he improved to 3-4 with a 3.61 ERA for the Rays.
"He's got to pitch," Saunders said. "He's lost some miles per hour, but he's added a cutter. He was throwing a cutter tonight, and he was finding success up in the zone and we couldn't lay off of it. He kind of attacked Brad, Jonesy and myself the same way on those three at-bats. He was getting us out up."
Young needed some gritty pitching as well after loading the bases in the second and third innings, emerging unscathed both times. But the Rays finally got to Young in the fourth when Kevin Kiermaier hustled into second with a double on a grounder up the middle, took third on a wild pitch and scored on Jose Molina's sacrifice fly.
Tampa Bay then opened a 3-0 lead with a pair of runs in the fifth. Desmond Jennings dropped down a safety-squeeze bunt that scored Evan Longoria from third, with Jennings safe at first when Young couldn't get the ball out of his glove. Yunel Escobar followed with an RBI single for the fourth hit of the inning.
The Rays added another run in the seventh off Tom Wilhelmsen, ending a string of 16 straight scoreless innings by Seattle's bullpen.
Gillespie and Robinson Cano each had two of Seattle's five hits as the Mariners suffered their seventh shutout of the season.
Gillespie and is now 7-for-12 on the Mariners' road trip, raising his average to .333 in 20 games. Cano went 2-for-4 and is also hitting .333, albeit with a lot more at-bats. The All-Star second baseman extended his road hitting streak to 15 games and is batting .415 on the road in that stretch.
But the Mariners fell to 31-29 on the season and are 3-11 at Tropicana Field since 2011.
"It was one of those days we didn't play very well on either side of the baseball," said manager Lloyd McClendon. "Those things happen. We have to put it behind us and get ready for tomorrow."
Greg Johns is a reporter for MLB.com. Follow him on Twitter @GregJohnsMLB as well as his Mariners Musings blog. This story was not subject to the approval of Major League Baseball or its clubs.