Bedard sets tone as Rays snap skid with shutout
Lefty helps Tampa Bay halt 10-game slide with eight K's in six strong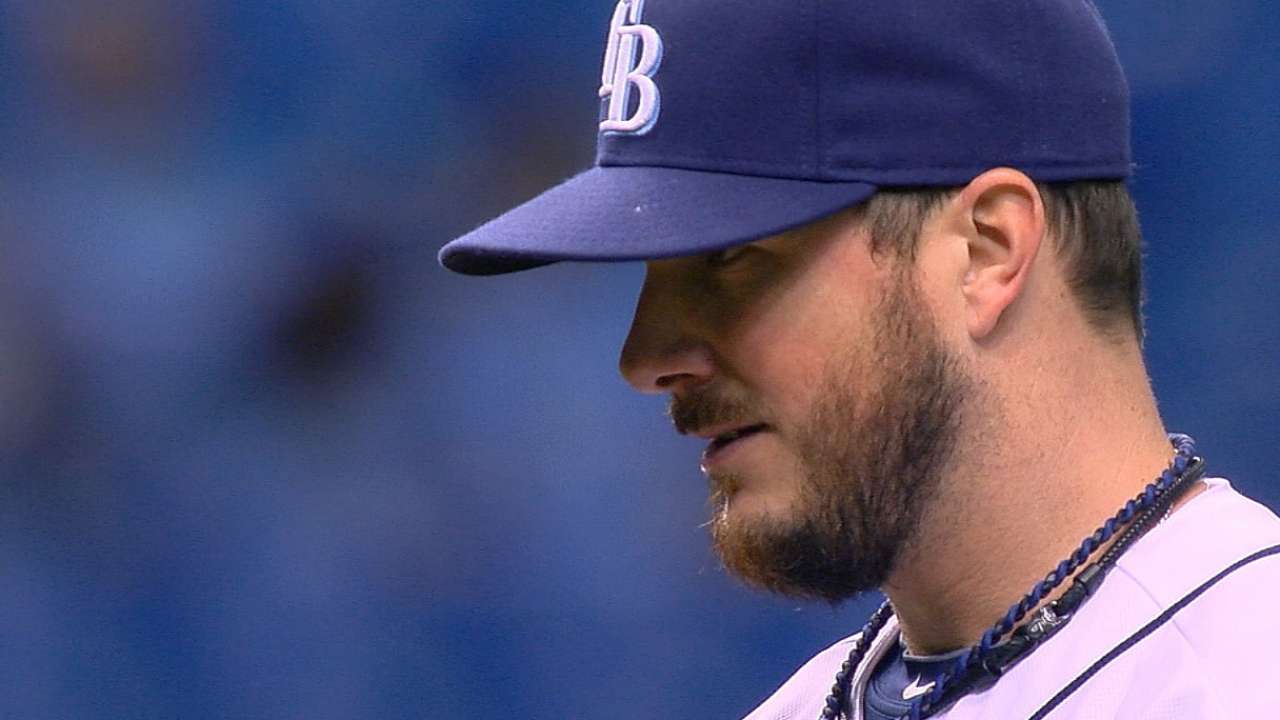 ST. PETERSBURG, Fla. -- The joy returned to the Rays' clubhouse Friday night as they ended their agonizing 10-game losing streak with a 4-0 shutout win over the Mariners before 14,577 at Tropicana Field.
"It's good to hear the music again," said Joe Maddon, wearing a postgame smile for the first time since May 25. "We have our unique postgame celebration when we win. I love that stuff. It's good.
"When you win, it always makes the world rotate better. Hopefully, this gets us going back in the right direction."
"It's way more fun winning," chimed in Erik Bedard, who out-pitched his Seattle counterpart, Chris Young.
Bedard blanked the Mariners on four hits in six innings, and struck out a season-best eight while walking only one to end a personal three-game losing streak. With Friday's win, Bedard became the first Rays' starting pitcher in 19 games to claim a victory.
Despite their recent slump, the Rays have struck out 10 or more batters in six consecutive games, a club record.
Maddon said he hopes the Rays' recent adversity will bring out the best in his players.
"It's a long season and I'm looking forward to every day of it," Maddon said. "There are a lot of lessons to be learned from this, in a positive way. It's easy when everyone is throwing out platitudes. Everything looks good when things are going well.
"You look at the games we've lost and it's been pretty much the same script. Either we didn't hit or the defense hasn't been as air-tight as it was last year.
"But I'm not concerned," Maddon added. "Because I know how good our guys are. We're not back there yet. This was just one game. We've got a ways to go. But we can build off that."
Before the game, Maddon ordered 50 chili dogs -- a Don Zimmer favorite -- from the Coney Island Grill in downtown St. Petersburg, and had them delivered to the Rays' clubhouse in Zimmer's memory.
Maddon recalled how Zimmer loved to eat those "Zim-dogs" in the manager's Tropicana Field office while talking baseball with Maddon before games.
James Loney led off the bottom of the second with a double, but the Rays, who left a season-high 15 on base and were 2-for-12 with runners in scoring position, couldn't capitalize.
"I don't want to be Mr. Negative, but we can't keep leaving that many guys on base," Maddon said. "And 2-for-12 with runners in scoring position. We've got to do better than that."
"Not a lot has gone right lately," said injured catcher Ryan Hanigan. "That's pretty obvious. Some days we're not scoring runs. Sometimes it's the defense.
"If we can just start playing as a team a little more and be a little more consistent, we can get back into it. We've got to be more consistent. And we all know it."
"Things just haven't been going our way," said Jeremy Hellickson, who has spent the season so far on the disabled list. "The hardest part has been sitting on my butt at home and not really doing anything to help the team."
Walks to Yunel Escobar and Kevin Kiermaier loaded the bases with two away after Loney's double in the second, but Jose Molina popped to short to end the threat.
The Rays loaded the bases with two away in the third inning, too, but again couldn't capitalize as Matt Joyce grounded to first.
Finally in the fourth, Kiermaier legged out a double to right, took third on a wild pitch and crossed the plate on a sacrifice fly by Molina -- his first RBI of the season, snapping a 37-game drought.
Bedard got into trouble in the third when Stefen Romero opened with a single and Cole Gillespie doubled, putting Mariners on second and third with nobody out. But the veteran lefty proceeded to strike out the side.
Bedard pitched his way out of another jam in the fifth when the Mariners put runners on first and second with one away.
Singles by Evan Longoria and Loney set the stage for Desmond Jennings' safety-squeeze bunt, a base hit that put the Rays on top, 2-0, in the fifth. After the game, Maddon recalled how it was Zimmer who first introduced him to that play. Escobar's single to left gave the Rays a three-run edge.
"It helps when you score early runs and get the lead," Bedard said.
"[Bedard] got the outs sooner tonight, otherwise it was just the same way he's been pitching," Maddon said. "The result[s] just weren't as good before."
Young, who came into the game with a 5-2 record for the Mariners after being released by the Nationals in Spring Training, departed after five innings, and he gave up three runs on seven hits.
The Rays made it 4-0 in the seventh when Escobar singled and scored on Tom Wilhelmsen's wild pitch with the bases loaded.
Jim Hawkins is a contributor to MLB.com. This story was not subject to the approval of Major League Baseball or its clubs.