Nation's ERA leader falls to Miami in ninth round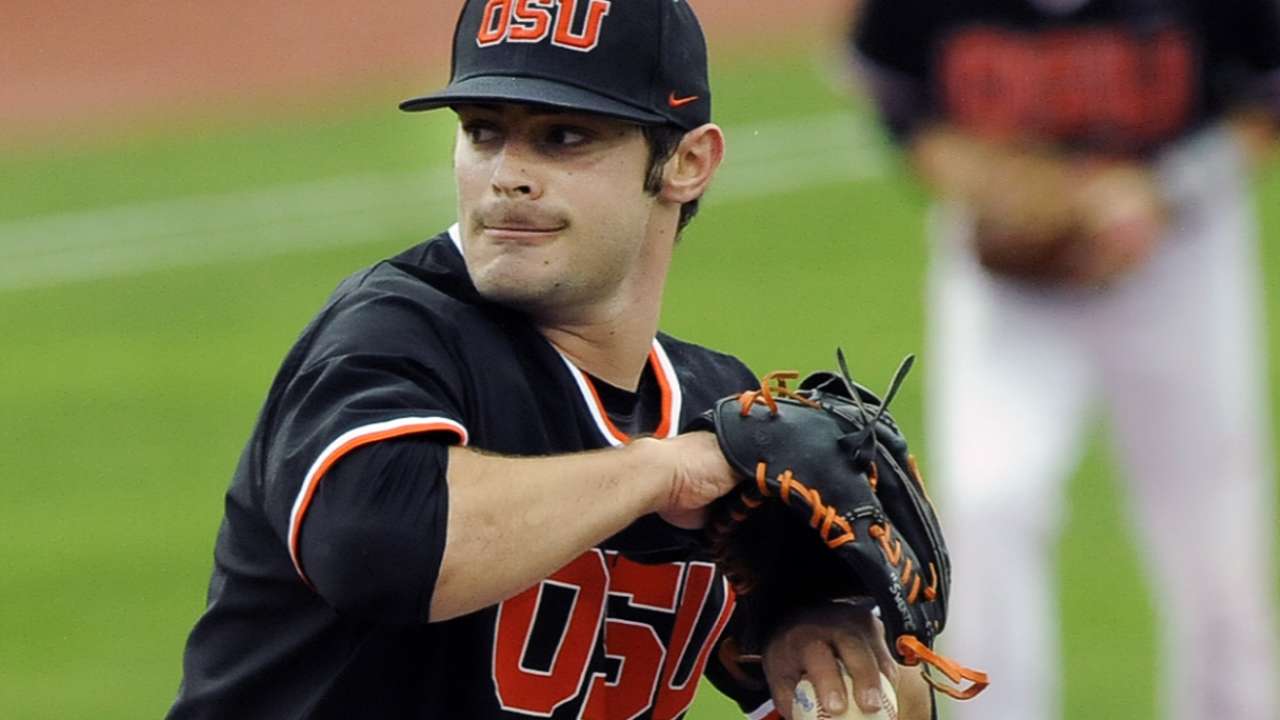 The Marlins took high-profile college starter Ben Holmes-Wetzler with the 257th overall pick in the ninth round of the 2014 First-Year Player Draft on Friday.
Holmes-Wetzler led Oregon State to the NCAA Corvallis Regional with a 12-1 senior season in which he led the nation with a 0.78 ERA. He is a finalist for the Dick Howser Trophy, which honors the top collegiate player. Other finalists include teammate Michael Conforto (10th overall, Mets), A.J. Reed (42nd overall, Astros), Aaron Nola (seventh overall, Phillies) and Max Pentecost (11th overall, Blue Jays).
The Draft concludes on Saturday, with exclusive coverage of Rounds 11-40 beginning on MLB.com at 1 p.m. ET.
"He has been very successful at Oregon State," said Stan Meek, Marlins' vice president of scouting. "He's just not as hard a thrower as maybe some guys would want up there. But the pitchability, we think, is plus."
The left-handed pitcher from Clackamas, Ore., threw complete games in his last three starts. Holmes-Wetzler had four on the season.
He was the Pac-12 Conference Player of the Year.
Holmes-Wetzler, a 6-foot-1, 210-pound southpaw, has a fastball in the low 90s and is projected to be a back-end starter. He could rocket to the Majors quickly, but that will depend on his development.
After going 10-1 with a 2.25 ERA as a junior, Holmes-Wetzler held batters to a .143 average in 104 innings. He walked 31 batters and struck out 83.
He turned down a six-figure signing bonus to rejoin the Beavers for his senior year after being picked by the Phillies in the fifth round of the 2013 Draft. Holmes-Wetzler's decision to return to Oregon State allowed him to get into the school record books with the most career wins (36) and second-most strikeouts (291).
Maria Torres is an associate reporter for MLB.com. This story was not subject to the approval of Major League Baseball or its clubs.